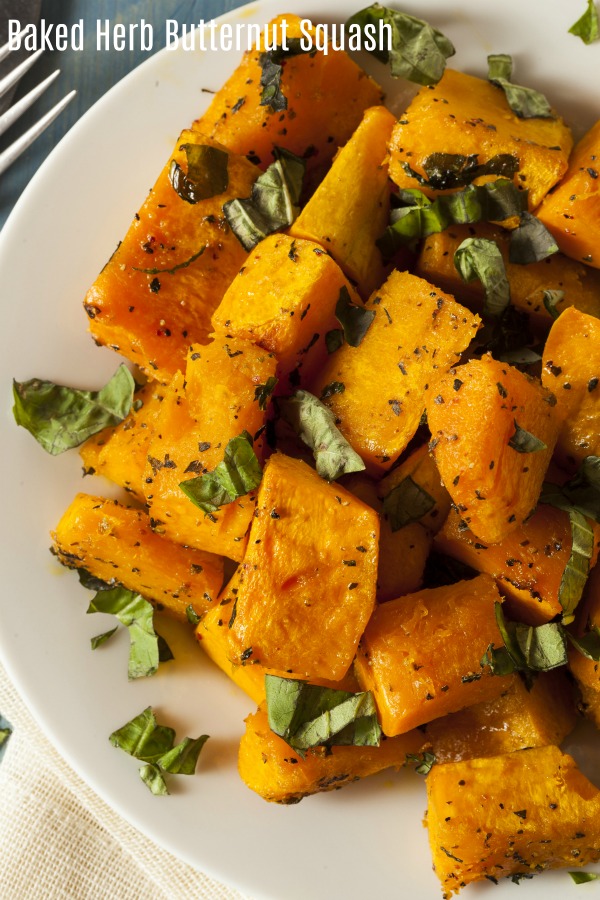 This makes the perfect side dish or even main dish! Serve with some cooked chicken sausage and you have yourself a great meal!
If you are looking for more delicious recipes, be sure to check out my Weekly Healthy Menu Plan, where I email you a dinner plan each week with dishes just like this!
Baked Herb Butternut Squash
Prep time:
Cook time:
Total time:
Ingredients
1 large (about 3 pounds) butternut squash, seeded, peeled and cut into 1-inch cubes
3 Tablespoons olive oil
4 cloves garlic, minced
3 Tablespoons fresh parsley, chopped
2 teaspoons dried rosemary
1 teaspoon dried thyme
salt and pepper to taste
Instructions
Preheat oven to 400 degrees.
Place squash cubes into large bowl and toss with olive oil, garlic, parsley, rosemary, thyme, salt and pepper.
Spread the squash evenly across a large baking sheet.
Roast the squash for 30-40 minutes, stirring once half way through, until squash is tender.
Looking for more healthy recipes?