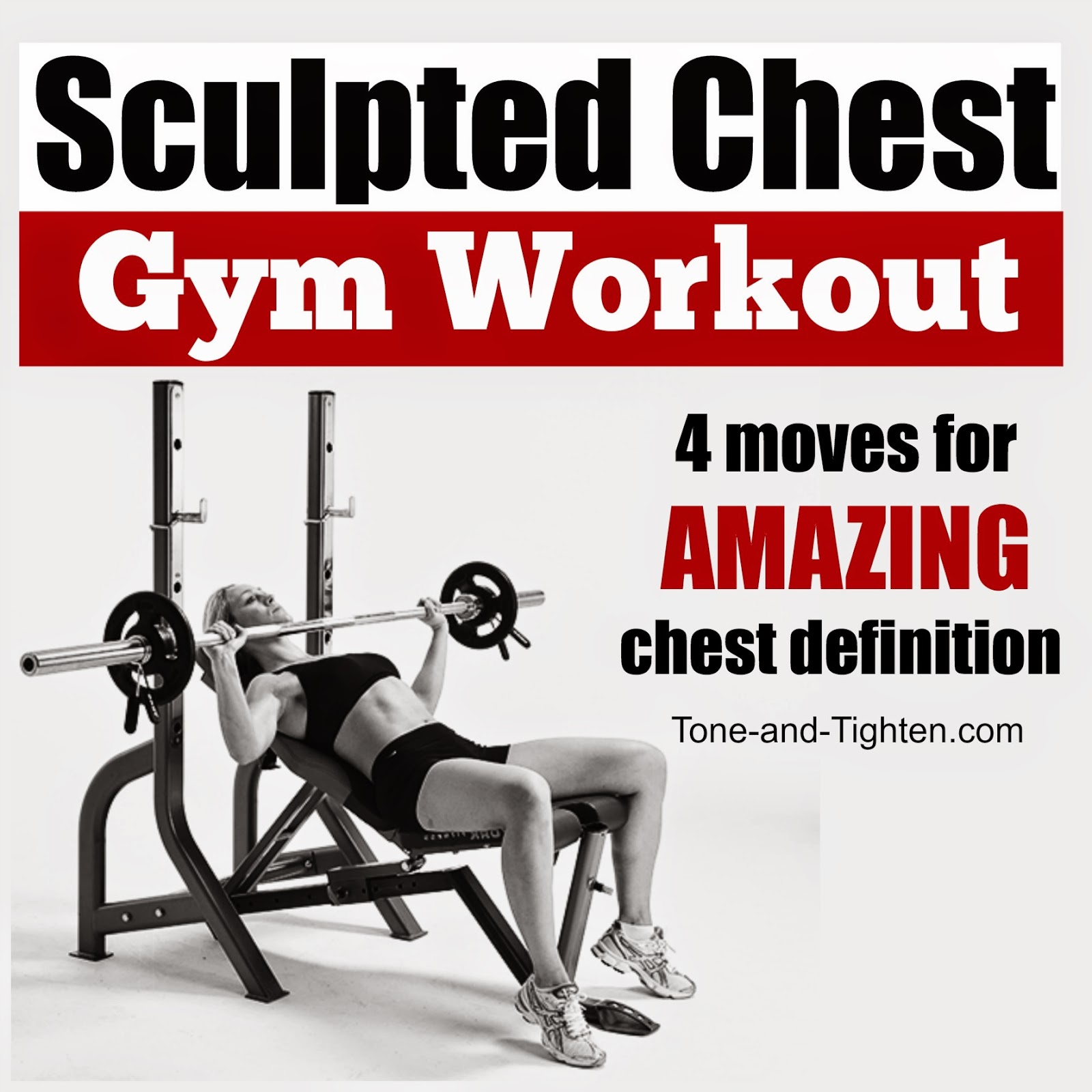 Chest day has always been my favorite day in the gym. Whether you're a guy trying to get bigger or a girl looking to keep "things" "up" and "perky" this is the perfect workout for you! Four incredibly simple exercises to Tone and Tighten – it's the newest addition to our popular What I Worked Wednesday gym series. Check it out!
Caveat to Jared's workouts  – I personally have two primary goals when I hit the gym:
That being said, my sets/reps are a little different then what I usually post here on T&T. Many of the workouts on this site are designed to Tone and Tighten – slim you down and carve out lean muscle. Usually they consist of 3-4 sets of 10-12 reps. My workouts are usually geared towards higher weight and lower reps to increase muscle mass (check out this post for more info on the tone vs bulk idea). However, if you're not too into the bulk thing and more after lean mass simply change the sets/reps that I have listed into 3-4 sets of 10-12 reps and keep your weight consistent throughout the sets.
The Workout
Warm up

– whenever I'm focusing on upper body in the gym I'll warm up with some type of cardio equipment that involves my arm. I avoid the treadmill, but instead head over the the elliptical, row machine, or arm bike (UBE). Hit it for 10 minutes.
The bench press is one of my favorite chest exercises. Whenever I'm looking for a great pump to my chest I look no further than these three variations on the bench press and then finish strong with some chest flies. Here we go: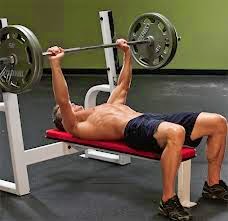 1. Bench Press:

Lay flat on your back with your eyes directly under the bar. As you lower the bar towards your chest it should arc slightly to touch your chest about nipple level. Make sure you lower the bar all the way to your chest to work the muscle through it's maximum range of motion. Lift the bar up towards the ceiling while slightly arcing back towards your head. As your elbows lock out it the bar should be right at eye level again. 
12 rep warmup at 135#
10 reps at 195#
8 reps at 215#
6 reps at 225#
6 reps at 225#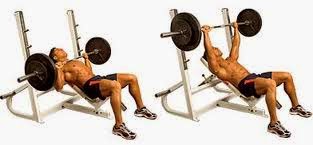 2. Incline Bench Press:

No better workout to add definition to your upper chest. Guys will love the size – girls will love the support. Same idea as above, now the inclined angle will hit the top of the chest a little harder.
10 reps at 135#
8 reps at 155#
6 reps at 175#
6 reps at 175#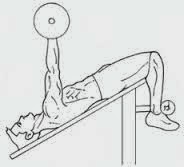 3. Decline Bench Press:

Sick of benching yet? ME NEITHER!! No better workout to define the lower chest. Find your decline bench and throw weight! This time the starting position is a little different – keep the weight straight up towards the ceiling rather than over your eyes. You'll still arc slightly as you return to an arms extended position but won't finish as high.
10 reps at 185#
8 reps at 195#
6 reps at 205#
6 reps at 205#
One more exercise – you got this!!
4. Chest Flies:

My favorite exercise to totally max things out. Just when you think you can't do anymore we'll top off chest day with some flies. Mark my word – no chest workout is complete without them! Grab some dumbbells and lay on your back. Start by extending your arms straight up towards the ceiling. Keep your elbows extended (or slightly bent is okay) as you drop your arms as far to your sides as possible. Return to starting position.
10 reps with 45# DB's
8 reps with 50# DB's
6 reps with 55# DB's
6 reps with 60# DB's
Yea!!! You not only survived but TOTALLY CRUSHED IT! Your amazing chest will thank you tomorrow (with incredible amounts of soreness… I'm not even sorry).
Looking for more great gym workouts from Tone and Tighten? Check out other popular posts in our "What I Worked Wednesday" series:
As always you can comment below or email me with questions or suggestions
ToneandTightenFitness@gmail.com

To view the rest of this post, be sure to head over to www.tone-and-tighten.com.
Have a great day!
Jared