It's hard to find healthy recipes that the whole family likes . . . here are 25 that even kids will enjoy! Your kids will love these and you'll feel good about what you are feeding your family. This list even includes some healthy spins on kid-classics like pasta and pizza.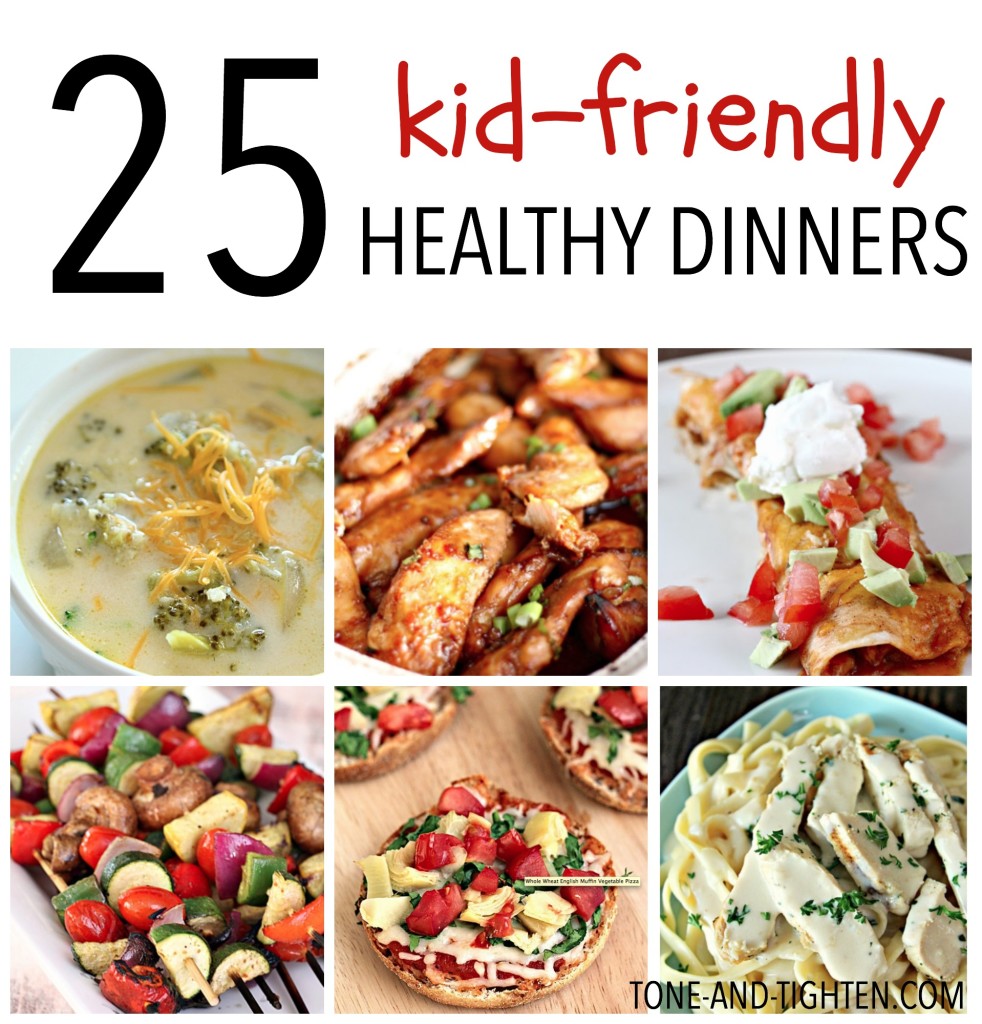 25 Kid-Friendly Healthy Dinner Recipes
Healthy Baked Chicken Nuggets

Oven-Baked Honey Soy Chicken

Grilled Pineapple Chicken

Baked Tex-Mex Black Bean Taquitos

Whole Wheat English Muffin Vegetable Pizza

Healthy Ground Turkey Taco Salad

Skinny Fettuccine Alfredo

Healthy Crock Pot Tex Mex Chicken

The Best Grilled Chicken

Slow Cooker Skinny Chicken Enchiladas

Taco Stuffed Peppers

Easy Mexican Pizza

Southwestern Quinoa Casserole

Baked Teriyaki Chicken

Skinny Sloppy Joes

Cheesy Taco Skillet

Skinny Broccoli and Cheese Soup

Grilled Vegetable Kabobs

10 Minute Taco Soup

Cheesy Broccoli Quinoa Casserole

Homemade Spaghetti Sauce

Chicken Burrito Bowls

Roasted Vegetable Tacos

Skinny Broccoli Macaroni and Cheese

Veggie Stuffed Shells
Keep reading to get the recipes for delicious dinners your kids will love.
===========================
Eliminate guesswork and confusion and start seeing results.
Subscribe to Tone-and-Tighten.com and get our FREE "7-Day Workout and Healthy Menu Plan" delivered daily right to your inbox. CLICK HERE to get it.
===========================
It's one thing to eat healthy, but it's another thing to find healthy recipes that your kids will actually eat!
These recipes are picky-eater friendly and full of veggies and healthy nutrients for kids.
I have rounded up 25 of my kids' favorite healthy dinners . . . and I think that the grown-ups will love them too.
Hope you enjoy! Scroll down to get the recipes.
Too busy to make a healthy dinner?
Think again!
I put together this 2 Week Healthy Eating Plan with BUSY PARENTS in mind.
Every dinner can be made in the slow cooker or a freezer meals, which makes dinner a BREEZE.
Lose weight, eat good, and do it in only a few minutes.
Get your 2 Week Busy Moms Plan HERE.
How Can I Get My Kids to Eat Healthier?
Kids naturally develop a preference for foods they enjoy the most, often the sweet, salty, fatty processed "junk" foods. Find ways to make nutritious foods appealing and fun for your kids to encourage healthy eating habits. Here's a few simple strategies you can work to implement one at a time:
Choose less processed foods. Try to feed your kids less packaged and processed foods by focusing on whole foods. Serve homemade meals when possible.
Limit sugar and refined carbs. Serve whole-wheat grains, limit sweets, and avoid sugary drinks (including too much juice). You can find a lot of delicious alternatives to favorite foods.
Be a good example. Eat the same foods you want your kids to eat at mealtimes. Don't have off-limit drinks and foods that are "just for the parents" (at least when your kids are awake).
Find new ways to serve "less-favorite" foods. You can experiment with hiding vegetables in all of your kid's meals to disguise the taste. Try sneaking veggies in their smoothies, blend them up in pasta sauce, mash them with mashed potatoes, cook them in a stew, etc.
Get your kids involved! Have your kids help you while planning meals, grocery shopping, and cooking in the kitchen. They are a lot more likely to try a food if they were involved in choosing it and preparing it.
Make healthy snacks easily available. Remember, you are the "gatekeeper". Your kids can't eat junk food if you don't make it accessible to them. Keep cut up fruits and vegetables easy to see and easy to reach in the fridge. It's also okay to serve veggie slices with dips and sauces to make them more fun and appealing.
Try different shapes. Sometimes all it takes is a different presentation and your kid will like healthy foods. Make a face pizza with lots of veggies, cut vegetables into stars and hearts, or use fun plates to organize meals. Your child will be more likely to eat a food if you increase the "fun" factor.
Don't use food as a reward or bribe. The overall goal is to help your children develop healthy eating habits. You are in charge of the timing of meals and type of food served, and your child is in charge of how much and if they eat. Don't make them clear their plate or use food as a reward. Over time your child will adapt to the mealtime schedule and eat what they need to.
How Do You Get a Picky Eater to Eat?
Picky eating is a normal part of child development, even though it can be frustrating. It may take 12 or more exposures to a new food (or even an old favorite food) before a kid will even try it. To help your picky eater, set up a meal and snack schedule. Your child will do best with a routine. When they are hungry they are more likely to try a new food. Limit snacking throughout the day, 1-2 scheduled snacks is appropriate.
Only offer one new food at a time and find fun ways to present it. Make it into a fun shape or serve it with other favorite foods. Have your child help prepare meals, let them choose a vegetable or fruit they'd like to try.
If your child has a few favorite foods, you might try serving these at snack time and offering other foods at mealtimes. For example, serve fruit, bread, and cheese in small amounts at snacks and then serve proteins, vegetables, and whole-grains in larger portions for meals.
The best thing you can do is to be a good role model of healthy eating and keep offering new foods, it may take a long time and practice, but your child will eventually improve. Do your best, try some of these recipes below!
Looking for more healthy recipes the whole family can enjoy? Give these a try:
Healthy Chicken Avocado Salad Sandwiches [Low Carb]
Be sure to not miss another post!
Follow Tone and Tighten on Instagram | Facebook | Pinterest | YouTube
Have you checked out my YouTube channel?
You're obviously interested in healthy recipes… how about entire menu plans? How about 30 days of breakfast, lunch, dinner, and snacks that are both delicious AND healthy?
Check out Tone and Tighten's newest eBook…
"The 30 Day Healthy Menu Plan"
Real recipes for real people – CLICK HERE to learn more.