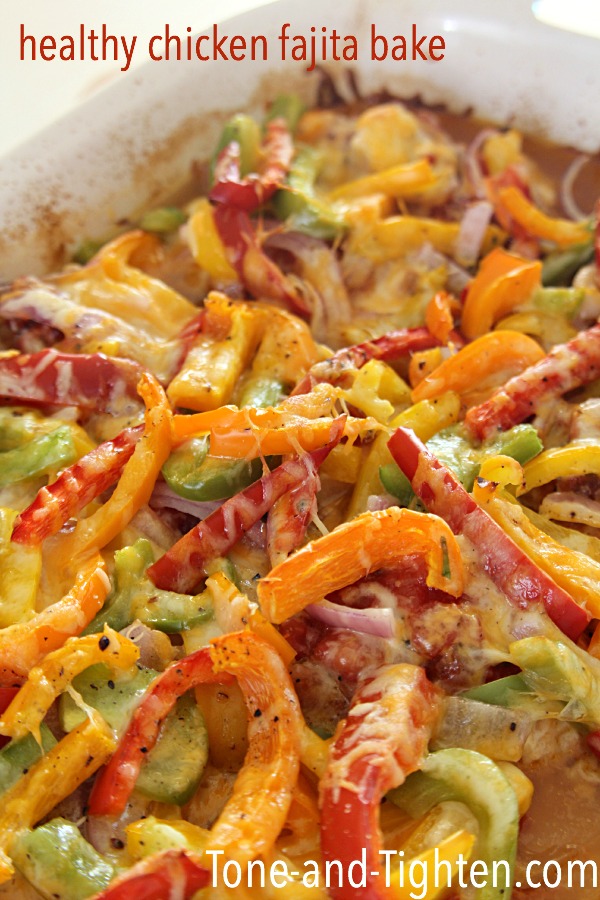 Yum
Any dish that makes your protein and vegetables all in one pan is a winner in my book! This is one of my go-to meals when I need a healthy dinner in a short amount of time. The chicken is flavorful and delicious – I know that you will love it.
Healthy Chicken Fajita Bake
Prep time:
Cook time:
Total time:
Protein and vegetables all baked in one dish- healthy eating doesn't get any easier than this!
Ingredients
2 lbs boneless, skinless chicken breasts
2 teaspoons taco seasoning
1 cup salsa
1 green bell pepper, thinly sliced
1 red bell pepper, thinly sliced
1 yellow bell pepper, thinly sliced
1 red onion, thinly sliced
1½ tablespoons olive oil
½ cup cheddar cheese, shredded
Instructions
Preheat oven to 375 degrees. Spray a 9x13" pan with non-stick cooking spray. Lay the chicken breasts in a single layer in the pan.
Sprinkle the taco seasoning evenly on all the chicken breasts, then top the chicken evenly with salsa. Spread the sliced peppers and onions on top of the chicken, then drizzle the olive oil over the peppers and onions. Sprinkle the top with cheese.
Bake for 35-45 minutes or until the internal temperature of the chicken reaches 165 degrees.
 Recipe slightly adapted from The Pinning Mama
Looking for more healthy recipes?
Homemade Taco Seasoning
The Best (and Easiest!) Grilled Chicken
Garlic and Parmesan Zucchini