Workouts, recipes, motivation, tips, and advice all right to your inbox! Subscribe to Tone-and-Tighten.com using the red bar up at the top of the page.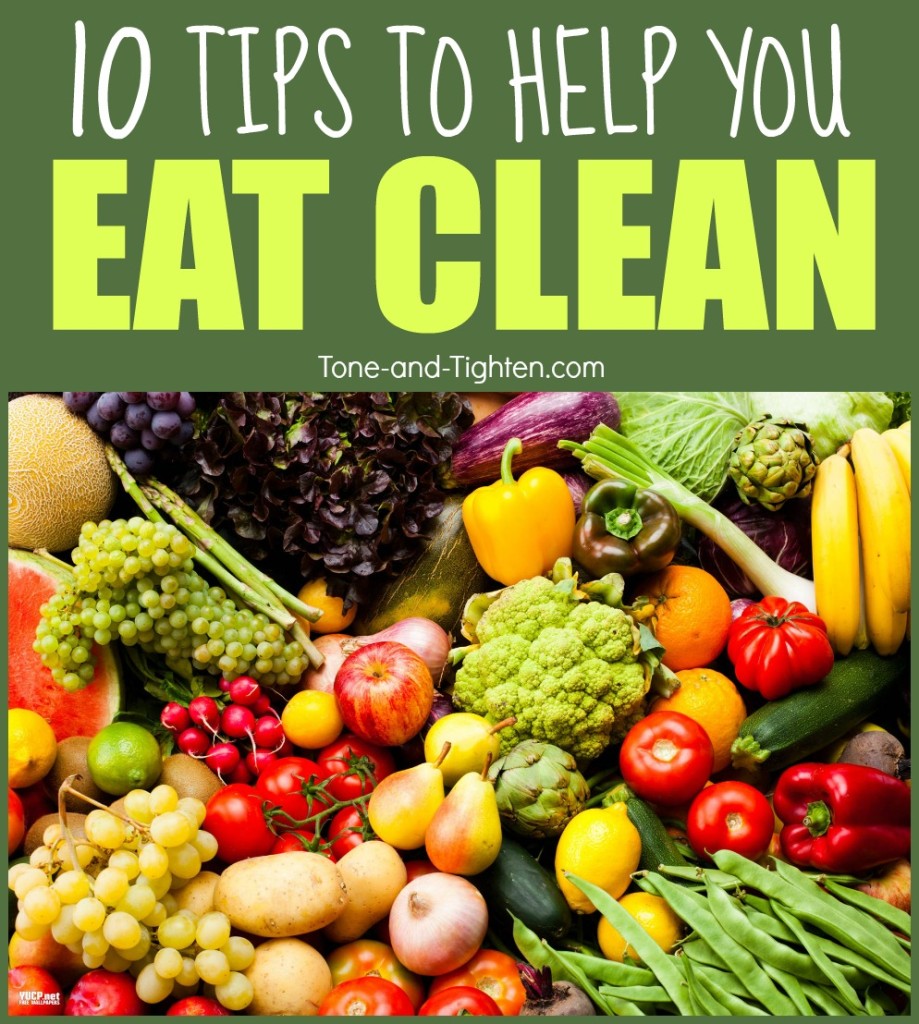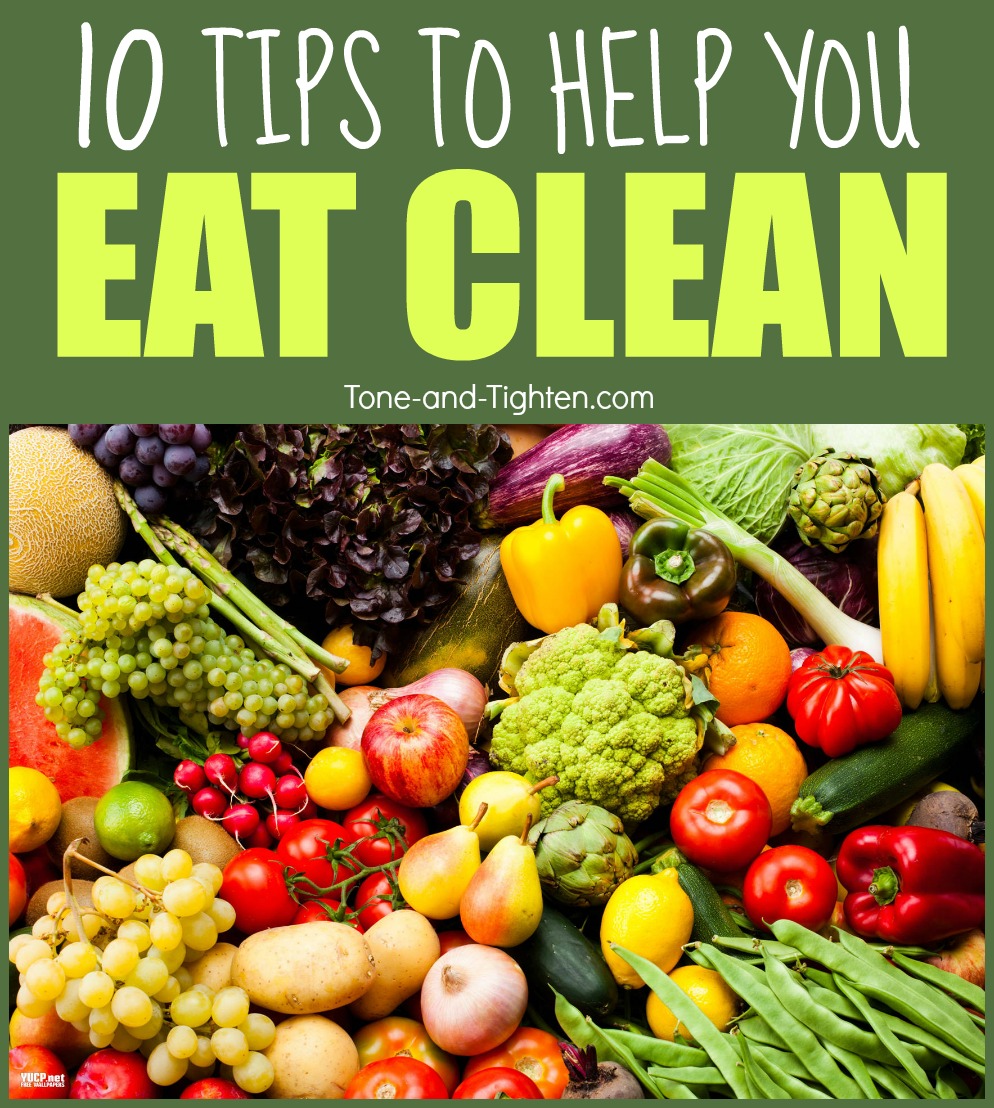 We all know that your diet (NOT dieting… your diet. You know – what you eat) and exercise are the vital components of your overall fitness. You can have the best workout plan in the world, but without proper diet/nutrition it won't make a bit of difference. Clean eating is vital to your overall success, but do we really know how to do it? What does it mean to "eat clean" and what's the best way to easily implement it into our lives? Today I wanted to share with you 10 simple tips you can incorporate to start eating better and start noticing even more results! Let's do this:
Clean eating is simply "better" eating. Eating clean means you select the best and healthiest options from the food groups you need and eating a lot less of the not-so-healthy alternatives. Let's see how we can better implement this in our daily lives:
1. Become a compulsive label-checker! One of the simplest ways to start eating cleaner is to start checking your food labels more regularly. If a food has more than about 10 ingredients and if it's full of things you can't pronounce – it's probably not a good idea to be putting it in your body. Be especially mindful of breads, processed foods, and baking mixes.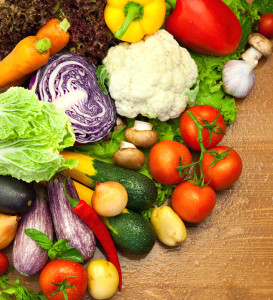 2. Veggies, veggies, veggies – Vegetables are high in vitamins and fiber while super low in calories. Most of us don't get the recommended number of veggies we need daily (2.5-3 cups). The first thing you need to do – start buying them more often! And then secondly – get creative on how to sneak them in to your diet (veggies on your sandwich, in your omelette, salad with dinner, etc). Check out some of my favorite veggie recipes right here! 
3. De-sweetify your diet – We live in a society that's completely dominated by sugar. We crave the sweet stuff. Did you know sugar has actually been proven to be more addictive than many illegal drugs?? Clean up your eating by eliminating (if not cutting way way way way down) sugar. Limit the obvious – soda, candy, baked goods, etc, but also be mindful of the not-so obvious (yogurt, peanut butter, bread). Again – checking labels is going to help significantly here!
4. De-saltify your diet as well – Many of us eat a lot more than the recommended 1 teaspoon of salt each day. We have processed foods to thank for this as salt is an excellent preservative. Try to look for low-sodium alternatives to the things you buy and try flavoring your food with herbs, spices, vinegar, etc.
5. Reach for the whole grains – You'd be amazed at what a difference whole grain makes! The bran and the germ have not been removed (like bleached counterparts) and they've preserved a lot of their natural color, nutrients, and flavor. Look for whole wheat bread, pasta, and rice and try out quinoa (like in this amazing recipe), and oats.
6. Cut down on meat – Now don't get me wrong… you definitely don't have to give it up entirely (something I personally would really struggle with!); but cutting down the meat in your diet helps to eliminate extra saturted fat that you likely don't need. Look to beans, eggs, nuts/nut butter, and chick peas as great protein alternatives in lieu of meat.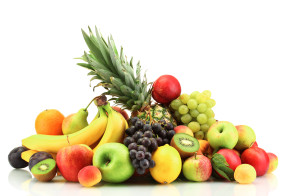 7. Make your day a little fruitier – Increasing your fruit intake is a phenomenal way to eat cleaner. It fills you up way more effectively than processed foods and baked goods, you can eat a lot more of it and add minimal calories, and it tastes delicious! You can even go canned as long as it's minimally processed and contains a lot more fruit than any additives or preservatives.
8. Drink more water – It's a proven fact that most of us don't drink enough water throughout the day. Did you know that oftentimes our brains mistake being hungry with being thirsty? You might go to your cupboard for something to eat when all you really need to satisfy the craving is a tall cold glass of H2O. You should be drinking eight 8-ounce glasses (64 ounces) every day. Here's a great way to make sure you're on the right track.
9. In order to eat clean you have to BUY clean – Oh to get people to understand this one principle… YOU WILL EAT WHAT YOU BUY!! That being said – avoid the cookie aisle! Don't even go near the candy shelves! If you don't have it in your house you will not be able to eat it! Spend more time in the fresh fruits and veggies, stock up on those bad boys in your home, and suddenly when you are hungry you don't have any other alternatives!
10. If you fail to plan you plan to fail – Go into the week with a menu plan. One sure-fire way to fail is to have no idea what you're going to eat that week. When 5:00 rolls around and you start to look at your spouse/significant other/whoever and asking each other "what's for dinner tonight" chances are you'll end up with pizzas and sodas or else going out for fast food. Planning your week will help with your shopping, clean up your eating, and maybe even introduce you to some new flavor combinations you didn't know you loved. I'll even get you started – check out 10 whole weeks of healthy and delicious menu plans right here!
Eating clean does not mean radically changing everything you love and are accustomed to. I love the idea because it simply asks you to try a little harder to be a little better.
Interested in learning more about diet and how it relates to exercise?
Have a few pounds that you'd like to get rid of?
You have to check out T&T's "Beginner's Guide To Weight Loss"!! Over 60 pages of tips, advice, workouts, and recipes to help you lose weight successfully.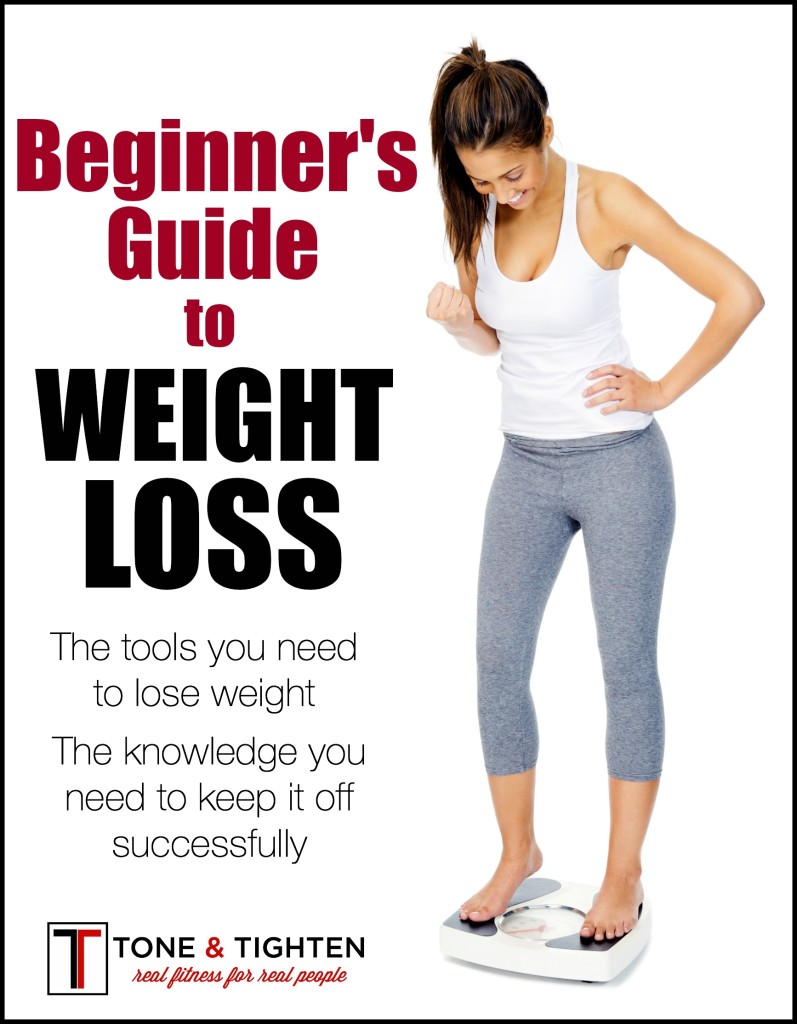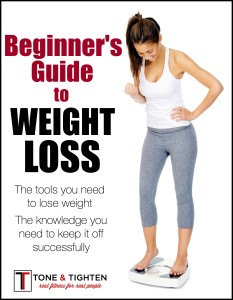 Make it happen,
Jared