Workouts, recipes, motivation, tips, and advice all right to your inbox! Subscribe to Tone-and-Tighten.com using the red bar up at the top of the page.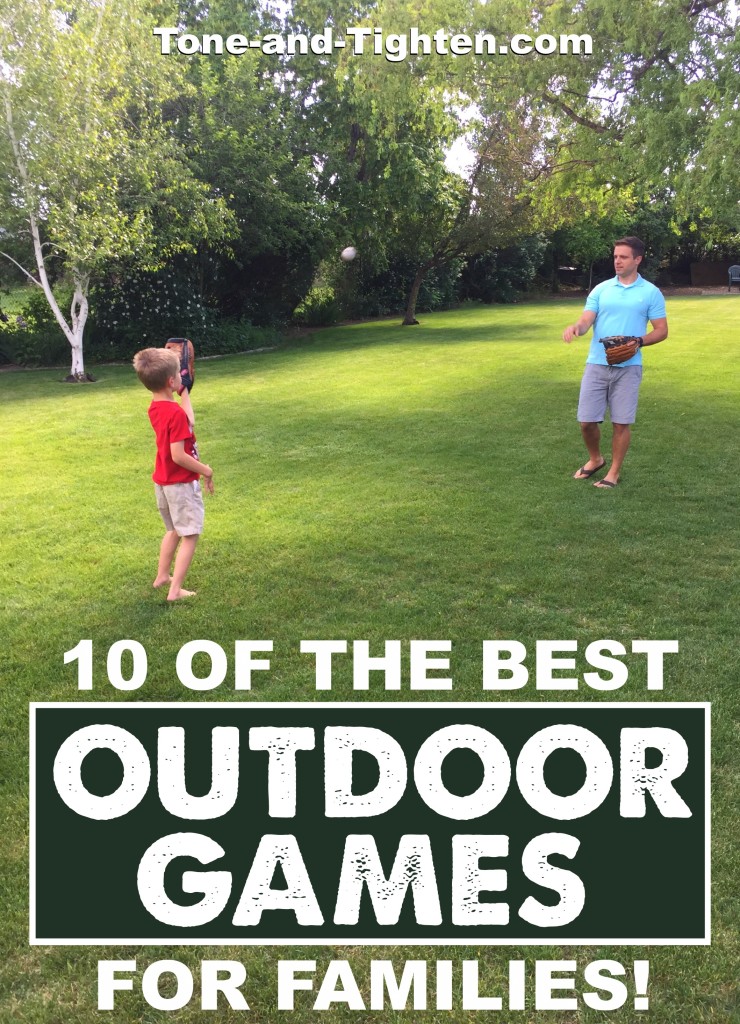 I love summertime! Days get longer, weather gets warmer, and there's a seemingly endless list of amazing things to do! I consider myself very fortunate that my kiddos have developed a similar passion for the outdoors and for outdoor activity like their daddy (SO much better than video games and screens!). Today on Tone-and-Tighten.com in connection with Kohl's and the #MakeYourMove campaign I wanted to share with you my family's 10 favorite outdoor activities that help us to "Make Our Move"!
Have you taken a look at Kohl's.com lately? I have been amazed at how much they really have to offer! I've always kind of thought of them as a department store where you go to get clothes and clothes only, but in preparation for this summertime #MakeYourMove campaign I did a little more research into Kohl's and kohls.com to see what they had to offer. Did you know they have an entire sporting goods section?? No joke! Everything you see in this post is actually available at Kohl's for a great price by clicking the item links below.
Hope you enjoy this as much as we did publishing it!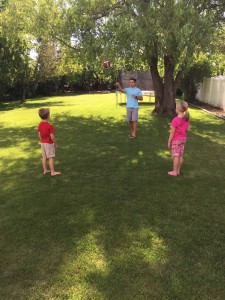 1. Football – We love playing catch! Take the time to show your kids how to properly throw it and I promise they will love it even more! My kids will always ask to play a game, which inevitably ends up "Monkey In The Middle" and "Keep Away From Dad"!
2. Basketball – We have an adjustable hoop and a few mini basketballs that work perfect for their small hands! You can teach them basic shooting and dribbling drills and end with a game of P-I-G!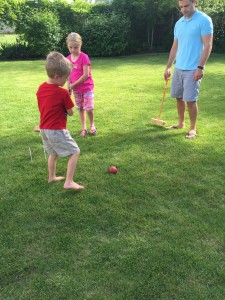 3. Croquet – One of our backyard favorites! They love to whack those croquet balls around the yard! Just make sure your toddler isn't too close – I usually have to save my baby at least once per croquet game!
4. Tag – GREAT way to get our and just run around! No equipment required and a great activity! We play a version where all the trees in our backyard are "safe" but you can't hold on to one for more than 10 seconds.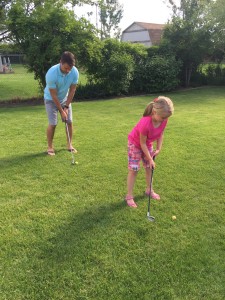 5. Golf – Little-known fact about me … I was actually on my high school golf team! This one is truly one of my passions that I'm thrilled my kiddos are getting into! Once again, it's all about taking the time to teach them the basics, being PATIENT (big one for me!), and celebrating in their successes! They love it when I take them to the driving range ("big golfing") or even out onto the course ("big golfing where we drive the car").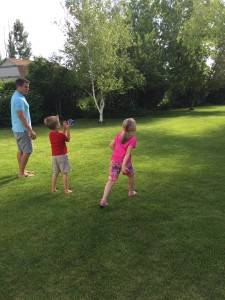 6. Bocce ball – Simple enough idea that even my youngest loves to play with us. Fun way for kids and grown-ups to all play together in a game that doesn't necessarily require a skill level to be a ton of fun.
7. Frisbee (disc golf) – Our kids love throwing the frisbee around. I introduced them to disc golf last year and they haven't stopped talking about it since! I love that it's such a wonderful walk through the outdoors but adds a challenge and a goal. Best part – it's free!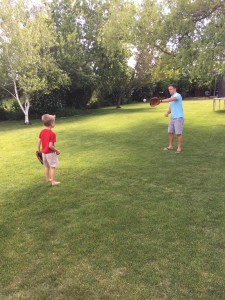 8. Baseball – One of my kids' favorites! From just throwing the ball around to bringing out the baseball bat and our bucket full of tennis balls – they love to hit and run and throw around the backyard!
9. Scooters – We gave our kids some of these Razor scooters for Christmas a couple of years ago and they literally haven't been off of them for one day since! What used to be my wife and me yelling "try to keep up" has now become "slow down" and "wait for us"! I love how much they love them.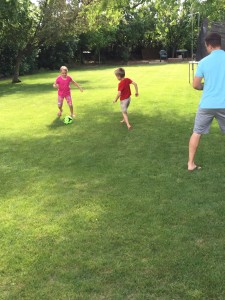 10. Soccer – My kids have played soccer for a couple of years now and they love it! We'll go out and work on dribbling, passing, and shooting, followed by a game of "Kids vs Dad"! I love that all the running doesn't really feel like a lot of running when you're chasing a ball down!
And there you have it – our Top 10 Outdoor Activities To Do With Your Family!
Now I'm interested – what did I leave off the list? What is YOUR favorite outdoor activity to do with your family in the summer time? Leave me a comment below to share ideas with other T&T readers.
Connect with Kohl's on Facebook, Twitter, Instagram, and Pinterest!
Looking for more great posts from the #MakeYourMove series I've done with Kohl's? Here are a few of my favorites:
Make it happen,
Jared
Get Jared's look in this post here:
Chaps Solid Pique Polo: http://www.kohls.com/product/prd-1373162/chaps-solid-pique-polo-men.jsp
IZOD Classic-Fit Solid Micro Twill Performance Golf Shorts: http://www.kohls.com/product/prd-1956928/izod-classic-fit-solid-micro-twill-performance-golf-shorts-men.jsp
Dockers Stitched Flip-Flops: http://www.kohls.com/product/prd-2024522/dockers-stitched-flip-flops-men.jsp
FitBit Charge HR Activity Monitor: http://www.kohls.com/product/prd-1989010/fitbit-charge-hr-wireless-activity-heart-rate-wristband-black.jsp
This post is sponsored by FitFluential on behalf of Kohl's.