Reintroduce core strengthening safely and effectively with 4 of the best ab exercises you can do after pregnancy. Instructed by a doctor of physical therapy specializing in postpartum care, these exercises will start to tone your stomach and strengthen your core. These are also four of the best exercises to heal diastasis recti and minimize your abdominal separation.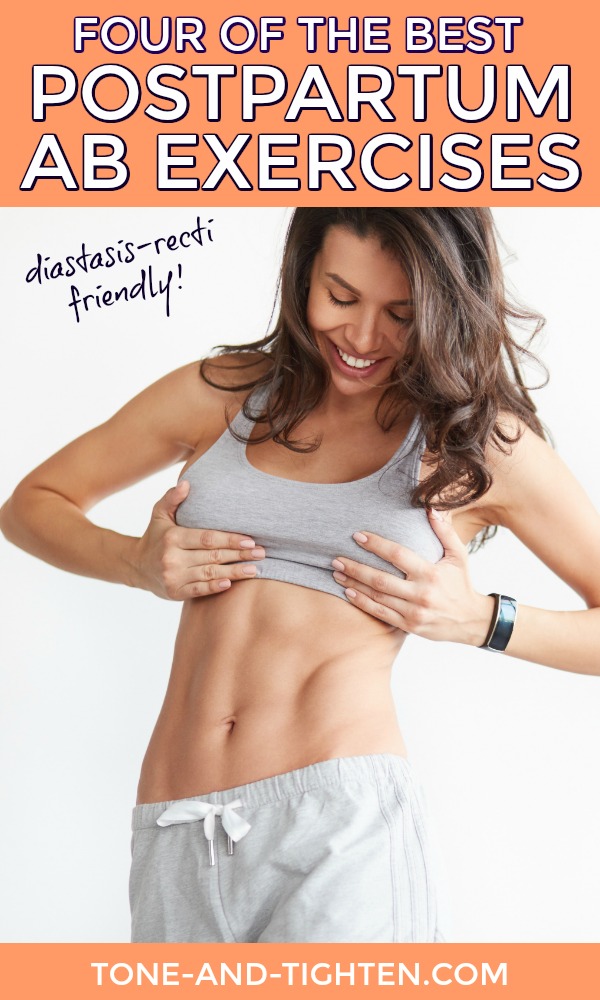 The Four Best Postpartum Ab Exercises
Abdominal bracing/TA activation

Abdominal bracing with a march

Abdominal bracing with a ball squeeze

Modified side plank
Keep scrolling to see the full video demonstration of each of these exercises!
First of all – CONGRATULATIONS! I'm assuming if you're watching this video and reading this description you've recently welcomed a new baby into your home! I wish you peace, joy, happiness, and SLEEP as you both get to know each other.
You ladies go through so much to get these babies here; don't discount the absolute miracle that your bodies are and the wonders they perform in growing and sustaining life.
That being said, for most of you, the last nine months have been an all-out battle that, I'm really sorry to say, your abs probably lost. While chances are that your stomach doesn't look the same that it did pre-baby, there's so much that you can do to get it back into shape! This workout is one of my all-time favorites to show to postpartum moms. Not only are these exercises safe, they're incredibly effective! If you're looking to tone your abs and tighten your stomach after pregnancy these are the PERFECT exercises to get you going.
The secret is in activating the RIGHT muscles the RIGHT way while avoiding aggressive activation of the wrong muscles. This is the fastest way to decrease postpartum stomach fat and even heal diastasis recti abdominal separation. Keep reading below for more!
Before you start, it is IMPERATIVE that you have your doctor's clearance to do so! As a super general rule – you should wait until 6 weeks post-delivery if you had a "normal" vaginal deliver and 8 weeks if there were any complications or you had a C-section. Please keep in mind these are GENERAL guidelines – you should always get the go-ahead from your healthcare provider before starting this or any other exercise program.
WHAT IS A DIASTASIS RECTI?
Diastasis recti is a separation of the rectus abdominis; one of your four abdominal muscles. This is the muscle that runs down the front of your abdomen from the bottom of your ribs to the top of your pelvis. It's the "six-pack" muscle that is divided vertically into two halves. These two halves are joined by connective tissue that can be stretched and even torn with increased abdominal pressure. This stretching and (in bad cases) tearing is what's known as diastasis recti.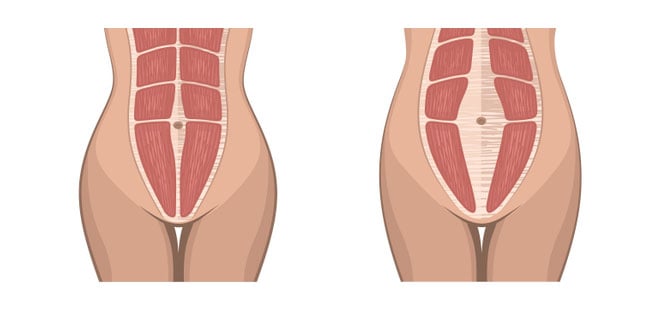 WHY DO I GET DIASTASIS RECTI?
You can get diastasis recti from any condition that causes increased stress on the connective tissue of your rectus abdominis muscle. The most-common cause that I see is in postpartum women; the pressure on the stomach from the growing fetus can cause the tearing to occur. Other factors include increased stomach fat, aggressive stomach contractions, and illness (stomach flu).
CAN EXERCISE HELP DIASTASIS RECTI?
The RIGHT exercises performed the RIGHT way can have a significant effect on your diastasis recti gap. I've had ladies with a 4-finger separation heal up to 0-1 fingers with regular performance of the right exercises which I recommend to them.
WHAT ARE THE BEST EXERCISES FOR DIASTASIS RECTI?
When treating a diastasis recti condition, you want to perform activities that activate your transverse abdominis muscle. When contracted, this is the muscle that pulls your belly button in to your spine. When you're trying to button the button on your skinny jeans – this is the muscle that helps you get there. You want to tone and strengthen this muscle to mitigate the gap between the halves of your rectus abdominis muscle and improve appearance, strength, and function.
In this "Ab Workout After Pregnancy" I'll run you through four of the best exercises you can do to decrease your "mommy pooch" and tighten your stomach.
Push "PLAY" on the video below to see the Four Best Postpartum Ab Exercises!
Postpartum abs can be difficult to deal with. Stop doing crunches, sit ups, and planks, and get to work doing some of the absolute best exercises to strengthen your stomach after pregnancy!
Interested in some more great post-pregnancy core advice? I've got you covered! Here are some of my favorite videos to help you recently-delivered mommas out there:
15-MINUTE ABS WORKOUT WITHOUT CRUNCHES
EXERCISES TO AVOID WITH DIASTASIS RECTI – AND WHAT TO DO INSTEAD!
AB WORKOUT AFTER BABY – DIASTASIS RECTI SAFE
HOW TO CHECK FOR DIASTASIS RECTI
Make it happen,
Jared