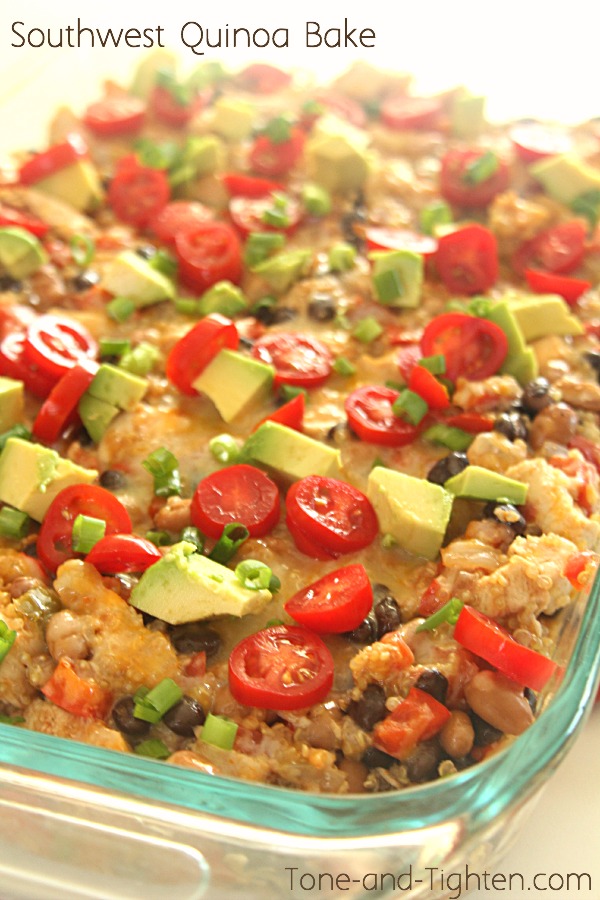 Sometimes finding healthy dinners that the whole family likes can be quite the challenge, but this recipe will keep even your pickiest eaters happy!
If you have never tried quinoa before, this is the perfect place to start. You will love it in this dish!
Check out this video to see how easy it is to throw this healthy meal together:
This dish is also delicious without chicken, so if you are looking to go meatless just take out the chicken and replace the chicken broth with vegetable broth.

Southwest Chicken Quinoa Bake
Prep time:
Cook time:
Total time:
Loaded with healthy ingredients, this filling dish will be a recipe that your whole family will love!
Ingredients
1 lb chicken, cooked and shredded (rotisserie chicken also works great for this recipe!)
1 cup quinoa
1 (15 oz) can chicken broth
1 tablespoon olive oil
1 onion, chopped
1 red bell pepper, chopped
1 green bell pepper, chopped
3 cloves garlic, minced
1 (10 oz) can Rotel tomatoes, undrained
1 (8 oz) tomato sauce
1 (15 oz) can black beans
1 (15 oz) can pinto beans
1½ teaspoon cumin
salt and pepper to taste
1 tablespoon chili powder
1 cup Mexican blend cheese (or cheddar will work)
Instructions
Preheat oven to 375 degrees. Spray a 9x13" pan with non-stick cooking spray.
Pour can of chicken broth and quinoa in a large saucepan, then bring to a boil. Reduce heat to low, cover, and let cook for 15 minutes. Remove from heat and let stand, still covered, for 5 minutes. Fluff with a fork and set aside.
While the quinoa is cooking, heat olive oil in a skillet pan over medium high heat. Add onion, peppers, and garlic and saute until vegetables are tender (about 2-3 minutes).
In a large bowl, mix together onion and pepper mixture, Rotel tomatoes, tomato sauce, black beans, pinto beans, cumin, salt and pepper, and chili powder. Add in chicken and cooked quinoa. Pour mixture into prepared dish and top with cheese.
Cook for 15-20 minutes, or until cheese is melted and the casserole is starting to bubble.
Top with your favorite toppings - I used avocado, tomatoes, and green onion.
Items needed for recipe:
Looking for other healthy recipes?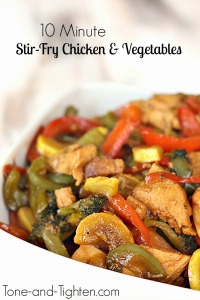 10 Minute Stir-Fry Chicken and Vegetables