Slow cooker 3-ingredient Mexican chicken is the perfect recipe for a healthy meal on a busy day. This easy Mexican shredded chicken is great for meal prep to eat with wraps, burrito bowls, and salads.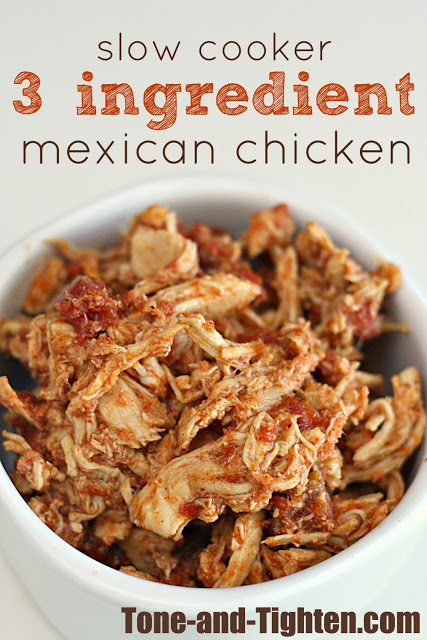 Slow Cooker 3 Ingredient Mexican Chicken Recipe 
Keep reading to find the recipe and directions. 
===========================
Eliminate guesswork and confusion and start seeing results.
Subscribe to Tone-and-Tighten.com and get our FREE "7-Day Workout and Healthy Menu Plan" delivered daily right to your inbox. CLICK HERE to get it.
===========================
Need an easy recipe for dinner tonight? 
This is one of my go-to chicken recipes because it's so versatile- I use it for tacos, burritos, my skinny enchiladas, salads- the possibilities are endless.
Did I mention that it is basically fail-proof and only uses 3 ingredients?
You are welcome.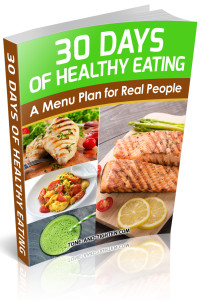 You're obviously interested in healthy recipes… how about entire menu plans?
How about 30 days of breakfast, lunch, dinner, and snacks that are both delicious AND healthy?
Check out Tone and Tighten's newest eBook…
WHAT IS THE BEST WAY TO MAKE MOIST SHREDDED CHICKEN? 
Looking for the perfect way to make shredded chicken that isn't dry? It doesn't get much better than using a slow cooker– your chicken will turn out moist, full of flavor, perfectly cooked, and easy to shred.
Not to mention, it's incredibly easy. And what could be better than shredded chicken? Mexican shredded chicken! You're going to love this recipe. 
HOW LONG DOES CHICKEN TAKE IN A SLOW COOKER?
Cooking chicken in a slow cooker is easy, but it does take a few hours. The cooking time depends on the size of chicken pieces  and the temperature of the slow cooker.
Chicken usually takes about 3-4 hours in the slow cooker on high, or 6-7 hours on low, or until it gets to 165 degrees Fahrenheit.
You can also check the chicken with a fork, when it shreds easily– it is done. Don't overcook it or it will be dry and not as flavorful.  
IS IT OKAY TO LEAVE A SLOW COOKER ON ALL NIGHT? 
A common concern about slow cookers questions they safety of leaving them on overnight, or during the day when you are not at home. 
Slow cookers are safe to leave unattended for several hours even if you aren't at home. They are designed to be left to cook for extended periods of time, so yes it is safe to leave them overnight or during the day as long as you follow the recipe directions and manufacturer's instructions. 
WHAT ARE THE BEST THINGS TO MAKE IN A SLOW COOKER? 
Do you own a slow cooker but don't use it often? They are the easiest way to prepare a meal- as long as you plan half a day in advance.
One of my favorite things to cook in a slow cooker is shredded/pulled meats like pork and chicken– they are the most tender when cooked in a slow cooker because they have all day to soak up flavor which creates a juicy texture.
I also love to cook soups and stews all day for a warm and comforting meal that leaves my kitchen smelling amazing.
You can also be a little more creative and cook things like crisps and cobblers, oatmeal, casseroles, quinoa, or vegetables in a slow cooker. 
WHAT ARE THE BENEFITS OF USING A SLOW COOKER? 
I love using my slow cooker. Here are some of my favorite reasons to use a slow cooker: 
Meal prep: It helps me plan ahead for busy days when I want to have a delicious meal on the table by dinnertime for my family without a lot of prep work. 
Cooking meat: A slow cooker is one of the best ways to tenderize meats, even tough cuts of meat.
Flavor: As a result of the long low-temperature cooking, a slow cooker brings out the flavors in foods like soups, chili, stews, and casseroles.
Easy preparation and cleanup: Slow cookers allow for one-step easy preparation and simple cleanup. 
Useful all year round: You will use a slow cooker all the time- in the winter for warm and hearty soups, and in the hot summer to avoid using your oven. It won't heat up your kitchen like turning on the oven- and it uses less electricity.
Easy to use: Slow cookers are a simple kitchen appliance that everyone should have. So easy to use- you add in the food, turn it on, and come back a few hours later to a great meal.
You can also use a slow cooker to prep meals ahead of time to quickly reheat on a busy day. Interested? Check out my Make-Ahead Shredded Chicken Freezer Meal.
WHAT IS THE BEST SLOW COOKER?
To make this recipe, I used this 5-Quart Slow Cooker. It has a programmable timer and it automatically switches to a warm setting if the food stops cooking before I get home.
It's the perfect crock pot and I've had it for years. If you don't have a slow cooker you need this in your kitchen. At less than $30, it's definitely worth every penny.
Slow Cooker 3 Ingredient Mexican Chicken
Ingredients:
3-4 boneless, skinless chicken breasts
1 (14 oz) can diced tomatoes with green chilis (I used Rotel)
2 tablespoons homemade taco seasoning (or 1 – 1 oz taco seasoning packet)
Directions:
– Spray slow cooker with non-stick cooking spray.
– Place chicken breasts inside slow cooker and dump other ingredients on top.
– Cook on low for 6-7 hours (no longer or else the chicken will dry out) or high for 2-3 hours.
– Remove chicken and shred with two forks, place back into slow cooker with seasoning and tomatoes and mix together.
– Serve however you want- on tacos, burritos, nachos, etc.
Makes 4-5 servings.
Looking for more healthy recipes? Check these ones out:
Frozen Healthy Breakfast Burritos
10 of the Best Green Smoothies
Sweet and Sour Turkey Meatballs
Egg White Omelette- in a mug!
Be sure to not miss another post! Get more recipes, workouts, and fitness tips- follow Tone and Tighten on Instagram | Facebook | Pinterest | YouTube | Twitter
Make it happen,
Jared