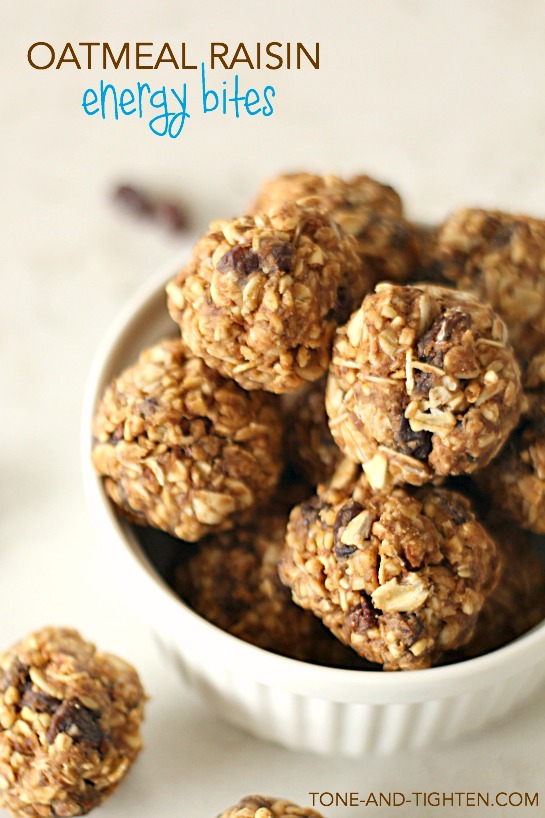 My wife and I are competing against each other in my 4 Week Get Fit Challenge. The hardest part for me: SNACKS. I didn't realize how often I go to grab a candy bar or piece of candy to munch on . . . which is where these little energy bites come in handy! Loaded with stuff that will fill you up and give you energy to power through your day, you will definitely want to whip up a batch for yourself.
Oatmeal Raisin Energy Bites
Recipe type:
Healthy Snack
A delicious snack that will fill you up and give you energy to power through your day!
Ingredients
1 cup rolled oats
½ cup steel cut oats
¼ cup ground flax seed
1 cup raisins
1 teaspoon cinnamon
dash nutmeg
dash salt
2 teaspoon vanilla
2 tablespoons honey
½ cup almond butter (or natural peanut butter)
Instructions
In a bowl, mix together rolled oats, steel cut oats, flax seed, raisins, cinnamon, nutmeg, and salt until completely combined.
Add the remaining vanilla, honey, and almond butter and mix- it will turn into a sticky dough.
If the dough is too sticky, add more rolled oats. If the dough is a bit too dry, add more almond butter. You just need it to be the right consistency so that you can roll it into ball.
Roll the mixture into 1 inch balls - you should be able to make about 20 balls per batch.
Place balls into the fridge for about an hour to let them set up, then keep them in a resealable container in the fridge and they will last for about a week.
Items needed for recipe:

Recipe source: Get Creative Juice
(One serving is 1 energy bite.)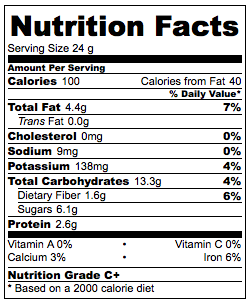 Looking for more healthy snacks? Check out these: