The best stretches and exercises to help fix your IT band knee pain fast! These are the same exercises I recommend to my physical therapy patients to give them relief from their lateral knee pain. How to treat IT band syndrome naturally and effectively right at home with the right stretches and exercises.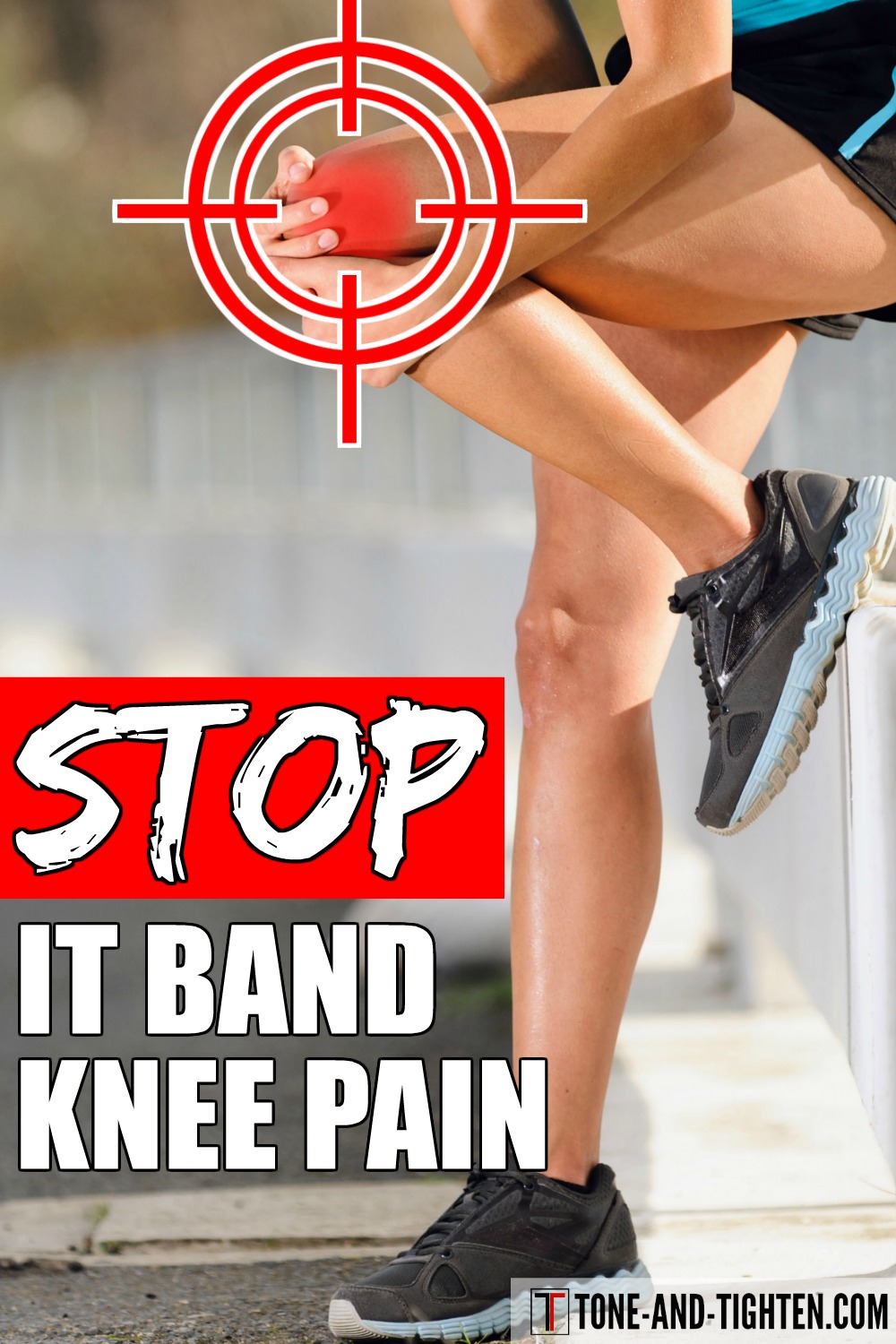 Iliotibial band syndrome, or "IT band pain", is a common knee pain condition characterized by pain sharp pain on the outside of the knee joint. It is a very typical overuse injury that is common in an active population (runners, weightlifters, etc.).
While this pain can be very sharp, severe, and debilitating at times, fortunately there is a lot that conservative care including the right stretches and exercises can do to mitigate this problem. Today I wanted to share with you eight of my favorite stretches and exercises to help decrease your IT band pain symptoms.
WHAT IS THE IT BAND?
Your IT band is actually a thick, broad tendon that runs down the outside of your upper thigh. It is primarily a tendon for one of your hip flexor muscles, but there are also other muscles that do attach to it and influence its function.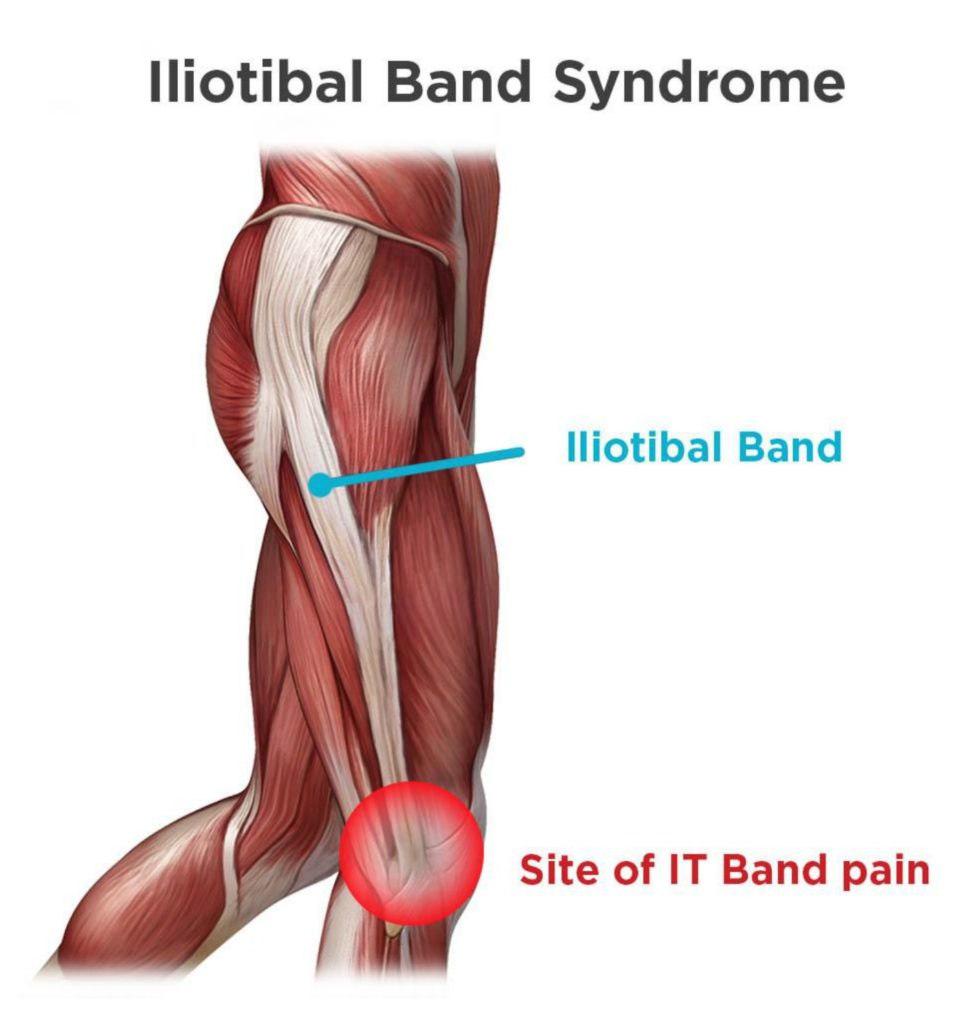 WHAT ARE THE MUSCLES THAT ATTACH TO THE IT BAND?
There are four main muscles that directly influence IT band function. In order to alleviate IT band pain, each of these muscles must be given special attention. Most often, pain is due to increased activity/tension in the anterior muscles and decreased activation of the posterior muscles.
The muscles that influence the IT band include:
Tensor Fasciae Latae – a small hip flexor in the front of your hip that mainly connects into the top of the IT band.
Gluteus Maximus: large hip extensor in the back that often gets weak and fails to control the IT band under dynamic conditions.
Vastus Lateralis: one of the quad muscles that runs down the outside front of your leg.
Biceps Femoris: one of your hamstring muscles that affects the IT band tendon on the outside and back part of the knee joint.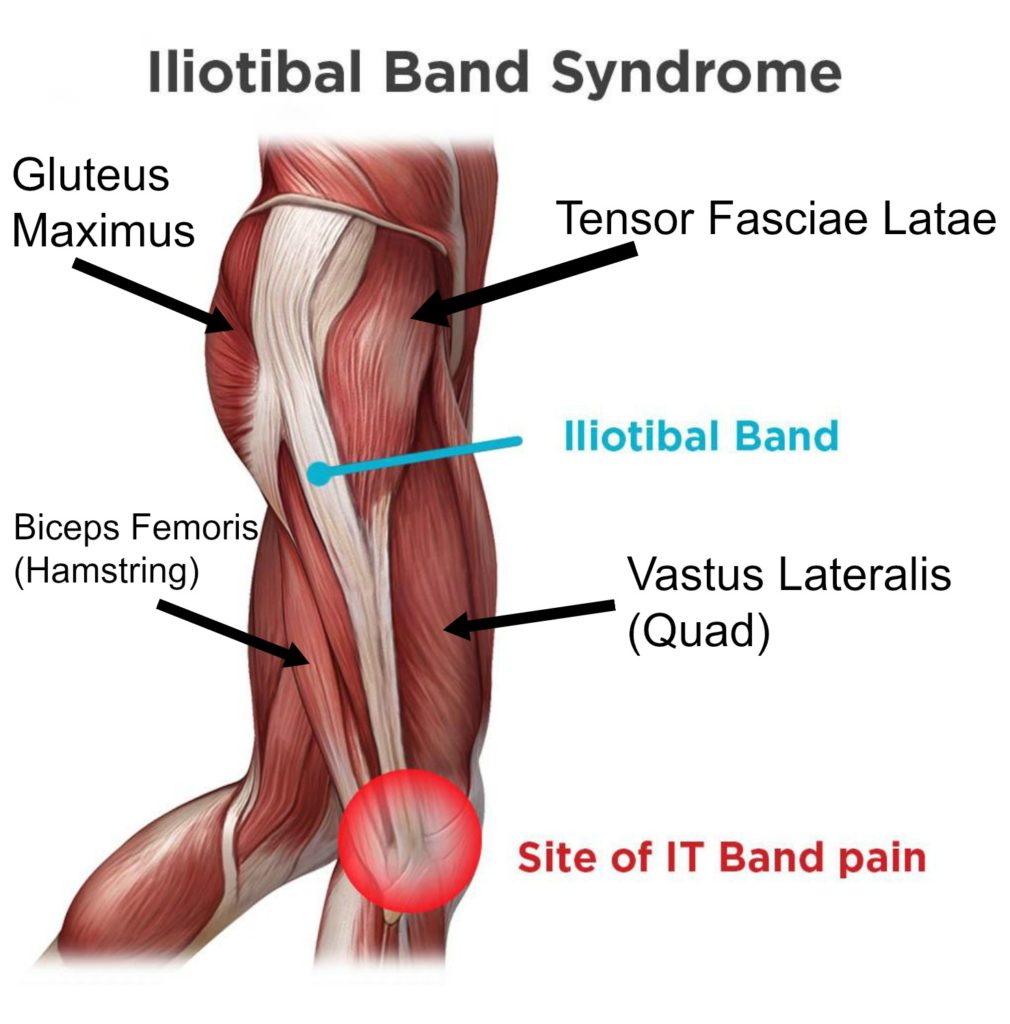 WHY DOES MY IT BAND HURT?
Most of the time, it's due to faulty mechanics of the IT band including increased tension in the muscles and decreased strength. When your knee is straight, the IT band is in front of the knee joint axis. When you bend your knee, the IT band crosses the outside of your knee joint and ends up behind the axis. If there's increased tension in your IT band the result is a rubbing or "friction" that occurs on the outside of your knee. This is the common cause of pain.
HOW TO STRETCH YOUR IT BAND
Here's the thing – your IT band is a tendon. It's sole purpose is to NOT stretch, but rather to be pulled on by muscles to influence joints. You cannot stretch your IT band, but there's certainly a lot you can do to affect all the muscles that attach to it.
BEST EXERCISES FOR IT BAND PAIN
The best exercises for IT band pain are going to be those that target the deficits that cause IT band syndrome – namely stretching the muscles that tend to get tight and strengthening the muscles that tend to get weak. The combination of these two primary treatments will help you see the progress and improvement you're after with your knee pain.
EQUIPMENT DEMONSTRATED IN THIS VIDEO
FOAM ROLLER: https://amzn.to/2ogrSpf
STRETCH OUT STRAP: https://amzn.to/2oZA8dR
RESISTANCE BAND/LOOP: https://amzn.to/2o9Qikq
1. Lateral Hip and Thigh Stretch – probably my favorite stretch for those muscles that tighten up your IT band. Make sure you pull back to extend and push down to adduct the leg.
2. Lateral Hamstring Stretch – don't just bring the leg straight up, but pull it across the center of your body for a whole new stretch.
3. Lateral Hamstring Standing – great option for when it's not convenient to lay down and stretch.
4. Standing Lateral Hip Stretch – effective for stretching out the entire lateral side of the hip and torso.
5. Single Leg Bridge – my go-to to build glute strength at home.
6. Side-lying Abduction – the majority of knee pain I see in my clinic could be avoided and even eliminated if people paid more attention to this one simple exercise.
7. Hip Hikes – kick the lateral hip and leg stabilizers into overdrive with this effective bodyweight exercise. Also great for balance and stability.
8. Lateral Band Walks – these are brutal! There are few exercises that get all the muscles I've mentioned in this video as effectively as band walks. Make sure there's tension in the bands at all times for a more effective workout.
HOW OFTEN SHOULD I DO THESE IT BAND EXERCISES?
I recommend that you perform these exercises daily to help decrease the knee pain you're experiencing. The stretches (numbers 1-4) can be performed twice a day and the strength training exercises (5-8) can be done once a day.
If you found this video helpful do my a huge favor and leave me a thumbs up up above!
Also – if you haven't done so already I would love for you to subscribe to Tone and Tighten right here on YouTube so you never miss a new video from us!
Finally if you have any questions or comments about any of the material I covered in this video please leave those in a comment below and I'll get to it just as soon as I can.
HOW TO FOAM ROLL YOUR IT BAND: