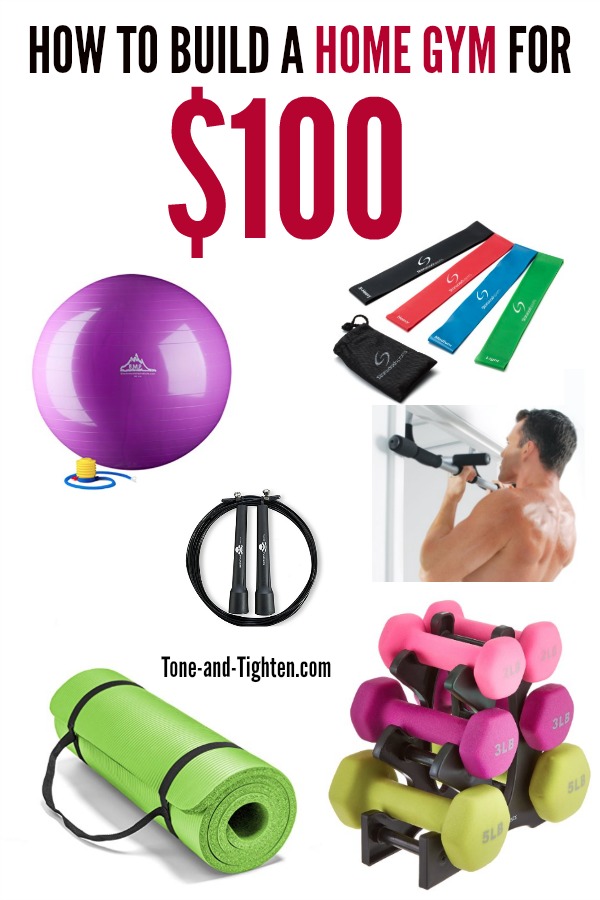 I have received so many emails asking how people can lose weight without having to spend tons of money on a gym membership. Plus, it's so convenient to be able to workout from home!
I wanted to share with you today the key pieces of equipment that will help you lose weight effectively right at home – and you can do it for about $100.
This post may contain affiliate links. Read my disclosure policy here.
Weights
The most important piece of home equipment I recommend is a pair of dumbbells. This will definitely be your biggest investment, but definitely the best one!
If you are a beginner, aim for 2-5 lb dumbbells ($15-20)
Intermediate should aim for 8-10 lb dumbbells ($16-$30)
More advanced should be 12-20 lb dumbbells ($25-40)If you are looking for the best bang for your buck, I would highly recommend adjustable dumbbells. They are more expensive, but give you endless options with weight. I use mine literally every day.Another great place to find weights is on craigslist or your local classifieds. People are always selling their weights and you can usually find a great deal!
Jump Rope
Cardio is a must and a jump rope is such an amazing and effective workout!
Check out my favorite jump rope for less than $10!
Exercise Ball
These are also called physio balls, but they provide a great way to workout (especially your core!).
This exercise ball is my favorite and it's only $18 (plus it comes with a pump).
Yoga Mat
Do ab work or stretches on any type of floor surface with a good yoga mat.
I recommend getting a thicker mat – this one is only $18.
Pull-Up Bar
Pull-up bars are one of the best ways to work your entire upper body and you can get a great one for less than $25 bucks!
Resistance Bands
Resistance bands are such a great way to tone and tighten any area and a great alternative to weights (but still effective!).
This set of resistance bands are less than $9!
So there you have it! A whole home gym for about $100!
Here's the breakdown:
–weights: $20 (might be more if you need heavier weights)
–jumprope: $10
–exercise ball: $18
–yoga mat: $18
–pull-up bar: $25
–resistance bands: $9
Grand total: $100
Do you have anything that you would add to this? Leave me a comment below!