5 of the best exercises and stretches you can do at home to treat neck stiffness and pain. The best home exercises to decrease tension and pain in your neck and help you return to doing the things that you love!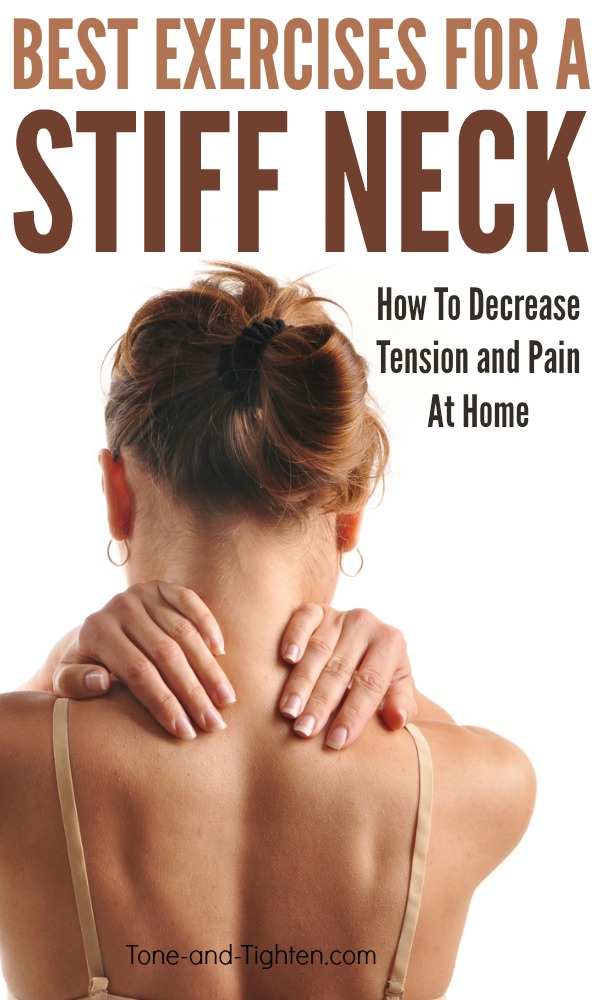 The best exercises and stretches for neck stiffness and pain:
Upper trapezius stretch

Levator scapulae stretch

Cervical rotation stretch

Chin tuck stretch

Shoulder shrugs and rolls
Keep reading below for a full description and complete video instruction on how to perform each of these exercises.
As a physical therapist, neck pain and stiffness is one of the most common injuries that I treat. It's a very prevalent problem that affects millions of people every day.
Fortunately, there is a lot that the right stretches and exercises can do to eliminate stiffness and pain in your neck.
Before we get started, it's imperative to mention that NOT ALL NECK PAIN IS THE SAME!
For the purposes of this video, I will be showing the best exercises for general neck stiffness and pain. If your pain/stiffness is accompanied by any numbness or tingling in your hands or arms, these exercises may not be the best for your you. I would encourage you to go get your condition checked out by a doctor or physical therapist who can recommend a treatment plan based on your individual needs.
WHY DO I HAVE A STIFF NECK?
Neck pain and stiffness can be caused by a number of things. Muscle strain/injury, poor posture, and bad positioning (either while seated at work or laying down to sleep at night) are among the most common causes of this problem.
CHECK OUT THIS VIDEO ON HOW TO FIX YOUR NECK POSTURE:
HOW TO ELIMINATE MUSCLE KNOTS FROM YOUR NECK AND SHOULDERS
Often times stiffness in your neck can lead to muscle knots (sometimes referred to as "trigger points") in the muscles of your neck and upper shoulders. Muscle knots are caused by certain contractile fibers located in the muscle that contract to a shortened position and then don't let go. You can feel a tight area of tension, or "knot", in your muscles that can be very painful.
HOW TO FIX MUSCLE KNOTS IN YOUR NECK AND SHOULDERS:
WHICH MUSCLES IN MY NECK ARE STIFF?
If you are experiencing a stiff neck, the muscles that are likely affected include the upper trapezius, the levator scapulae, the capitis group of muscles, and the cervicis group of muscles. These muscles are the prime movers of our neck through the motions of extension, side bending, and rotation. In order to decrease stiffness and pain in your neck, we need to stretch these muscles by lengthening them through the opposite motions.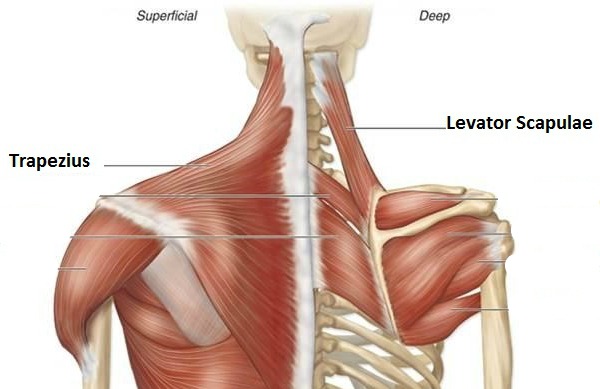 HOW TO STRETCH
Stretching should be very comfortable. You should stretch to where you feel a good pull in the structure but not pain. The goal is to hold the stretch in a comfortable position for longer rather than hold a painful position for shorter.
STIFF NECK EXERCISES YOU CAN DO AT HOME
For detailed video demonstration of these exercises please watch the video above.
1. Upper trapezius stretch: Bend your left ear down towards your left shoulder until a comfortable stretch is felt in your right neck and upper shoulder. Hold for 20 seconds and repeat three times each direction.
2. Levator scapulae stretch: Angle your nose down towards your left armpit and use your left hand to apply gentle overpressure to the back of your head. Hold for 20 seconds and repeat three times each direction.
3. Towel rotation stretch: Wrap a towel or pillowcase around your neck. Cross your arms (right arm under left) and grab the loose ends of the towel/pillowcase. Hold your right hand firm to your chest and use your left hand to pull the pillowcase across your right cheekbone and rotate your head to the left. Hold for 20 seconds and repeat three times each direction.
4. Chin tucks: Lay on your back with your knees bent. Tuck your chin down into your throat to flatten your neck down into the floor. Hold for 5 seconds and repeat 10 times.
5. Shoulder shrugs/rolls: Raise both shoulders up towards your ears. Now squeeze your shoulder blades together. Now return to the starting position. Repeat this motion 10 times.
Neck stiffness and pain can be a miserable condition, but there is a lot you can do about it naturally, safely, and in the comfort of your own home. Try these exercises out for your stiff neck, and be sure to leave a comment below if you found them effective!
Be sure to follow Tone and Tighten on YouTube | Facebook | Instagram | Twitter | Pinterest
Make it happen,
Jared