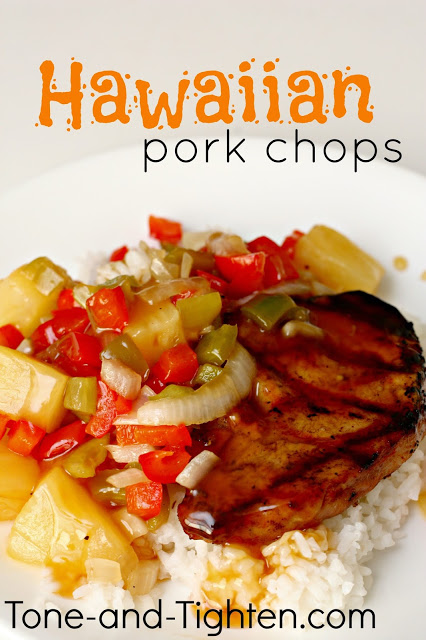 This is one of my favorite ways to eat pork- plus it's loaded with vegetables! The sweet sauce takes it over the top!
Also, if you are looking for more healthy recipes, be sure to check out my 30 Day Healthy Menu Plan!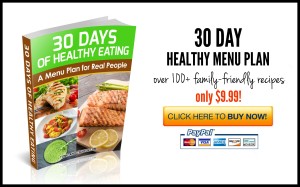 Hawaiian Grilled Pork Chops
Prep time:
Cook time:
Total time:
Ingredients
¾ cup pineapple juice
⅓ cup soy sauce
⅓ cup vinegar
⅔ cup brown sugar
¼ cup water
2½ tablespoons cornstarch
4 boneless pork chops
1 onion, diced
1 red peppers, diced
1 zucchini squash, diced
1 green peppers, diced
Instructions
In a saucepan over medium heat, mix together juice, soy sauce, vinegar, brown sugar, water, and cornstarch. Bring to a boil, let cook at a rolling boil for 2 minutes, then remove from heat and set aside.
Take two 12" pieces of tin foil and perpendicularly overlap them in the center (your foil pieces should then look like an "x"). Roll up all the edges of the foil so that you are left with a "foil bowl" that has about a 10" diameter. Placed your diced vegetables inside of the foil bowl.
Preheat grill to medium high heat. Place pork chops on top of grill and sprinkle with salt and pepper. Let cook for a couple of minutes, or until grill marks start to appear. Flip over and pour some of the Hawaiian sauce on top.
Place the foil bowl of vegetables on the grill over medium high heat and cook them at the same time as the pork chops. While cooking, pour some of the Hawaiian sauce on top and mix so that all the vegetables are coated in the sauce.
Let the meat cook until it is no longer pink and has reached an internal temperature of 165 degrees. Let the vegetables cook until they start to become tender.
Remove meat and vegetables from grill and serve over bed of rice. Drizzle more of the Hawaiian sauce on top if desired.
Looking for more healthy recipes?
Ground Turkey Taco Skillet
Five Star Black Bean Chili
Slow Cooker Teriyaki Chicken and Vegetables