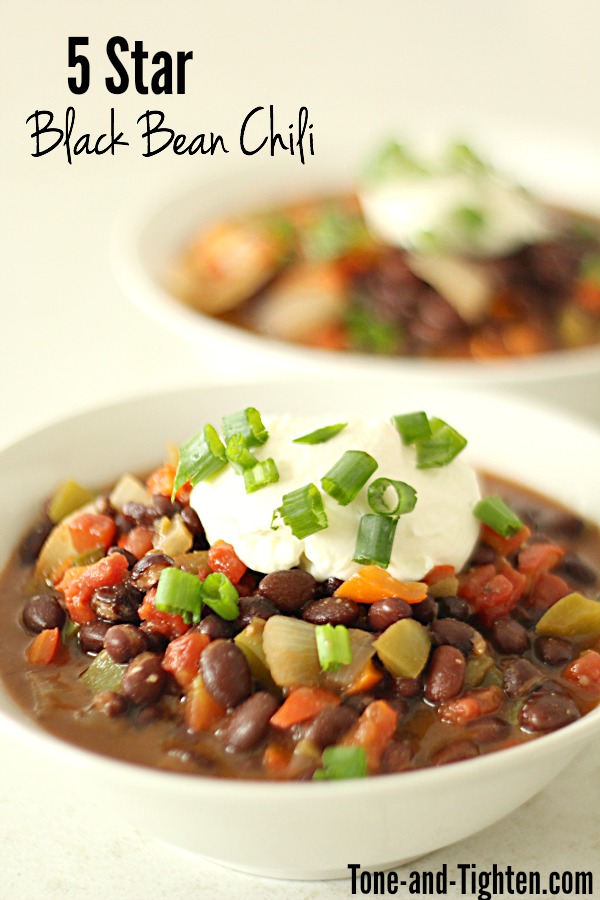 Soups and chilis are some of my favorite things to eat for lunch because you can pack them full of vegetables and other good food to power you through the rest of your day!
This chili is the perfect vegetarian meal, or you could take it up a notch by adding some ground turkey or chicken.
Five Star Black Bean Chili
Recipe type:
Soups and Chilis
Prep time:
Cook time:
Total time:
Loaded with vegetables, this chili will fill you up and keep you going all day long!
Ingredients
3 cans (15 ounces each) black beans, rinsed and drained
3 celery ribs, chopped
1 large onion, diced
1 red bell pepper, diced
1 green bell pepper, diced
1 jalapeno pepper, seeded and chopped
2 tablespoons olive oil
4 garlic cloves, minced
2 cans (14-1/2 ounces each) reduced-sodium vegetable broth (or chicken broth)
1 can (10 ounces) Rotel diced tomatoes with green chilis
3 teaspoons ground cumin
1 teaspoon hot sauce
¼ teaspoon pepper
1 bay leaf
1 teaspoon lime juice
½ cup reduced-fat sour cream
¼ cup chopped green onions
Instructions
In a large saucepan, saute the celery, onion, red pepper, green pepper and jalapeno in oil over medium high heat until tender. Add garlic; cook 1 minute longer.
Stir in the broth, tomatoes, cumin, hot sauce, pepper, bay leaf, and black beans. Bring to a boil. Reduce heat; cover and simmer for 15 minutes.
Discard bay leaf. Stir in lime juice. Garnish each serving with 1 tablespoon sour cream and 1-1/2 teaspoons green onion.
Nutrition value per serving (8 servings per recipe):

Recipe slightly adapted from Taste of Home
Looking for more healthy recipes?