Are you on Instagram? Tone and Tighten is!
Follow here
for more great fitness/motivation ideas!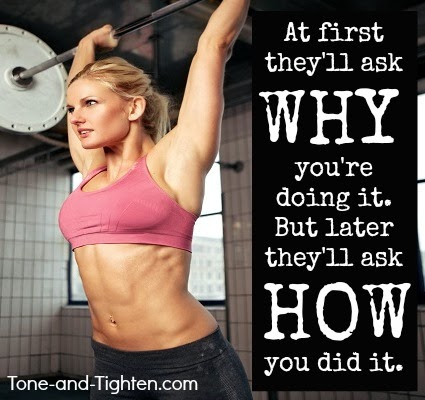 Did you know it takes 4 weeks for you to notice a change in yourself; 8 weeks for friends and family to see a change in you; and 12 weeks for "everyone else" to see a difference? Starting a workout plan (or even continuing down the one you're on) may seem a little discouraging. You may get frustrated and discouraged because you're not seeing the types of results you want. Just remember this… while results aren't necessarily guaranteed instantly they are guaranteed! And while what you're doing may seem a little crazy to those around you (running? waking up early? lifting weights? who does that?!) YOU know YOUR goals and YOU are the one determined to chase them down. Don't ever lose sight of your goals and don't ever stop until you've accomplished them. That way when other people start staring you'll know it's not because the think you're looney… it's because they're jealous… 🙂
Make it happen,
Jared

To view the rest of this post, be sure to head over to www.tone-and-tighten.com.
Have a great day!
Jared