One of the most-common conditions that I treat as a physical therapist is diastasis recti (DR). This is a condition that affects up to 60% of women either during pregnancy or postpartum. Fortunately, there's a lot that exercise can do to help this condition if done correctly. Today I wanted to share with you 3 ab exercises you should definitely NOT do with a DR, and what you should do instead to tone your abs and help heal this separation.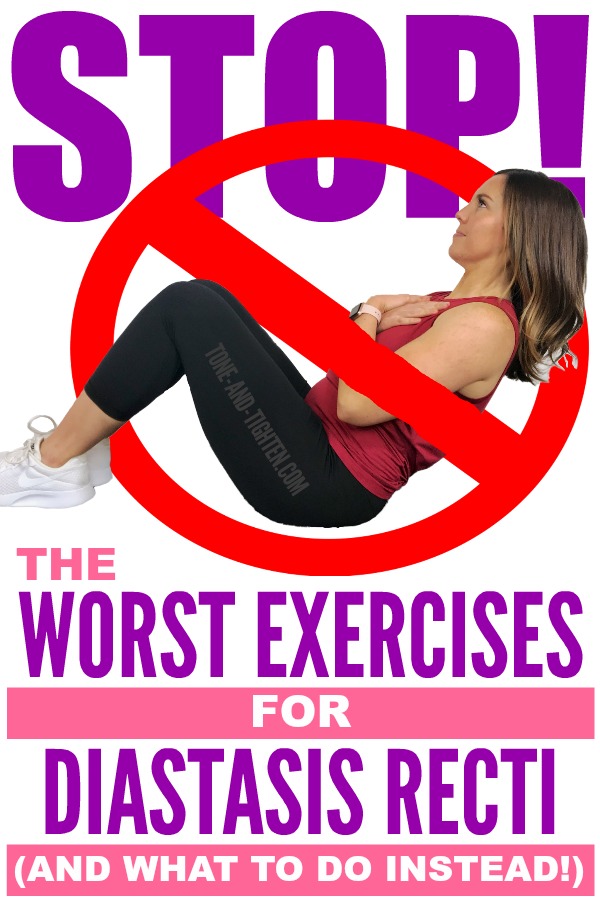 *** As always – if you have recently delivered GET CLEARANCE FROM YOUR DOCTOR BEFORE STARTING THIS OR ANY WORKOUT PROGRAM. 6 weeks post-partum is the most generally-accepted "safe time" to resume some of these activities, but it's always best to have your doctor's clearance for your own unique situation. ***
WHAT IS A DIASTASIS RECTI?
Your abs and abdominal cavity are made up of four muscles. The one that sits out in front is called the "rectus abdominis" (RA) and goes from the bottom of the rib cage to the top of the pelvis. This is the "six pack" muscle that's primarily active in crunches, sit ups, and other exercises that bring our ribs towards our pelvis (trunk flexion).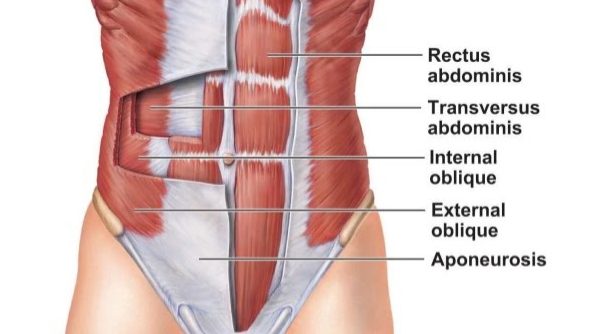 This muscle is composed of two muscle bellies that run vertically next to each other and are connected by a tendon-like connective tissue called the linea alba.
In instances of strenuous pressure on the abdomen and abdominal cavity the connective tissue between the halves of the rectus abdominis can be stretched, pulled, and eventually even separate. This is what we refer to as a "diastasis recti".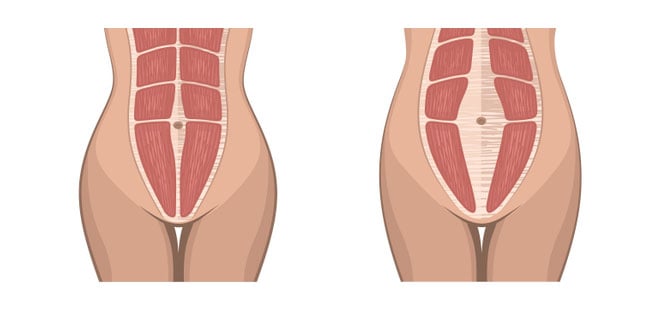 HOW DO YOU GET A DIASTASIS RECTI?
Any condition that causes increased pressure and strain on the anterior abdominal wall has potential to cause the diastasis condition. The most-common is pregnancy; the growing fetus and uterus put stress on the abdominal wall which is intensified with aggressive muscle contractions during childbirth. Other causes can include excess belly fat, intense core workouts involving sit ups and crunches, and even the flu (vomiting and/or forceful coughing).
WHY TREAT A DIASTASIS RECTI?
Treating a DR is so much more important than cosmetics. Sure, we all want a toned, slender stomach, but more importantly if left unmanaged, your diastasis recti (or this splitting of your abdominal muscles) can be your potential "weak link" in your core. This issue can leave you susceptible to (among other things) internal organ herniation, low back pain, and decreased core strength.
WHICH EXERCISES SHOULD I AVOID WITH DIASTASIS RECTI?
You should avoid any exercise that forcefully contracts your rectus abdominis against gravity. Again, this muscle is the primary "flexor" of your core and is active in activities such as sit ups and crunches.
WHAT ARE THE BEST EXERCISES FOR DIASTASIS RECTI?
The best exercises for a diastasis recti condition are those that activate your deepest abdominal layer, the transverse abdominis (TA). This muscle runs from your lower back around your sides and connects into this same connective tissue that has been separated. This muscle's primary action is to "suck everything in" and pull your belly button in towards your spine. Activating this muscle and performing this motion will help to bring the two separated halves of the rectus abdominis closer together and "close the gap".
DO'S AND DON'TS OF DIASTASIS RECTI MANAGEMENT
Keep scrolling for complete instruction on how the content of this video…
DON'T DO AB CRUNCHES
Ab crunches contract the upper half of the transverse abdominis muscle forcefully against gravity. This focused contraction can pull the two halves of the muscle further apart and put more strain on this area.
DO ABDOMINAL HOLLOWING/VACUUMS
Instead, try some stomach vacuums. This is a great exercise to really activate the transverse abdominis and bring the two halves of the rectus closer together.
Lay on your back with your knees bent.

Exhale all your air as much as possible.

Use your abdominal muscles to pull your belly button in towards your spine.

Hold 5 seconds

Relax and then repeat.
DON'T DO SIT UPS
Again – a forceful contraction of the rectus abdominis muscle that's even MORE aggressive than a crunch. It not only contracts the rectus against gravity, but it actually does it against a much greater range of motion. Big no no.
DO DYING BUGS
Dying bugs are a great way to activate a ton of abdominal muscles with specific emphasis on the TA while not moving the trunk through much motion.
Lay on your back with your knees and hips bent to 90 degrees. Your arms are also reaching up towards the ceiling.

Contract your TA by "sucking in" and drawing your belly button in towards your spine.

Hold this contraction in your stomach as you raise your right arm over your head while straightening your left leg down towards the floor.

Return to the starting position and repeat with the left arm/right leg.
DON'T DO PLANKS
Planks are actually one of my favorite core exercises. They activate a ton of core muscles and can be super effective. The thing I don't like about planks for a DR condition is that it's a forceful contraction of your RA agains gravity, but you've also got the weight of all your internal organs hanging out on the already-weakened anterior abdominal wall. Increased stress on that area is what caused this issue in the first place; why would we want to do that more?
DO SIDE PLANKS
The solution is side planks. Simply by rotating your forward plank into a side plank we take stress off the anterior wall and shift it to the lateral wall. It's also easier to activate the TA ("suck it in") while holding a side plank.
Lay on your right side with your right elbow directly under your right shoulder and your legs out straight.

Lift your hips off the ground to get into a "side plank" position. You should be on your right elbow and the outside of your right foot and be able to draw a straight line from your nose, belly button, between your knees, to between your ankles.

Activate your TA by drawing in your belly button and holding 20-60 seconds.

Repeat on the left side.
Avoiding aggressive activation of the rectus abdomens muscle is important to avoid perpetuating the diastasis condition. Likewise – controlled and consistent contraction of the transverse abdomens muscle is crucial to helping minimize this abdominal gap and help you get your stomach back to "normal".
HOW CAN I TELL IF I HAVE A DIASTASIS RECTI? This video will show you a simple test you can do at home to tell if you have a diastasis recti condition:
WHAT ARE THE BEST EXERCISES FOR DIASTASIS RECTI? As I mentioned in this post, it's crucial that you perform the RIGHT exercises while avoiding those that could perpetuate the damage. In this video I show you the proper exercises you need to be doing:
HOW CAN I FIX MY MOM POOCH? Mommy tummy, mommy belly, etc – all refer to the excess fat and skin around your stomach after giving birth. While this is a completely normal thing to have happen – it's a big concern with women who would prefer to have their flat stomach back. Check out these 3 TIPS TO FLATTEN YOUR MOMMY TUMMY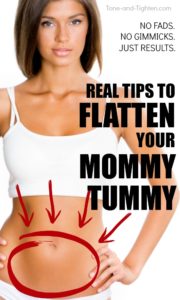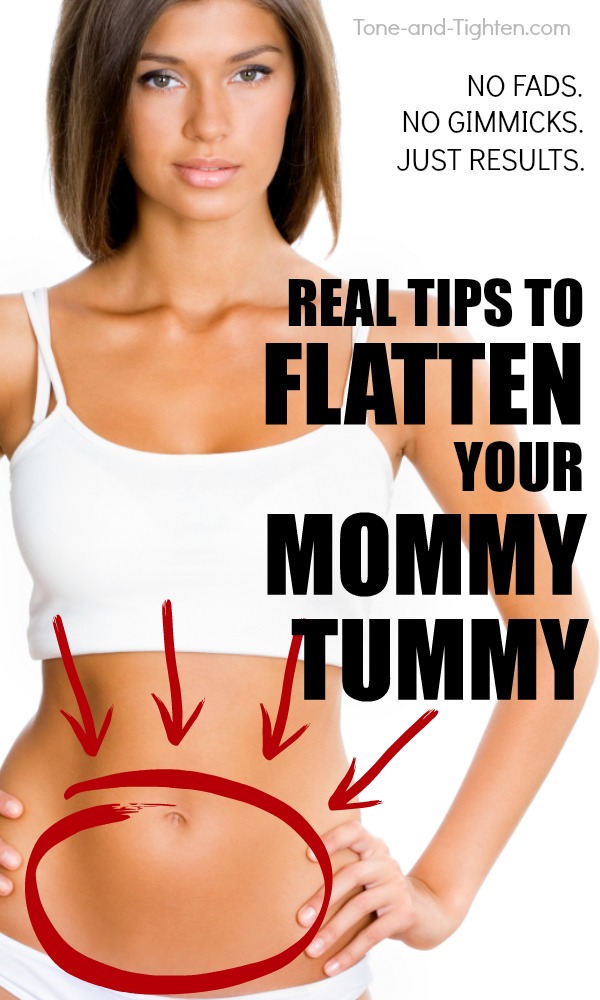 Hope you enjoyed this info! Be sure to share with your friends and check out Tone and Tighten across all our social media channels: Instagram | Facebook | Pinterest | YouTube | Twitter
Make it happen,
Jared