All you need is 20 minutes to sculpt the most amazing legs of your life. Try this killer inner thigh workout to tone and tighten the thighs of your dreams. Including 6 moves to better inner thighs, this at home workout is what your legs need.
Slide Lunges

Sumo Squat to Thruster

Speed Skater Lunge

Goblet Squat

Bridge with Ball Squeeze

Ball Passes
Keep reading for a step-by-step guide of the workout with pictures and descriptions of each of these exercises.
===========================
Eliminate guesswork and confusion and start seeing results.
Subscribe to Tone-and-Tighten.com and get our FREE "7-Day Workout and Healthy Menu Plan" delivered daily right to your inbox. CLICK HERE to get it.
===========================
Looking for the best legs of your life?
Start by targeting those inner thighs for a killer workout and some serious results.
This amazing inner thigh workout only takes 20 minutes and will give you muscle definition you never thought possible. The best part is you can do this workout right at home.
I apologize right now for any soreness you may experience tomorrow… or the next day… or the next 🙂
Ready? Let's go! Get the workout below
HOW CAN YOU FIRM UP YOUR INNER THIGHS?
Unfortunately thighs are a common storage place for excess fat. In order to have slim and toned thighs you'll want to focus on losing excess fat and building the muscles in your legs and thighs.
Make a weight loss plan to burn more calories than you consume. You can do this through eating a few hundred less calories per day, and also burning a few hundred calories per day through exercise.
When you work out, choose a balance of cardio and strength training exercises. Include some variations of squats, lunges, and other leg exercises to target your inner thighs.
Many workouts do not target the inner thighs specifically, that's why I created this workout for you below.
DOES WALKING TONE INNER THIGHS?
Walking is a great way to be physically active and burn some calories. Walking doesn't isolate your inner thighs, but it can still help to tone your legs, burn calories, and contribute to overall weight loss.
In order to better tone your legs through walking, increase the intensity of your walks. Try adding steep hills, stairs, or a little speed walking to boost the intensity of walking to help target your inner thighs.
This amazing inner thigh workout contains six moves that you'll do three times each. It will take you about 20 minutes.
The Workout
Can be done with a paper plate or plastic lid on the carpet or in socks/on a towel on hardwood floors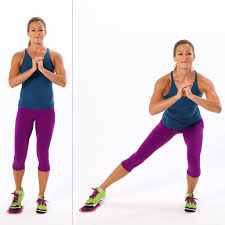 Stand normally with a plate under your left foot.

Slide your left foot sideways (or backwards) as you bend at your right knee into a lunge position. Keep your front knee behind the toe.

Slowly slide your left foot back to starting position and come up.
1 minute
2. Sumo squat to thruster
I love me some good wide Sumo squats; I love me some thrusters (add a military press to your squat); let's combine them.
Hold a dumbbell in each hand with elbows bent and weights brought to shoulder-level.

Do the sumo squat- stand with your feet wide and turned out. Bend your knees and deeply lower your hips into a squat until your thighs are parallel with the floor.

As you slowly come back up to standing press your dumbbells up and over your head until your arms are straight.
1 minute
Bend your knees and slightly lean forward and then take a big step and leap laterally to the right side. As you go, let your left leg cross back behind you and go down into a lunge.

Then switch sides and move to the left, bringing your right leg behind you into a lunge.

Continue alternating sides and building up speed.
1 minute
Wide squats holding some kind of resistance at chest level.

Grab a kettlebell or dumbbell and hold it with both hands at chest level, palms facing up.

Do a wide squat – bend at the hips and knees to lower down like you are sitting.

Keep your knees above your toes and lower until your thighs are parallel with the floor.

Hold the position for a second then slowly straighten and stand up.
1 minute
5. Bridge with ball squeeze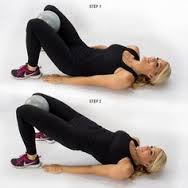 Lay your back with your knees bent and feet flat on the floor.

Squeeze a medicine ball, pillow, basketball, rolled-up towel, etc between your knees while doing your bridges.

Squeeze the muscles in your lower back and butt and lift your hips up towards the ceiling

Hold 3–5 seconds and slowly return to the starting position.
1 minute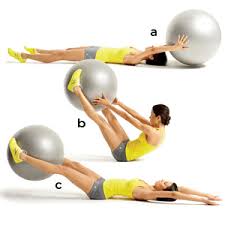 Lay on your back with a Swiss ball between your feet.

Bring your feet and hands towards the ceiling and pass the ball from your feet to your hands.

Return to laying on the floor and then repeat, passing the ball from your hands to your feet.
1 minute
Well I'm not a complete sadist.
1 minute
Feeling it? Good, now repeat it three times!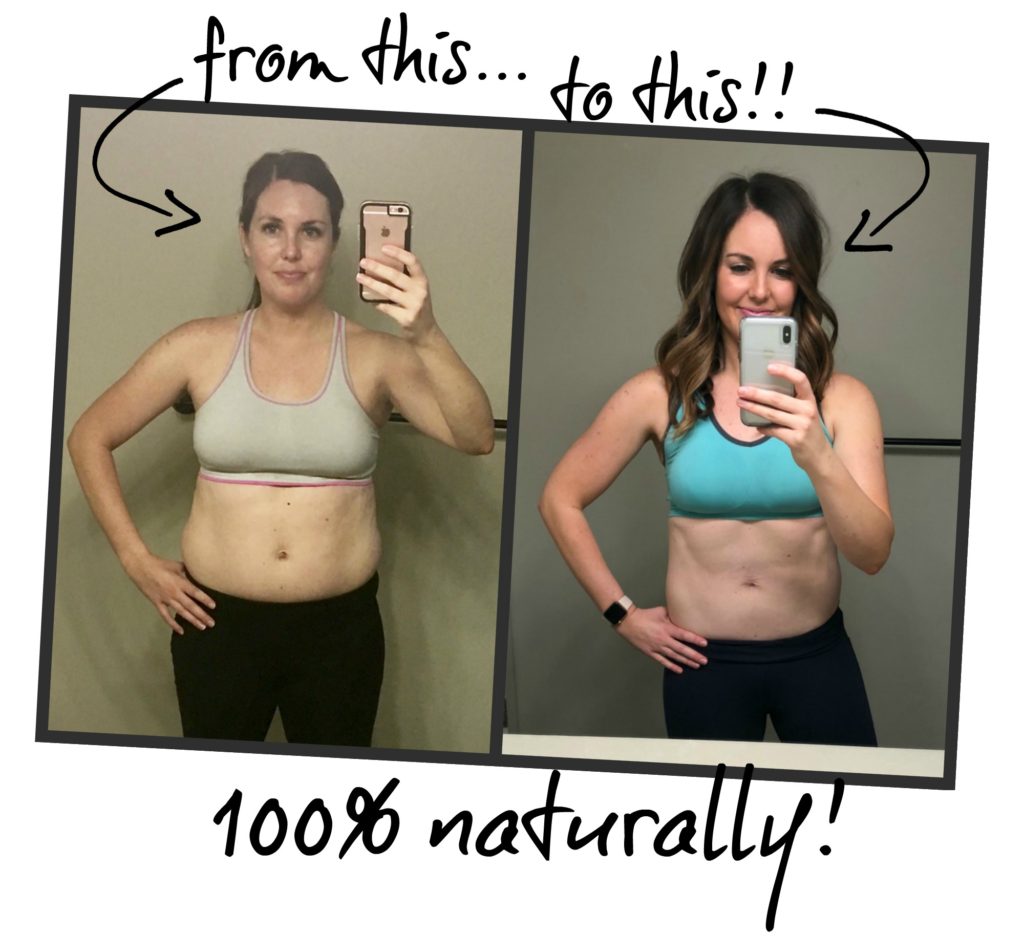 Moms ask me all the time how they tighten their tummies after having a baby to get rid of their "mommy pooch". It requires more than just crunches and planks.
That's where this program comes in.
A six-phase workout plan designed specifically to flatten your stomach and help you to heal up diastasis recti. This is the same progression I use with my postpartum patients in my physical therapy clinic to get science-based, proven results you can't help but notice.
​Six phases of workouts to ensure your continued progression
​Large color photos and clear instruction regarding performance, sets, and reps of each exercise to ensure proper performance
​The exact same workout plan my wife used for her amazing results
The best exercises in a simple-to-follow progression to tone and strengthen your abs correctly and ensure maximum success. Progressive workout routines = progressive results.
Questions or suggestions? As always I love to hear from my readers! Let me know at ToneandTightenFitness{at}gmail.com
Check out some of my other leg workouts: