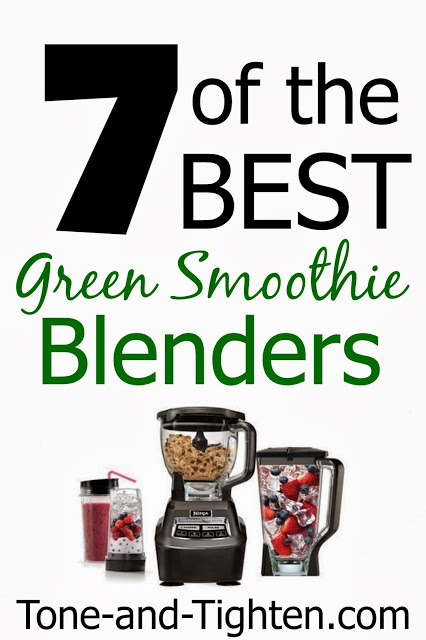 With the popularity of my 10 of the Best Green Smoothies post, I have been getting a lot of questions about what blenders I recommend to make the best smoothies. So, here are 5 of the best ones (in my opinion). From just a couple dollars to a couple hundred dollars, I've got you covered.
Obviously the less expensive blenders will have a less-powerful motor and sometimes frozen fruit or ice will burn out the motor quickly, so be aware of that as you blend your smoothies.
If you do have a less-powerful blender, be sure that you "pulse" your ingredients until they are lightly mixed before pureeing them at a high-speed (it's a great way to save your blender's motor). Also chop up your fruit and greens before blending to make it easier for your blender.
Pros:
-Price: less than $15 right now!
-Compact for small-living spaces
-14 oz jar doubles as a portable travel cup
-Perfect for mixing baby food, marinades, mixes, etc
Cons:
-Not the most powerful motor
-If you don't pulse ingredients first, the motor burns out
Pros:
-Both a blender and food processor in one
-Price: Less than $40 right now!
-Motor goes on top of blender and food processor- easily switches back and forth
-Great for mincing, dicing, chopping, or pureeing (besides just smoothies!)
-4 1/2 star rating on Amazon
Cons:
-Not the most powerful motor
-Have to pulse hard-to-blender ingredients first
Pros:
-Price: Less than $100 right now
-High powered 600-watt motor
-Effortlessly pulverizes fruits, vegetables, superfoods and protein shakes- no pulsing needed
-Includes many cups and different blades
-4 star rating with over 1600 reviews on Amazon
-Quieter than most blenders
-#1 Best Seller on Amazon 
-Some feel that the small cups are too small for anything and the only one you use is the 1 large cup
-Might be a little pricey for some (but it's less than other blenders that have the same motor wattage)
Pros:
-Price: Less than $60 right now
-High powered 600-watt motor
-Large glass cup makes many smoothies at once (great for freezing extras for later)
-Great blender at a low price
Cons:
-Some of the low ratings were because it was loud
-Some users reported cracking on the plastic base over long periods of use
Pros:
-Made of metal with a stainless steel blade
-Blender pitcher can hold 56 ounces (it's huge!)
-Dishwasher safe and shatter resistant
-Has a "crush ice" button
Cons:
-Some low ratings were because of a leak problem
-Cost is more than other blenders (about $140)
Pros:
-Motor is extremely powerful- maxes out at 2 HP
-Patented tamper tool for processing thick ingredients
-4 1/2 star rating on Amazon
-Does so much more than smoothies- blend nuts to make nut butter, make your own frappucinos, sauces, pestos, soups, etc
Cons:
-Only two speeds (which seem to be fast and faster)
-VERY expensive (over $350)
(This is actually the blender that I am using right now. I have had it for almost a year and absolutely love it! So . . . my opinion of this one might be a little biased)
Pros:
-1500 watt motor (extremely powerful)
-Cuts through ice, frozen fruits, etc without any problems
-72 oz capacity on containers (this is the biggest that I have ever seen)
-Incredibly sharp blades (my smoothies are ready in about 3 seconds- no joke)
-Doubles as a food processor
-Comes with single serve cups- can also blend smoothie in the single serve cups and then they are ready to go, which is super convenient for busy mornings
-Reasonably priced for all the you get and the power behind it
-4 1/2 star rating on Amazon
Cons:
-I don't have any and even Amazon's reviews contain very little (some are about the food processor)
Is one of your favorite blenders not on this list? Let me know! I would love to hear what you love to use!

By Jared Beckstrand