More delicious, healthy recipes plus workouts, motivation, tips, and advice all right to your inbox! CLICK HERE to subscribe to our email list and get our FREE "Beginner's Guide To Weight Loss" ebook!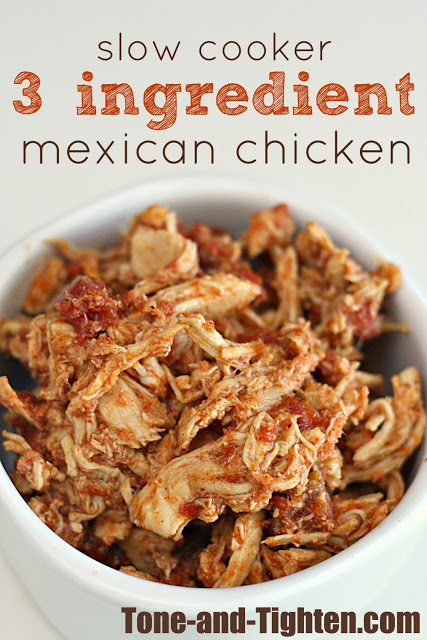 This is one of my go-to chicken recipes because it's so versatile- I use it for tacos, burritos, my skinny enchiladas, salads- the possibilities are endless.
Did I mention that it is basically fail-proof and only uses 3 ingredients?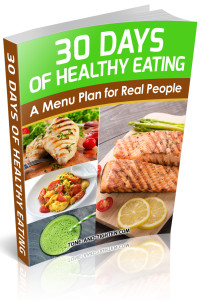 You're obviously interested in healthy recipes… how about entire menu plans? How about 30 days of breakfast, lunch, dinner, and snacks that are both delicious AND healthy?!
Check out Tone and Tighten's newest eBook…
"The 30 Day Healthy Menu Plan"!
Real recipes for real people –
CLICK HERE to learn more!
Slow Cooker 3 Ingredient Mexican Chicken
Ingredients:
3-4 boneless, skinless chicken breasts
1 (14 oz) can diced tomatoes with green chilis (I used Rotel)
2 tablespoons homemade taco seasoning (or 1 – 1 oz taco seasoning packet)
Directions:
Spray slow cooker with non-stick cooking spray. Place chicken breasts inside slow cooker and dump other ingredients on top. Cook on low for 6-7 hours (no longer or else the chicken will dry out) or high for 2-3 hours. Remove chicken and shred with two forks, place back into slow cooker with seasoning and tomatoes and mix together.
Serve however you want- on tacos, burritos, nachos, etc.
Makes 4-5 servings.
Looking for more healthy recipes? Check these ones out:
Frozen Healthy Breakfast Burritos
10 of the Best Green Smoothies
Sweet and Sour Turkey Meatballs
Egg White Omelette- in a mug!
Make it happen,
Jared

By Jared Beckstrand