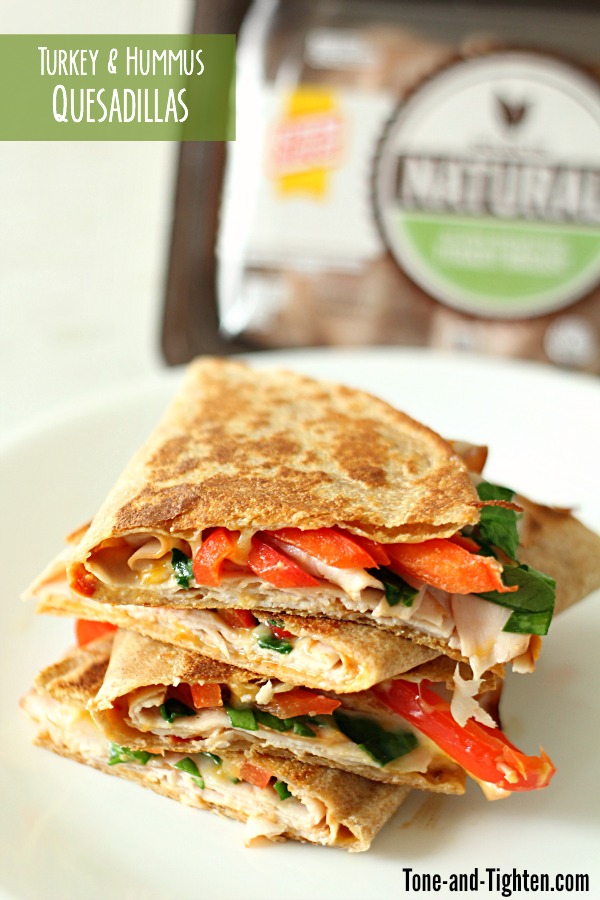 One of my wife's friends invited my wife over for a "wrap party". Being a guy, I wasn't quite sure what this all entailed, but didn't ask questions. My wife came home and asked if I noticed anything different . . . which can be a very loaded question (am I right, men?!). Come to find out, wrap parties are exactly that- they "wrap" themselves in plastic wrap for a couple of hours and supposedly lose a couple of inches from whatever body part they wrapped . . .
Sounds too good to be true, right?! Well, don't go wrapping yourself in plastic wrap expecting to get skinny because it really doesn't work that way . . . 😉
Today I am sharing a quick  lunch idea with one of my favorite ingredients: turkey breast! Add in some vegetables and a whole wheat tortilla for a balanced and wholesome lunch.
One product that I love (and use myself) is Oscar Mayer Selects Natural. It's made with no artificial ingredients, and is minimally processed. Selects Natural also has no artificial preservatives, no artificial flavors, no artificial colors, no gluten and no by-products. Sounds too good to be true, right? Well . . . for once, this is something that is finally NOT too good to be true!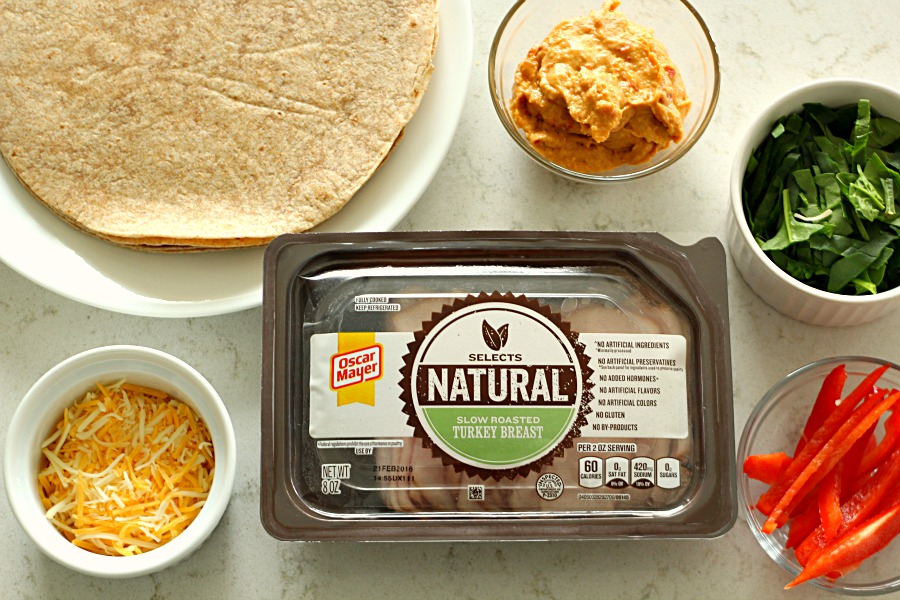 I love quesadillas because you can literally use whatever ingredients you want and it will always come out delicious!
For this recipe, I used:
–Oscar Mayer Selects Natural Slow Roasted Turkey Breast
-whole wheat tortillas
-roasted red pepper hummus
-red pepper slices
-spinach
-shredded Mexican cheese
As you a meat to use in this recipe, Oscar Mayer Selects Natural is the perfect choice for anyone looking for quality cold cuts that have no artificial ingredients and delicious taste.

Turkey and Hummus Quesadillas
Prep time:
Cook time:
Total time:
A delicious wholesome lunch that is ready in a matter of minutes!
Ingredients
2 oz Oscar Mayer Selects Natural Slow Roasted Turkey Breast
2 whole wheat tortillas
2 tablespoons roasted red pepper hummus
½ cup red pepper slices
chopped baby spinach
2 tablespoons shredded Mexican cheese
olive oil (optional)
Instructions
Lay each tortilla flat and spread hummus on half of each tortilla.
Top with turkey slices, red pepper slices, spinach, and cheese. Fold tortilla in half.
Heat skillet over medium heat. If a crunchy tortilla is desired, lightly brush both sides of the tortilla with olive oil. Place each both tortillas on the skillet and cook until tortillas are golden brown (about 2-3 minutes per side).
Serve and enjoy!
You can learn more about
 Selects Natural
 and all the 
Oscar Mayer
 products on 
OscarMayer.com
, Facebook at 
Facebook.com/OscarMayer
, Twitter at 
@OscarMayer
 and on Tumblr at 
OscarMayer.Tumblr.com
.
I was selected for this opportunity as a member of Clever Girls and the content and opinions expressed here are all my own.