The perfect healthy and delicious slow cooker recipe – this Tex Mex Chicken Chili is loaded with protein as well as flavor. Put it in a slow-cooker and forget about it until it's time to eat it. It's easy, it's healthy, and it's totally delicious.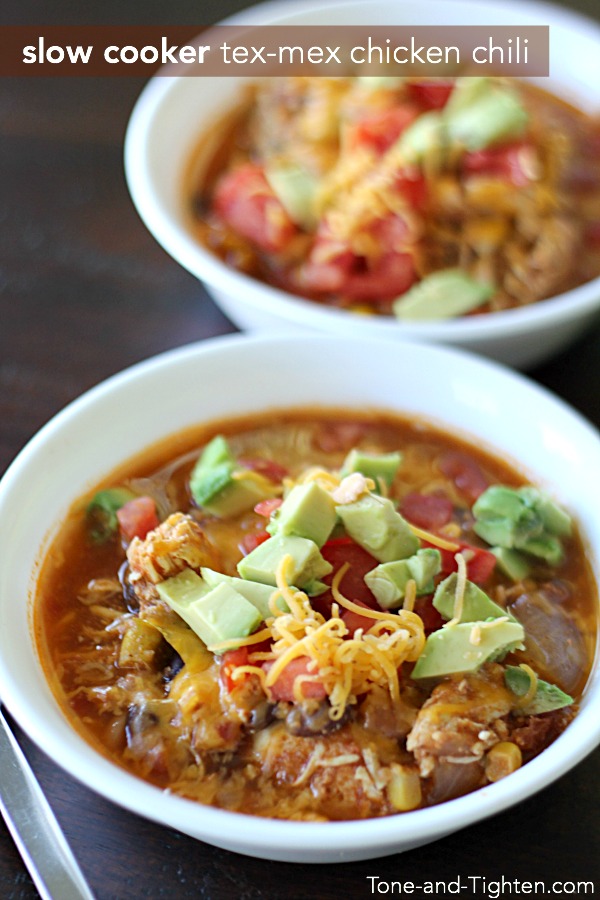 Slow Cooker Tex-Mex Chicken Chili
Keep reading for the recipe and directions. 
===========================
Eliminate guesswork and confusion and start seeing results.
Subscribe to Tone-and-Tighten.com and get our FREE "7-Day Workout and Healthy Menu Plan" delivered daily right to your inbox. CLICK HERE to get it.
===========================
If you don't own a slow cooker yet, now is the time to grab one.
This one is my favorite: 5-Quart Slow Cooker.

Many of you have a slow cooker stashed in the back of the pantry or cabinet.
If you hardly ever think to use it- this is a great opportunity to bring it back into the light and into your regular kitchen rotation for cooking meals. It's easy, it's healthy, and it's delicious- so you have no excuse.
Slow cookers are incredible- with only a little planning ahead of time you can have insanely easy delicious that are not only healthy, but taste amazing. 
You can make delicious and flavorful soups in the slow cooker with only a few minutes of easy prep. 
This recipe couldn't be easier . . . throw everything in the slow cooker, mix it up, and let it cook all day.
Dinner will be ready when you walk through the door that afternoon. Enjoy. 
…