8 of the best exercises with resistance bands in one great at-home workout. You can build muscle, add definition, and tone and tighten with resistance bands to take any body-weight exercise to the next level. Resistance bands are the simple, convenient way to bring the gym home to you.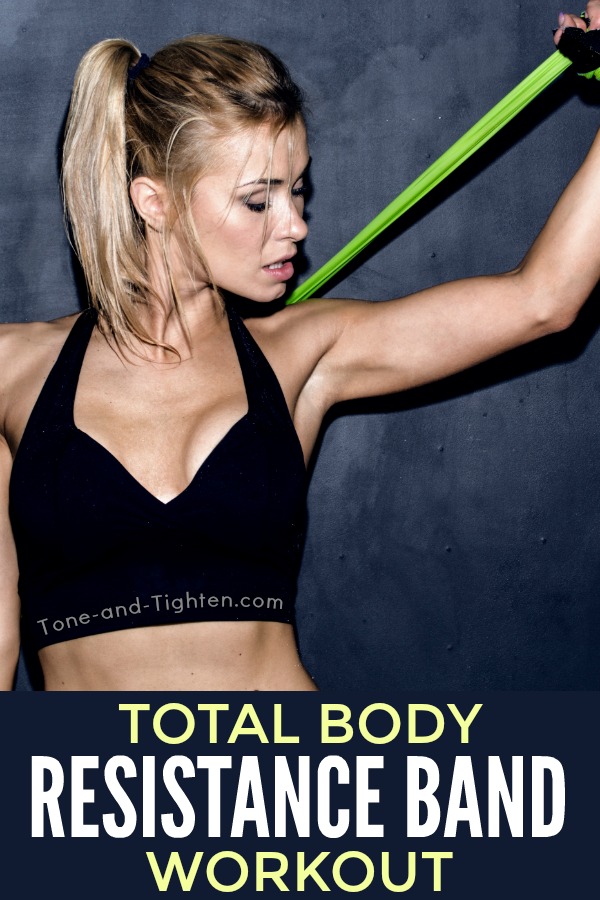 Total Body Resistance Band Workout
Squats

Bent Over Rows

Press

Lateral Raises

Chops

Reverse Chop

Bird Dog

Russian Twist
Keep reading for a step-by-step guide with pictures, videos, and descriptions of each of these exercises.
===========================
Eliminate guesswork and confusion and start seeing results.
Subscribe to Tone-and-Tighten.com and get our FREE "7-Day Workout and Healthy Menu Plan" delivered daily right to your inbox CLICK HERE to get it.
===========================
"So I've got this resistance band… what can I do with it?"
Your emails make some of my favorite posts.
I got this one earlier this week and couldn't believe I hadn't posted anything about resistance bands yet.
As a physical therapist I work with them all day every day – they're a wonderful way to add resistance to pretty much any exercise.
Using some of my favorite resistance band exercises I've come up with an amazing total-body workout that will take any body-weight exercise to the next level.
Check it out.