Reintroduce core strengthening safely and effectively with 4 of the best ab exercises you can do after pregnancy. Instructed by a doctor of physical therapy specializing in postpartum care, these exercises will start to tone your stomach and strengthen your core. These are also four of the best exercises to heal diastasis recti and minimize your abdominal separation.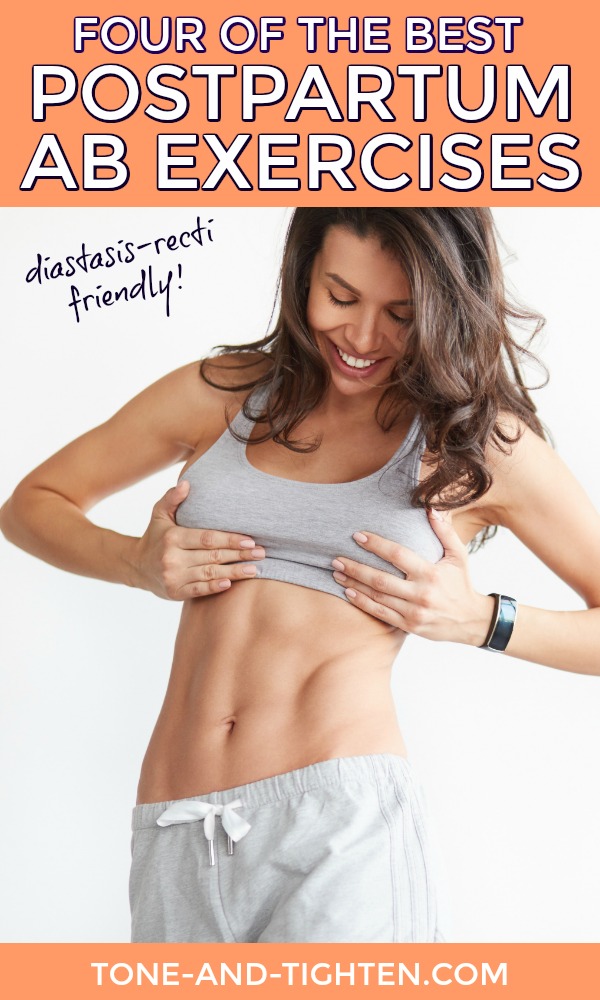 The Four Best Postpartum Ab Exercises
Abdominal bracing/TA activation

Abdominal bracing with a march

Abdominal bracing with a ball squeeze

Modified side plank
Keep scrolling to see the full video demonstration of each of these exercises!
First of all – CONGRATULATIONS! I'm assuming if you're watching this video and reading this description you've recently welcomed a new baby into your home! I wish you peace, joy, happiness, and SLEEP as you both get to know each other.
You ladies go through so much to get these babies here; don't discount the absolute miracle that your bodies are and the wonders they perform in growing and sustaining life.
That being said, for most of you, the last nine months have been an all-out battle that, I'm really sorry to say, your abs probably lost. While chances are that your stomach doesn't look the same that it did pre-baby, there's so much that you can do to get it back into shape! This workout is one of my all-time favorites to show to postpartum moms. Not only are these exercises safe, they're incredibly effective! If you're looking to tone your abs and tighten your stomach after pregnancy these are the PERFECT exercises to get you going.
The secret is in activating the RIGHT muscles the RIGHT way while avoiding aggressive activation of the wrong muscles. This is the fastest way to decrease postpartum stomach fat and even heal diastasis recti abdominal separation. Keep reading below for more!…