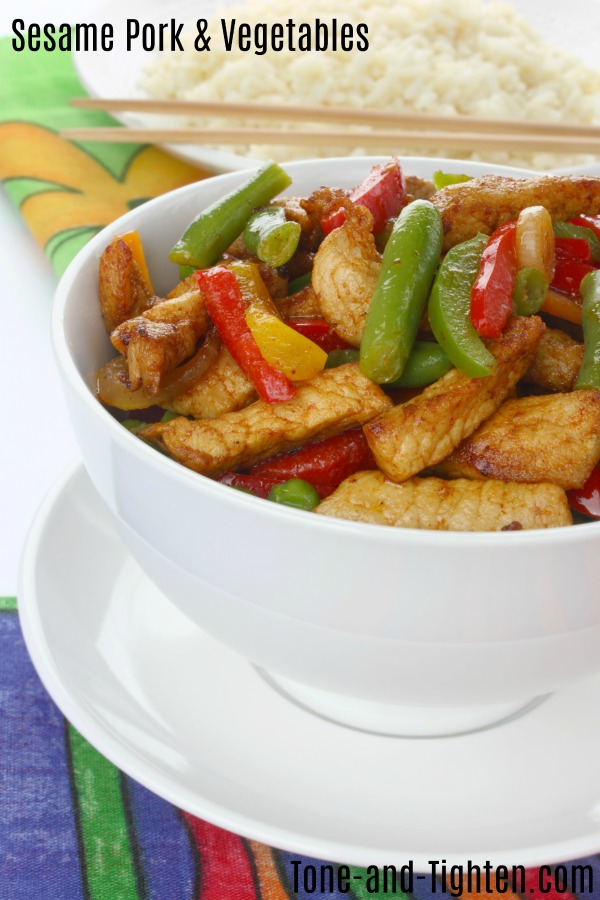 I am always looking for new and delicious ways to use pork – this recipe was ready from start in finish in less than 30 minutes and my family loved it! We will definitely be adding it to our meal rotation.
If you are looking for more healthy recipes to keep your eating on track (even during the holidays), be sure to check out my 1500 Calorie 14-Day Healthy Eating Plan!
Sesame Pork and Vegetables
Prep time:
Cook time:
Total time:
Ingredients
1½ Tablespoons olive oil
1½ Tablespoons sesame oil
2 pounds boneless pork chops
For the Sesame Sauce
⅓ cup soy sauce
1½ Tablespoons brown sugar
1½ Tablespoons rice vinegar
¼ cup sesame oil
3 teaspoons minced ginger
3 teaspoons minced garlic
1 teaspoon sriracha (optional - add if you like it to be spicy)
3 cups fresh green beans
1 red bell pepper, cut into thin strips
1 Tablespoon corn starch dissolved in 1 Tablespoon hot water (optional to thicken sauce)
Instructions
Heat the olive oil and sesame oil in a large skillet over medium heat.
Slice the pork chops into thin slices.
Allow the meat to cook 3-4 minutes without stirring to give the meat a chance to brown. Stir and cook 3-4 additional minutes until pork is cooked though.
In a small bowl, add the sesame sauce ingredients together and mix well. Pour the sauce into the skillet, add the green beans and red pepper and stir well.
Reduce heat to medium low and cover, cook 5 more minutes.
Serve warm.
Notes
If you would like to thicken he sauce combine one tablespoon corn starch with one tablespoon hot water until it is dissolved completely. Add to the skillet the last minutes of cooking and stir well.
Recipe adapted from: Maebells
Looking for more healthy recipes?