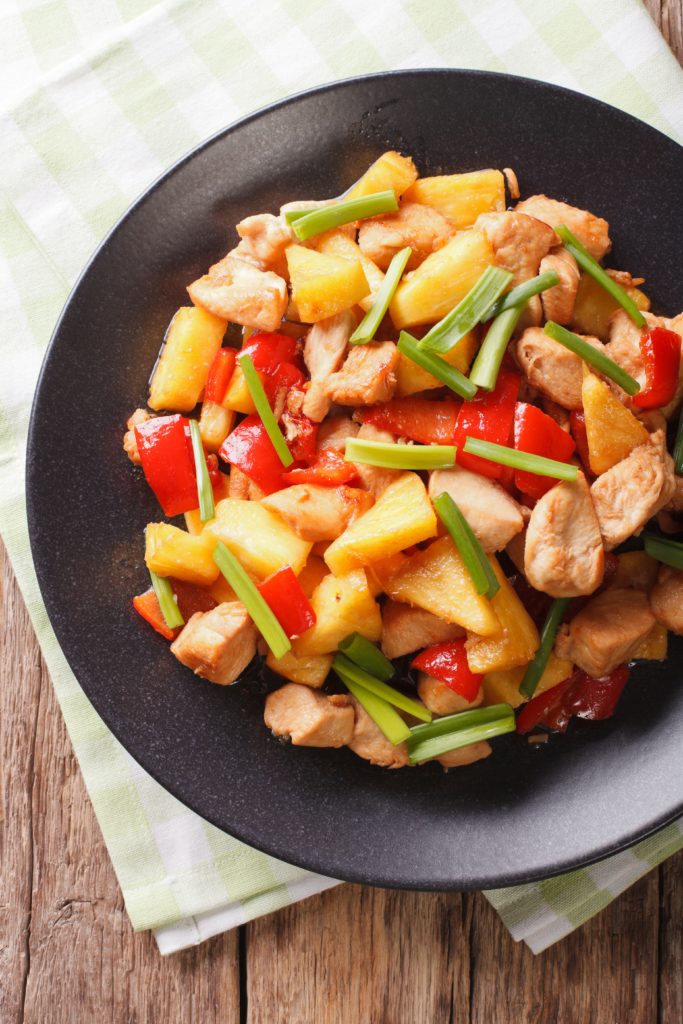 This is one of my family's favorite ways to enjoy pork! You could also sub in chicken if that is what you have on hand.
If you are looking for more healthy recipes to keep your eating on track, be sure to check out my 1500 Calorie 14-Day Healthy Eating Plan!
Pineapple Pork Stir-Fry
Prep time:
Cook time:
Total time:
Ingredients
1 can (8 ounces) unsweetened pineapple chunks, undrained
3 Tablespoons cornstarch, divided
1 Tablespoon plus ½ cup cold water, divided
¾ teaspoon garlic powder
1 pork tenderloin (1 pound), cut into thin strips
½ cup low-sodium soy sauce
3 Tablespoons brown sugar
½ teaspoon ground ginger
¼ teaspoon cayenne pepper
2 Tablespoons canola oil, divided
4 cups fresh broccoli florets
1 red bell pepper, cut into strips
¼ cup green onions, sliced
3 cups cooked brown rice
Instructions
Drain pineapple, reserving ¼ cup juice; set aside. In a small bowl, combine 2 tablespoons cornstarch, 1 tablespoon water, garlic powder and 1 tablespoon reserved pineapple juice. Pour into a large resealable bag; add pork. Seal bag and turn to coat.
In a small bowl, combine the soy sauce, brown sugar, ginger, cayenne and remaining water, cornstarch and reserved pineapple juice until smooth; set aside.
In a large skillet or wok over medium-high heat, stir-fry pork in 1 tablespoon oil until no longer pink; remove and keep warm.
Stir-fry the broccoli, pepper and onion in remaining oil until tender. Stir cornstarch mixture and add to the pan. Bring to a boil; cook and stir for 2 minutes or until thickened. Add pork and pineapple; heat through. Serve with rice.
Looking for more healthy recipes?