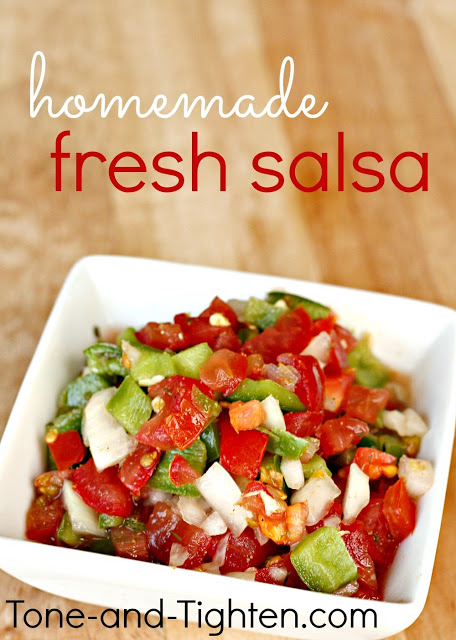 When it comes to eating healthy, most diets seem to be lacking vegetables.
However, there are ways you can find to add more vegetables to your diet.
One of my favorite ways is making fresh salsa.
Take advantage of all the delicious vegetables available this time of year and make some of this salsa- you won't regret it.
Jared's Homemade Fresh Salsa
Ingredients:
4-5 large tomatoes, diced
1 green bell pepper, diced
1 onion, diced
1/4 cup fresh cilantro, minced
2 tablespoons lime juice
2-3 teaspoons jalapeño peppers, chopped and seeds removed (more or less depending on how hot you want it)
1/2 teaspoon ground cumin
1/2 teaspoon salt
1/2 teaspoon black pepper
2 garlic cloves, minced
Directions:
Mix all ingredients together and serve. It tastes best after sitting in the fridge for about 12 hours before serving because the flavors really meld together.
Instead of just dipping chips, try these healthier alternatives to eating your salsa:
-use it as a topping or condiment for your pizza
-eat it on eggs
-eat it on chicken or fish
-substitute it for your salad dressing
-eat over potatoes (baked or mashed)
-put it in a soup
-make a salsa lettuce wrap
-add it to a sandwich

To view the rest of this post, be sure to head over to www.tone-and-tighten.com.
Have a great day!
Jared