Weekly highlights, new giveaways, and BONUS workouts!
Subscribe to our email list by using the red box at the top of this page.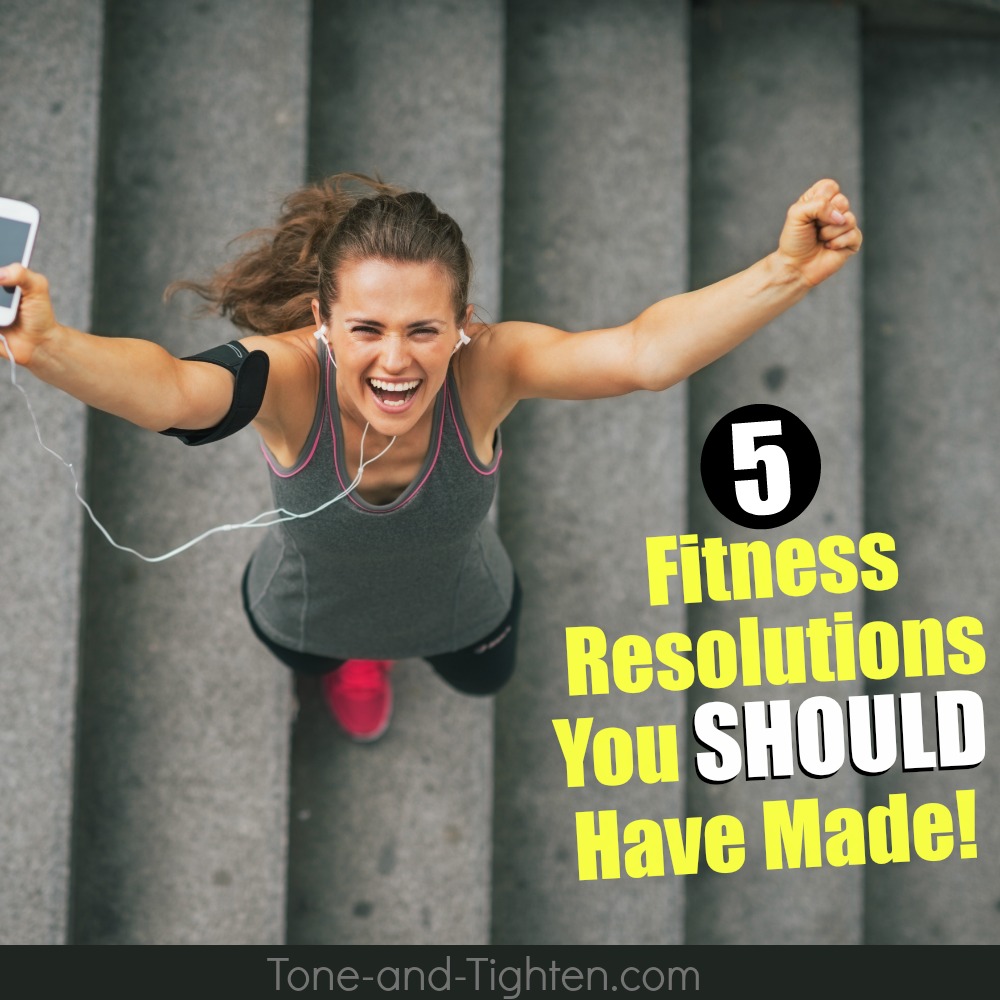 Ahhhh… New Year's. It's a time for us to pause, reflect, and remember the year that was. It's also a great opportunity to anticipate, plan, and work towards what you want to achieve in the upcoming year! Did you know that the most commonly-made resolution this time of year has to do with health and fitness? Most people understand the importance of becoming a little healthier; unfortunately, not many know the best ways to go about doing it. That's where I come in! Today I wanted to share with you five fitness resolutions that you made this year (you might have even broke them already!) and tell you what you should have resolved instead. Fitness resolution number one… 
Got social media?? Follow T&T on Pinterest, Google +, Facebook, and Twitter!
1. Lose weight – Of all the health and fitness resolutions, this one is obviously the most popular. Everyone seems to have a couple extra pounds hanging around that they wouldn't mind getting rid of. However, the problem with making the goal of "lose weight" is that it lacks too many details. I lost 1/2 pound last week – does that mean I've achieved this goal? Your goals need to be objective; the problem with making the goal to "lose weight" is that it lacks too many details. Your goals need to be objective, quantifiable, and have a deadline. Let's get rid of that "lose weight" resolution and instead I want you to fill in the blanks for the following sentence…
Resolution #1 -"By
(date)

I will lose ___ pounds."

Need a little help in the "lose weight" category?
You have to check out Tone-and-Tighten.com's "Beginner's Guide To Weight Loss" by clicking this link!

2. Exercise more – To put it simply, our bodies were made to move. As a physical therapist, I would honestly speculate that up to 50% of my patient load would never be patients if they would just exercise regularly. Did you know that the recommendation for daily activity is 30 minutes of activity every day? The recommendation is meant to be for the whole day, but why not just knock it all out with a structured 30 minute workout? You may have resolved to "exercise more", but what does that really mean? How much and how often? Let's see if we can fix it…
Resolution #2 – "I will work out for 30 minutes three days a week for one month."
In need of some 30-minute workouts you can do at home? Yeah – I got you covered there, too!
Check out this link for hundreds of free at-home workouts!
3. Eat more fruits and vegetables – The recommended daily amount for produce is two servings of fruit and three servings of vegetables every day. Fruits and veggies are powerful sources of all natural vitamins, minerals, and antioxidants that your body needs to stay healthy, strong, and operate at its peak performance. How close are you to getting in this recommended amount? If you're anything like me – it's a struggle! But you can do it and it's totally worth it! This year instead of resolving to "eat more fruit and veggies" try…
Resolution #3 – "This week I will eat two servings of fruit and three servings of vegetables every day."
4. I will eliminate all sugar from my diet – Ahh, the "swear-off-sugar" goal. How many of us have made this one? Better question yet – how many of us made it about three days before we decided "to heck with this!"? Now of course, that's not to say that it can't be done… However, it is to say that it is very difficult to quit overnight. While swearing off sugar forever is a noble goal and you should definitely strive to attain it, why not said a goal that is a step in the right direction? For example, your first step to swearing off sugar could be…
Resolution #4 – "I will stop drinking soda this month." Or another one of my favorite examples "I will only eat one dessert per week for the next six weeks."
5. Get more sleep – Seriously – how many of us out there have made the whole "get more sleep" pledge to ourselves? Like every year we tell ourselves it's going to be better and then 365 days later we're still sleep-deprived and zombified. Once again – the problem most likely lies in the wording and execution of your goal. You have to make it an objective statement to make it successful. Don't just say "I want to get more sleep"… how about:
Resolution #5 – "This week I will be in bed by 11:00 every night" or even better "I will be in bed 8 hours before my alarm goes off the next day every day this week."
There are reasons why your fitness goals have been failing. Fortunately there are also ways to get right back on track stronger than ever before! Try out these 5 tips to a healthier and happier 2016!
Question or comment for Jared? I would love to hear from you!
Leave me a comment below or email me at ToneandTightenFitness{at}gmail.com
Make it happen,
Jared