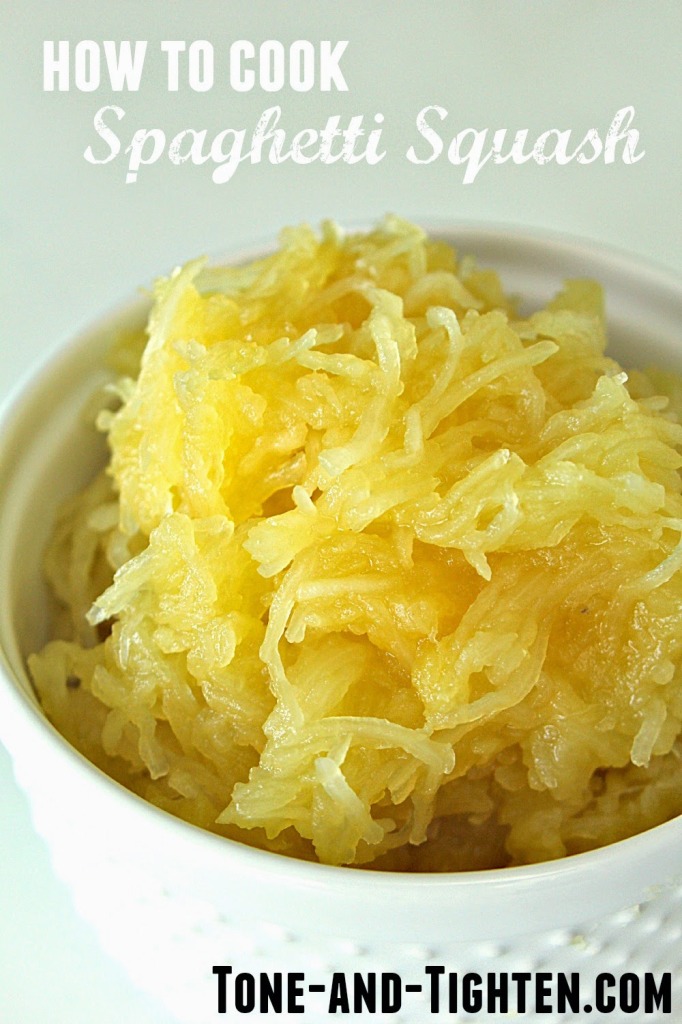 The first time I heard about spaghetti squash, I was really hesitant to try it. Have you ever seen a spaghetti squash? It kind of looks like a pale pumpkin/gourd. I wasn't sure how that was going to turn into string-like strands that resembled pasta. However, cooking it is simple and it makes a delicious and easy side dish (or main dish!).
How To Cook A Spaghetti Squash
Ingredients:
1 spaghetti squash (2-3 pounds)
butter or olive oil, optional
salt and pepper to taste, optional
Directions:
Preheat the oven to 400 degrees F.

Cut the squash in half: Make sure you have an incredibly sharp knife because these gourds are HARD! 

I recommend cutting the squash lengthwise from top to bottom. 

Scrape out the seeds: 

Use a large spoon to scrape out the seeds and stringy bits of flesh from inside the squash. The inside should be fairly smooth by the time you are done.

Place the squash in a large roasting pan: 

Place the squash halves cut-side down in a roasting pan.

Add some water: 

Pour a little water in the pan (I used about 1/2 cup), enough to cover the bottom. You can also do it without the water, but I recommend using it because it helps to steam the squash.

Cook the squash: 

Transfer the squash to the oven and cook for 30-45 minutes. Smaller squash will cook more quickly than larger squash. Check the squash after 30 minutes to determine how much longer to want the squash to cook for – it just depends on how done you want it to be and the texture that you prefer.

How to tell when it's done: 

The squash is ready when you can easily stick a fork through the fleshy part all the way to the outer peel. The flesh will also separate easily into spaghetti-like strands. You can do a taste test — if the noodles are still a bit too hard, put the squash back in the oven for another 15 to 20 minutes, or until they are the desired doneness.

Scrape out the squash: 

Use a fork to gently pull the squash flesh from the peel and to separate the flesh into strands. You won't have to apply much pressure- the squash will basically fall out when you touch them. The strands wrap around the squash horizontally — rake your fork in the same direction as the strands to make the longest "noodles."

Enjoy: 

Serve the squash immediately, tossed with a little butter or olive oil and salt and pepper, if desired. 
Looking for more healthy side dishes?
Make it happen,
Jared

By Jared Beckstrand