Be sure to follow on Pinterest, Google +, and Facebook for more workouts and fitness ideas!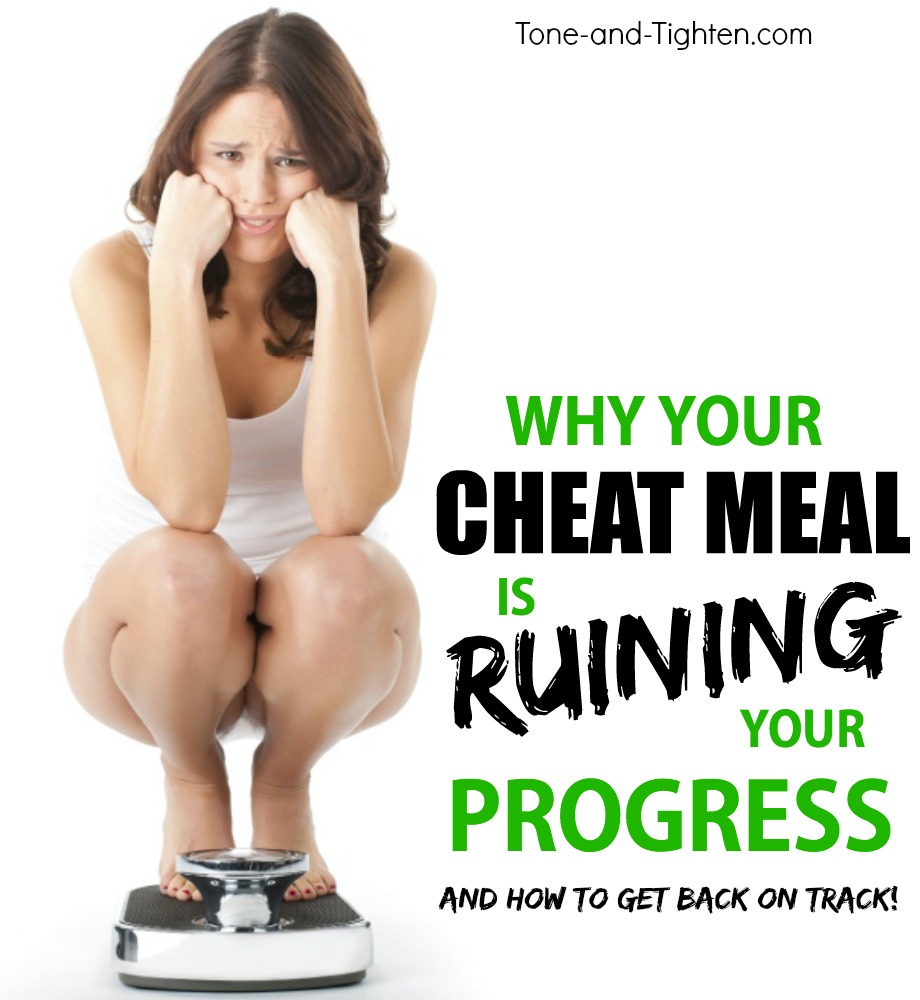 Let's face it – losing weight is hard work. Everyone is always looking for the quickest fix (weight-loss fads and gimmicks are a multibillion dollar industry) but the bottom line is nothing will ever work as well as eating a healthy diet and exercising. But oftentimes it happens that despite eating well and working out the pounds just don't come off. Did you know that it is possible for one bad day to completely sabotage and entire week's worth of dedication and hard work?! Yes – I'm talking about your "cheat day"! Today on Tone-and-Tighten.com we'll discuss how your cheat day is ruining your progress and what you can do to stay consistently on track in progressing towards your goals. Buckle up – this is going to be a good one… 
A quick word about weight loss: Did you know that you have to burn through approximately 3500 calories in order to lose ONE pound? Think about it – you have to create a 3500 caoriel deficit over a given period of time in order to drop just 1 pound! The relationship between calories burned and calories consumed is too detailed to discuss here, however you can learn everything you need to know by CLICKING ON THIS LINK to be taken to a previous post that I wrote about this topic. To briefly summarize…
Your body needs a certain number of calories every day just to stay alive (your basal metabolic rate or BMR). For most females age 25–45 this number is approximately 1600 – 2000 and for most males it is approximately 1800 – 2200. Most of us perform a lot more daily activities than just living (such walking, working, chasing kids, etc.), and therefore burn more calories than just our BMR. As an example, let's take a 30-year-old female who has a BMR of 1700 who, on average, burns an extra 300 cal per day working out and performing other activities. This woman requires:
1700 cal (BMR/metabolism) + 300 cal (activities of daily living) = 2000 daily calories.
In its simplest terms regarding diet – if she consumes 2000 cal her weight remains the same. If she eats more than 2000 over a period of time she will gain weight; if she eats less than 2000 over a period of time she will lose weight.
Follow me so far? Good. Now let's talk about consistency…
Remember that 3500 calorie number that I told you about earlier? In order to lose 1 pound you must somehow create a 3500 cal deficit in your body. Let's say that the woman in our example decides to work out a little harder and watch her diet a little more closely. With her new diet and consistent exercise she is now burning 2100 calories daily and consuming only 1800. According to my calculations:
1800 cal consumed daily – 2100 cal burned daily = -300 cal that she is burning up!
With this completely doable healthy eating and exercise plan, it should take approximately 11–12 days to burn enough calories that will equal 1 pound of weight loss (11.66 days x 300 cal per day = 3500 calories burned = 1 pound of weight gone!).
You can see from this example that losing weight is hard work! It takes dedication, patience and consistency, but it is totally possible!
Now – let's talk about that cheat day. When on a diet, most of us allow ourselves one day approximately every week where the rules of the diet don't apply. This is the day where we can have that extra piece of pizza, that chunk of chocolate cake, or that popcorn and soda. Ah cheat days! Most of us live for them, but all too often they are where diets go to die! Here is what I mean…
Let's take our same girl from our same example. Consuming 1800 cal a day and expanding approximately 2100 cal per day results in this 300 cal deficit. Let's multiply that by six days and she's down 1800 cal or approximately half a pound. However now on the seventh day let's make it a cheating free-for-all! Our friend had a soda with lunch, a sugar cookie as a mid afternoon snack, seconds at dinner,  and a piece of double chocolate cake with a small scoop of ice cream for dessert (A completely realistic "cheat day"). Should we assess the damage?
12 ounces of soda = 120 cal
Sugar cookie with frosting = 200 cal
Seconds at dinner = 500 cal
Double chocolate cake = 254 cal
Half cup ice cream = 194 cal
Grand total = 1268

extra

calories consumed in one day!
We just completely nullified 4 days worth of hard work with one day of indulgence!
So what does that mean? Well now let's compare the two:
If you are losing 300 cal per day for seven days you are losing 2100 cal per week. However, now let's add to this 2100 cal deficit our one cheat day of 1268 cal. A 2100 cal deficit + 1268 bonus calories from our cheat day = 832 cal burned for that week. 
But what does that mean in terms of weight loss? With this cheat meal plan it will now take just over four weeks to lose just one pound. Imagine that! One month of dieting, exercising, and an occasional cheat day to drop 1 measly pound of weight! It's no wonder to me why the majority of diets fail! If I'm making these changes and consistently "being healthy" to drop 1 pound every month then do you think I am going to stick with that program for very long? No way! I'm going to give up and go back to what is easier – the cookies, soda, chocolate cake, and television! The quickest way to kill a fitness plan is to sabotage your results.
Now – don't misunderstand me and think that I am saying that cheat days are bad things. Cheat days, when done correctly, can be highly rewarding, motivating, and can actually ensure you keep your diet on track. What I am saying is that even cheat days require self-control!! Just because it is your "cheat day" that's not a green light to try to gain back everything that you lost during the week! On your cheat day…
1. Pick one dessert and only one dessert
2. Seconds on fruits and veggies; refrain form the other seconds
3. If possible try not to eat after 8:30 pm
4. Workout!! Especially on cheat day!
So the next time cheat day rolls around, don't let it get the best of you! Keep these examples in mind, remember these tips, and watch the results really start to pile up!
Looking to really take your results to the next level?
You have to check out our "Beginner's Guide To Weight Loss"
The tips you need to lose weight; the education you need to keep it off!