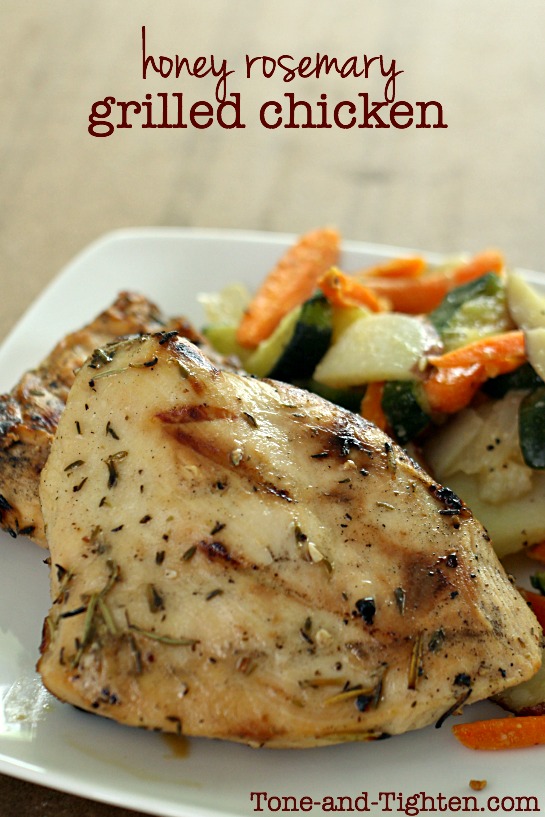 Eating healthy doesn't mean that you have to sacrifice flavor! This chicken is loaded with flavor and is good for you too! My entire family loved it (including my pickiest eaters).
Honey Rosemary Grilled Chicken
Prep time:
Cook time:
Total time:
An easy and flavorful grilled chicken recipe!
Ingredients
¼ cup honey
¼ cup balsamic vinegar
¼ cup minced fresh rosemary (or 1 teaspoon dried rosemary)
2 tablespoons olive oil
salt and pepper to taste
5-6 boneless, skinless chicken breasts
Instructions
In a small bowl, combine the honey, vinegar, rosemary, and salt and pepper. Pour half of the marinade into a large resealable plastic bag; add the chicken. Seal bag and turn to coat; refrigerate for 2 hours. Cover and refrigerate remaining marinade.
Remove bag of chicken from the fridge, place chicken on grill over medium high heat and discard leftover bag of marinade. Grill on each side for a couple of minutes (5-8 minutes per side) or until inside of chicken reaches 165 degrees F, basting occasionally with remaining marinade.
Serve with our Roasted Italian vegetables (https://tone-and-tighten.com/2015/10/roasted-italian-vegetables.html).
Looking for more healthy recipes?