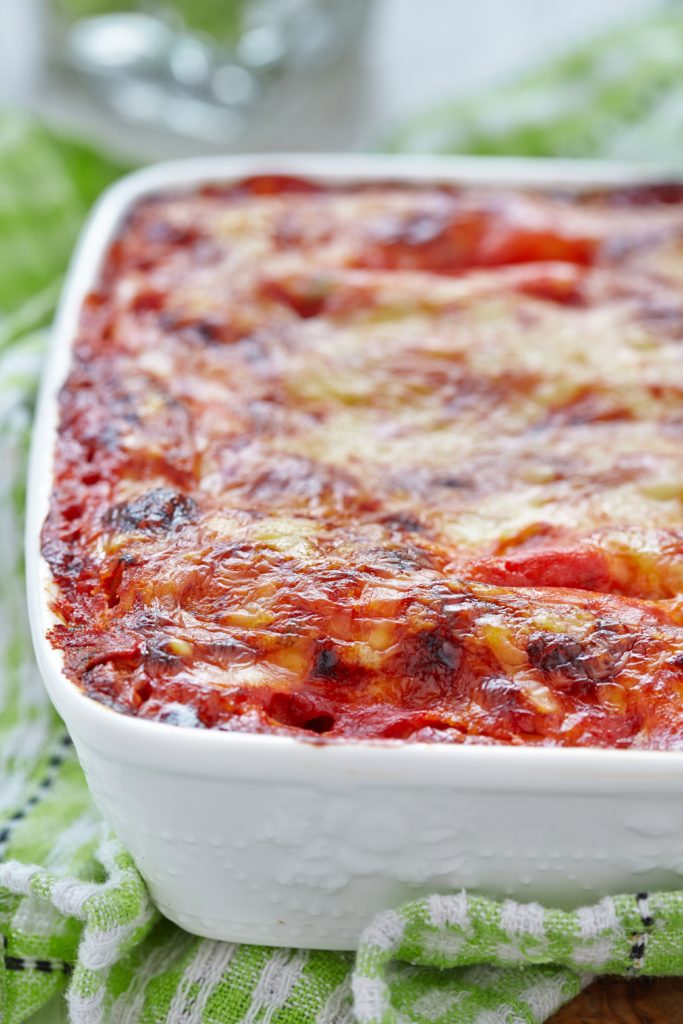 This recipe is easy to prep ahead of time and then throw in the oven when you are ready for dinner!
If you are looking for more delicious recipes, be sure to check out my Weekly Healthy Menu Plan, where I email you a dinner plan each week with dishes just like this!
Easy Spinach Manicotti
Prep time:
Cook time:
Total time:
Ingredients
1 carton (15 ounces) whole milk ricotta cheese
1 package (10 ounces) frozen chopped spinach, thawed and squeezed dry
1½ cups (6 ounces) shredded part-skim mozzarella cheese, divided
¾ cup shredded Parmesan cheese, divided
1 large egg, lightly beaten
2 teaspoons minced fresh parsley
½ teaspoon onion powder
½ teaspoon pepper
⅛ teaspoon garlic powder
3 jars (24 ounces each) spaghetti sauce
1 cup water
1 package (8 ounces) manicotti shells
Instructions
Preheat oven to 350 degrees.
In a large bowl, mix ricotta, spinach, 1 cup mozzarella cheese, ¼ cup Parmesan cheese, egg, parsley and seasonings.
In a separate large bowl, mix spaghetti sauce and water; spread 1 cup of spaghetti sauce miture into a 13x9 inch baking dish sprayed with non-stick cooking spray.
Fill uncooked manicotti shells with ricotta mixture; arrange in a single layer over sauce. Pour remaining spaghetti sauce mixture over top. Sprinkle with remaining mozzarella cheese and Parmesan cheese.
Bake, uncovered, for 40-50 minutes or until manicotti is tender.
Freeze option: Cover and freeze unbaked casserole. To use, partially thaw in refrigerator overnight. Remove from refrigerator 30 minutes before baking. Preheat oven to 350 degrees. Bake casserole as directed, increasing time as necessary to heat through and for a thermometer inserted in center to read 165 degrees.
Looking for more healthy recipes?