Workouts, recipes, motivation, tips, and advice all right to your inbox! Subscribe to Tone-and-Tighten.com using the red bar up at the top of the page.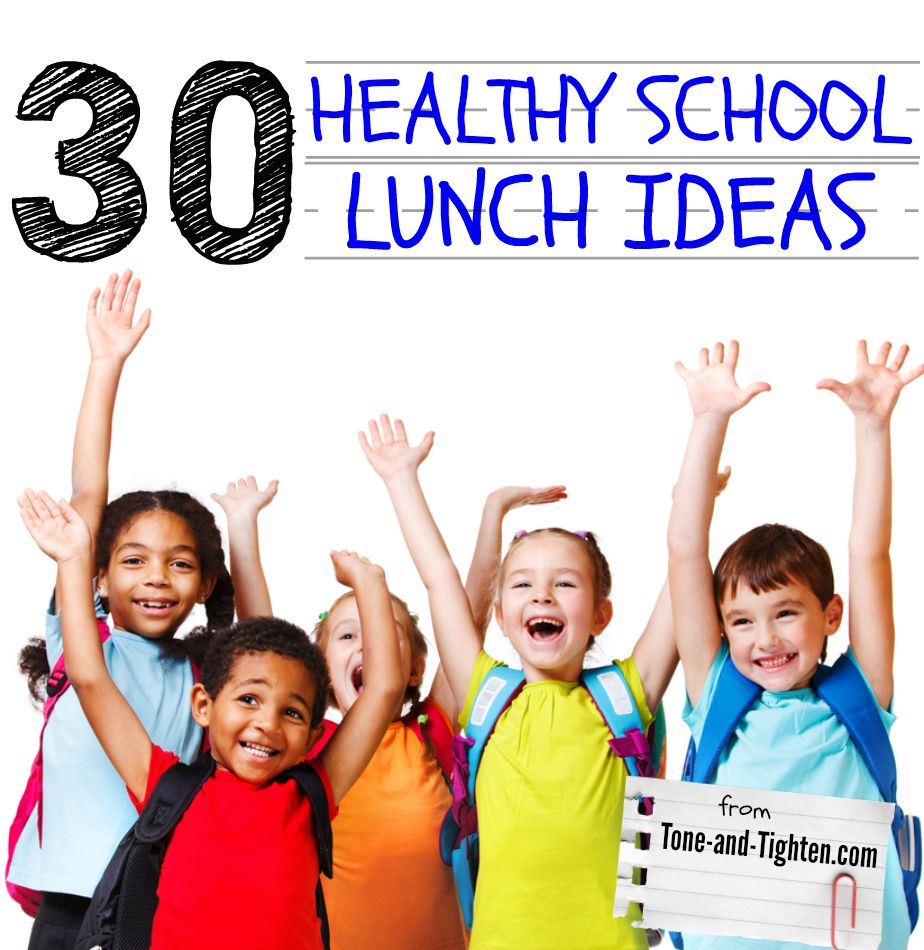 Well – it's that time of the year again! The days are a little shorter, the sun isn't quite as hot, FOOTBALL season is upon us (best part of fall!!), and all-too-soon the school bell will be ringing signaling the start of an exciting new year! With back-to-school, of course, comes school lunches! I don't know if your kids are anything like mine, but I've got some pretty picky eaters! Last year my daughter got into a rut of peanut butter and jelly sandwiches with corn chips for about a solid month (sound familiar?). That's when we decided it was time to mix things up a bit and try to pack her some different things that were a little healthier. After doing our research, we came up with a revolving list of about 30+ lunch items that we would pack for her that kept things not only interesting and new, but healthy, also! Today I wanted to share with you to hopefully make this school year not only happy, but healthy! Check them out: 
How this works at my house: MOST weeks we sit down with our kids with a calendar in front of us and the school lunch menu up on the website. We go through the menu and decide what days the kids want to eat school lunch and mark it on the calendar. For the other days, we present to them the following list (things we KNOW our kids will eat). Their objective is to pick one item from each of the categories to build their school lunches. We even have a rule that once you've picked something for one day that week you can't pick it again until the following week (eliminated PB&J everyday!). It gives them a great sense of accomplishment, but more importantly ownership. It's amazing how much fighting and whining cuts down when you can come back with  – "this is what you picked off of the menu"! Feel free to try this out with your family using our list, but I would encourage you to add/subtract items to make it YOUR family's list. Heaven knows your kids don't like everything mine do and vice versa. Hope this helps you as much as it's helped us!
Note: Some of these will require some sort of refrigeration/cooling. These reusable ice packs are an absolute must! Low profile so they don't take up a lot of room – keep cold items cold all the way up until lunch time!
Main
Whole wheat (natural) peanut butter and jam sandwich
Same PB&J from above, but stick it on a mini bagel to switch things up a bit!
Whole wheat ham and cheese sandwich
Turkey wraps (turkey, swiss or provolone, a little lite mayo…)
Pasta Salad (make a bunch on Sunday and have it a couple of days that week!)
Whole wheat crackers and cheese stick (with or without a side of ham)
Fruit
Fruit Leather
Grapes
Apple slices (brush lightly with lemon juice to keep from browning – and the flavor combo is yummy, too!)
Apple sauce (we love these "GoGo Squeeze" brand – different flavors and no plastic utensils!)
Mandarin Orange bowls (cup – be careful what kind of syrup they're in!)
Peach bowls (also in a cup – again – watch the syrup!)
Banana
Blueberries
Clementine oranges
Raisins
Veggies
Baby Carrots
Broccoli
Celery
Bell Pepper strips (Slice a bunch at the beginning of the week and eat them all week!)
Snap peas
Sides
Sun Chips
Whole grain Goldfish Crackers
Mini pretzels (low fat, low sodium)
Nuts (be mindful of allergies!) (Peanuts, almonds, and cashews are my kids' favorites. Disguise them in trail mix to make it more of a snack!)
Snack
Fat-Free Chocolate Pudding
Whole wheat banana bread
Animal crackers
Granola Bar
Drink
Water
Capri Sun Flavored Water
Milk
100% Juice
What are your favorite healthy items to pack for your kids' school lunches? I would love for you to help me grow my list! Please leave a comment below or email me directly at ToneandTightenFitness@gmail.com.
Need some more ideas for healthy, portable snacks? I've got 70 of them right here! Click this link or the image below to see more: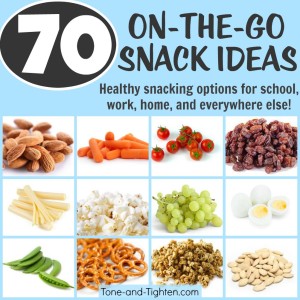 Make it happen,
Jared