Workouts, recipes, motivation, tips, and advice all right to your inbox! Subscribe to Tone-and-Tighten.com using the red bar up at the top of the page.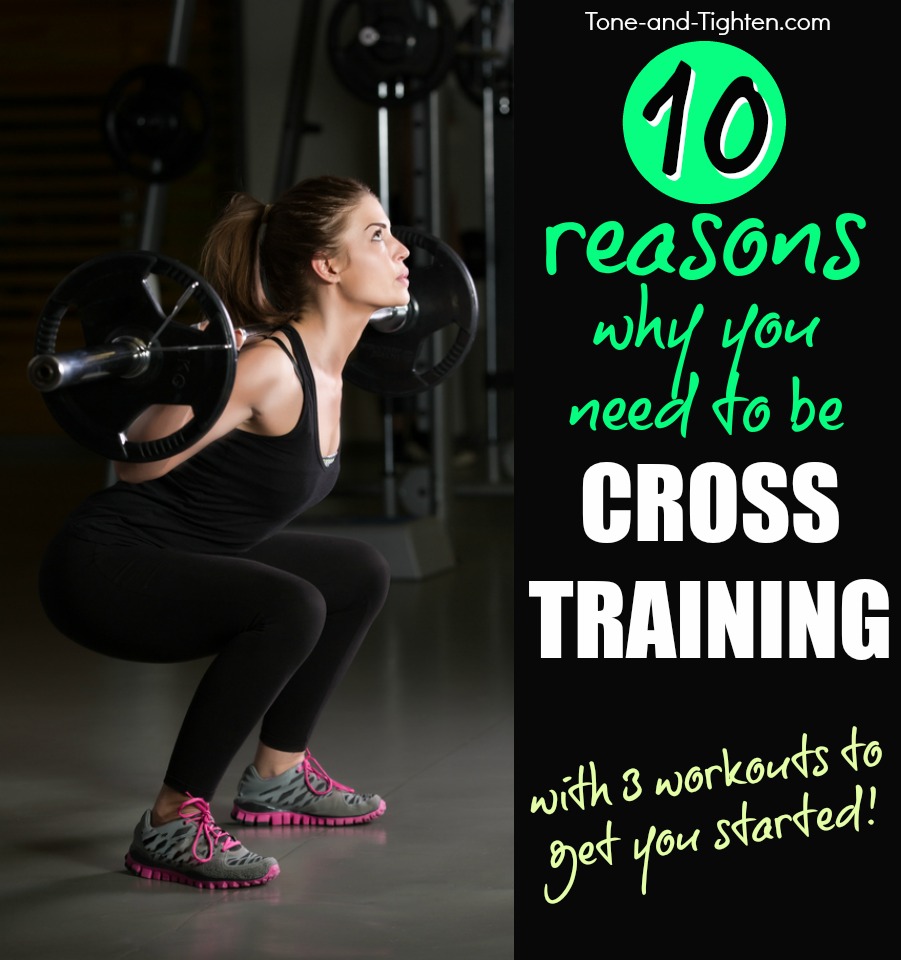 In its simplest definition, cross training is participating in two or more activities in an effort to improve one's physical performance. It is a vital yet often overlooked aspect of any successful health and wellness routine. Cross training is one of the best ways to take your workouts to a new level and improve your results. Today on tone and tighten I wanted to share 10 reasons why you need to be cross training as well as share with you a couple of my favorite cross training workouts that I have here on the site.
1. Burn more calories: Fact – muscles need fuel to move and be active. The fuel that your muscles consume is  a calorie. Similar to the way your car burns gasoline to move your muscles burn calories to function. Combining some sort of strength cross-training with your regular cardiovascular exercise is a great way to activate more muscles (and in different ways) than you would otherwise thereby burning more calories per workout.
2. Increase strength: A strong muscle is a healthy muscle. The stronger you are in key muscle groups throughout your body the easier it is to perform everyday functions – lifting, pushing, pulling, and carrying  (I totally just described a mom to young kids!). You will be able to perform these activities more often, with more resistance, and less likelihood of injury. Which brings me to my next point…
3. Prevent injury: Without hesitation I can claim that a large number of the injuries that I see daily in my physical therapy clinic could be prevented if people would take part in regular strength training. Keeping the muscles in your core, back and upper body is imperative in preventing and treating back and neck pain (especially as we get older). Most running injuries can be treated (and prevented!) by taking part in regular hip and core strengthening. Try it out! Here are 10 of my favorite core exercises and here are 5 of my favorite workouts to strengthen key muscle groups in runners.
4. Increase muscle tone: A strong muscle is also a tight, firm muscle. It's a muscle that rounds when it flexes, doesn't jiggle when it moves, and is defined by sleek lines. Running and other cardio is a great way to burn calories; strength training is a great way to increase definition and tone.
5. Increase metabolism: Your metabolism is a measure of how much energy your body consumes while at rest. There are a lot of things that determine how high your metabolism is – specifically age, gender, height, and weight (to name but a few of the bigger factors). One of these major factors is percentage of lean mass, or muscle! The more muscle you have the more energy your body needs to feed it and keep it alive. You actually train your body to burn more calories while resting than it ever did otherwise! Burning calories doing nothing? If that's not totally worth it I don't know what would be!
6. Improve respiratory function: Your cardiovascular system operates under two functions – aerobic and anaerobic. Aerobic means "with oxygen" – this is more of a long-term oxygen source that kicks in when performing distance/endurance activities. Your anaerobic system is your immediate oxygen source – that what you burn during quicker activities of a higher intensity. Training both is a great way to improve your respiratory function.
7. Improve performance: Whether you're training for a 5K, marathon, or even just life in general – cross training is an excellent idea to improve your performance. Run longer. Lift stronger, Get leaner, and tackle your day with confidence! Cross training is a great way to improve your performance in whatever endeavor you're tackling.
8. Rehabilitation: Believe it or not, cross training is actually a great way to rehab from an injury! In fact, the majority of exercises I recommend in my physical therapy clinic for patients rehabilitating an injury are designed to strengthen specific muscles in specific ways so that they function better. You can achieve the same sort of strengthening and functional improvements by incorporating some kind of cross-training into your regular routine (Looking for some great ideas on injury rehab? I've got a whole series dedicated to helping you recover from some of the most-common injuries that I see in the clinic – check it out here!)
9. Finding new hobbies/interests: One of the coolest ideas about the concept of cross training is that there are no bad ideas! Run, lift weights, hike, play basketball, cycle, strength train, etc, etc, etc! As you start to participate in some of these other activities you eliminate the monotony that sometime creeps into our exercise lives; and who knows? – you may just find a new passion or hobby that you love!
10: Results: The bottom line is – cross training works. It's a great way to take your results to the next level. Whether you're looking to tone up, bulk up, get stronger, get leaner, or get off your current fitness plateau… cross training is a the best way to break out of your current fitness routine and re-energize your results!
Are you sold on the importance of cross training but aren't exactly too sure where to start? Have no fear! I'm here to help you out!
Here are a couple of great workouts to help get you started!
Just click on the images below to be taken to the workouts:
Make it happen,
Jared