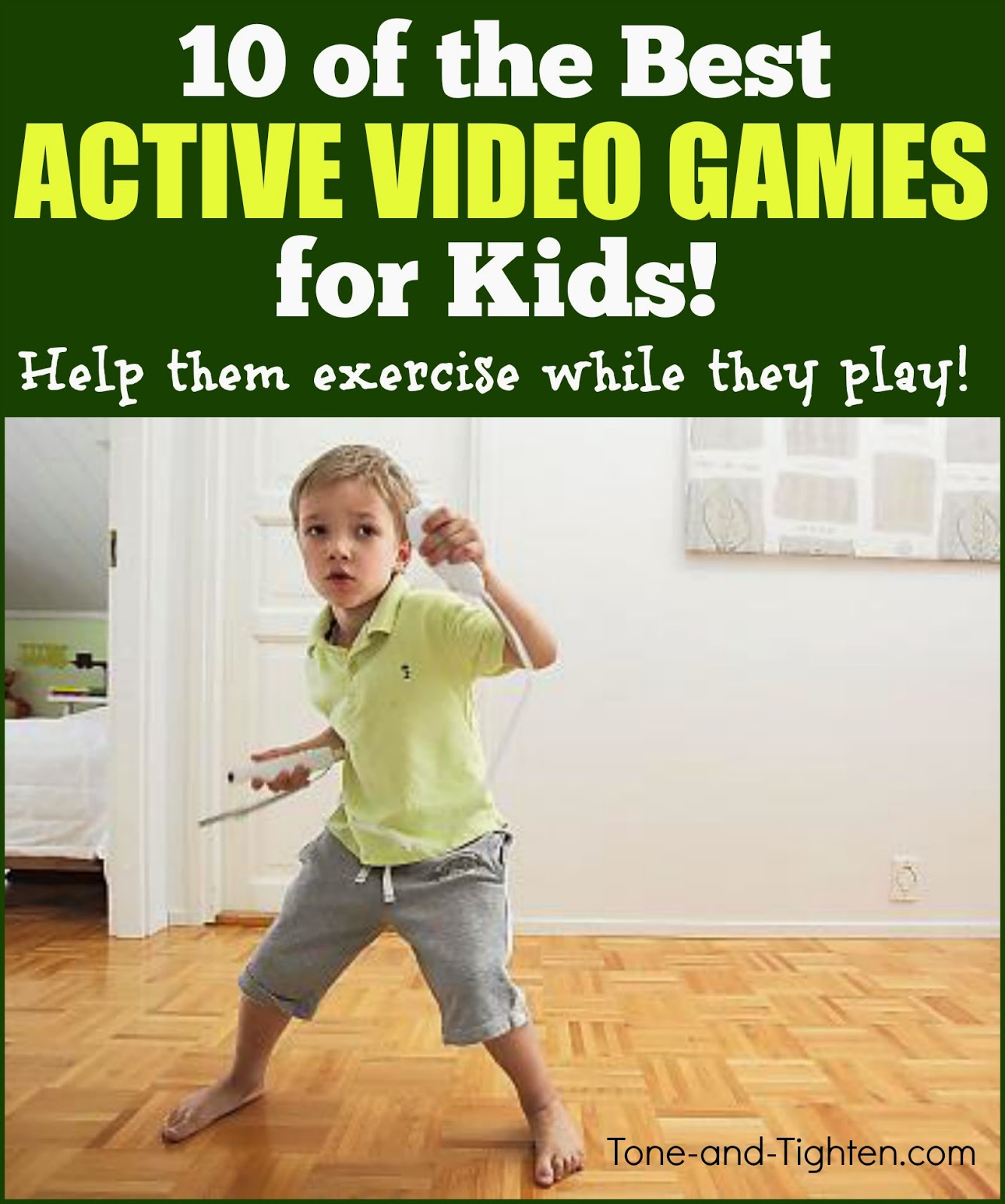 With the holidays around the corner, I wanted to focus on gifts you could give your friends, family and loved ones that will help them stay active, healthy, and achieve their fitness goals.
Today I wanted to share 10 of the Best Video Games that encourage kids to be active. Kids love video games, but many times they will be sitting down for hours on end while they play. We do have a video game console at our house (just a basic Wii), but we try to find games that require our kids to move. It's a great way for them to get exercise, especially during the winter months!
Without further adieu, here are 10 of the Best Video Games that will keep your kids moving!
Just Dance 2014 or 2015 (Amazon)
XBox One
Wii
WiiU
PS4
We love to have dance parties as a family and this game did not disappoint! In fact, both the kids and the adults were super sweaty by the time we had done a few dances. We totally love this whole "Just Dance" Series!





Wipeout (Create and Crash)
Kinect
Wii
WiiU
Just like the popular TV show, you have to go through a crazy obstacle course full of jumps, dives, twists and turns to avoid falling into the water. This is for ages 10 and older, but when we play it as a family, even the little ones can participate.







Nickelodeon Fit
Wii
I bought this for my kids years ago and it's still a favorite. The exercises are so simple that even preschool aged children can play along, but it still leaves you nice and sweaty when you are finished! My kids love these characters on TV, so to be able to exercise with them makes it even more fun.






Active Life Outdoor Challenge
Wii
Over a dozen fast-paced games that you can play by yourself or with friends. It's a great way to sneak in some cardio without even noticing that you are exercising!


Kinect Rush (A Disney Pixar Adventure)
Kinect
My kids LOVE Disney and so this game was a dream come true to them- they got to play right along side some of their favorite characters. This will have you throwing, jumping, climbing, swinging, and running all over the place!

Wii Sports Resort (Walmart- wii sports club for wii u)
Kinect Sports
Wii
WiiU (Sports Club)
With over 12 activities that keep your family moving, this game has something for everyone! Games include archery, frisbee, basketball, cycling, canoeing, table tennis, swordplay, golf, and more!






Walk It Out (Amazon)
Wii
This one is definitely low impact, but still gets you up and moving! You can play alone or with up to three other players. With over 100 music tracks on the game and different features to unlock, it's perfect for those days when it's too cold to walk outside.









We Ski and Snowboard
Wii
Use both your upper and lower body to get a great weekend. My kids are still learning how to ski, but they love playing this game and feeling like they are professionals!








Mario and Sonic at the 2014 Winter Games (Sochi)
WiiU
My kids love both Mario and Sonic, so having them together is so much fun. This game is loaded with awesome challenges and competitions that were fun for the whole family.








I know, I know . . . this looks ridiculous. However, it had my kids so sweaty from trying to do the silly moves to pass each challenge that I had to include it on the list. You can play with up to 4 people simultaneously, so it's perfect for group play!
Did I leave off your kids' favorite game? Help my grow this list by posting your favorite active game in the comments section below.
Looking for more great "Fit Holiday" ideas? Check out our "35 Fitness Stocking Stuffers Under $25"

Make it happen,


Jared

To view the rest of this post, be sure to head over to www.tone-and-tighten.com.
Have a great day!
Jared