7 Days of awesome at-home workouts and delicious dinner recipes – delivered daily right to your inbox!
Sign up for our all-now "7-Day Home Workout and Recipe Plan" by clicking RIGHT HERE!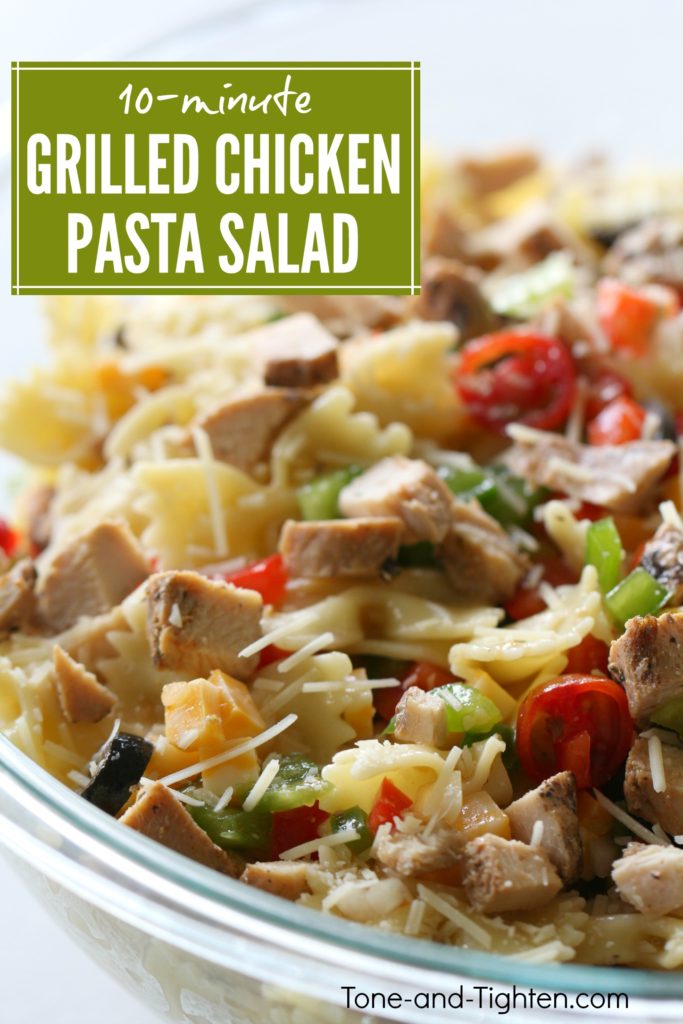 Whether you need the perfect dish to take to a summer barbecue or you're just looking for a simple, healthy meal you can feed your whole family – I have you covered! This chicken pasta salad recipe tastes phenomenal and can be prepared in a matter of minutes. Combine that with full servings of delicious, fresh vegetables and you've got a recipe that everyone will be inquiring about!
I love preparing recipes with chicken. Chicken tastes delicious, can be prepared/seasoned/used in countless different ways, and is an excellent source for high-quality protein. However, one of the hardest things about these meals for me is that oftentimes you are required to have "cooked chicken" on hand. Sometimes it takes just as long to cook the chicken as it does to prepare the whole recipe!
Well you can imagine how completely stoked I was when I found these…
"Johnsonville Flame Grilled Chicken" Packets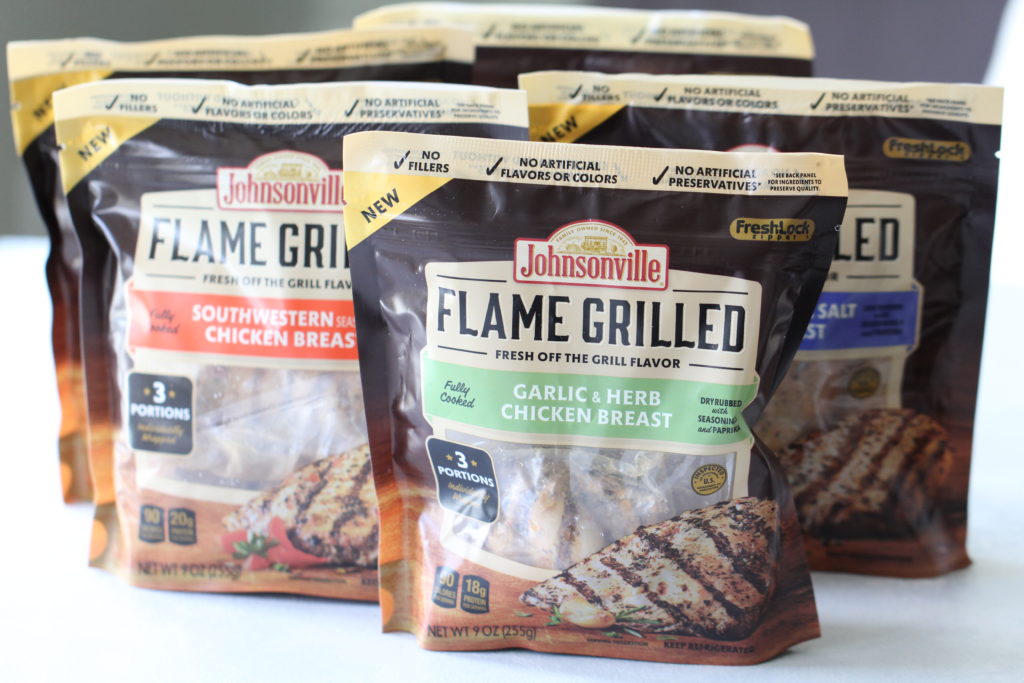 Each packet contains three portions of delicious flame grilled chicken with no fillers, no artificial colors, and no artificial preservatives. And at an amazing 20 grams of protein and 80-130
calories per serving, you will wonder how you ever got by without them!
You can get "Johnsonville Flame Grilled Chicken" packets in a variety of delicious flavors including:
Garlic & Herb

Teriyaki

Black Pepper & Sea Salt

Southwestern

Honey Mustard
I love having these options – you can create totally different and unique flavors simply by substituting different flavored packets each time you make the recipe. I have prepared this chicken pasta salad recipe with the Black Pepper & Sea Salt, Garlic & Herb, and Honey Mustard flavors and they all taste fantastic!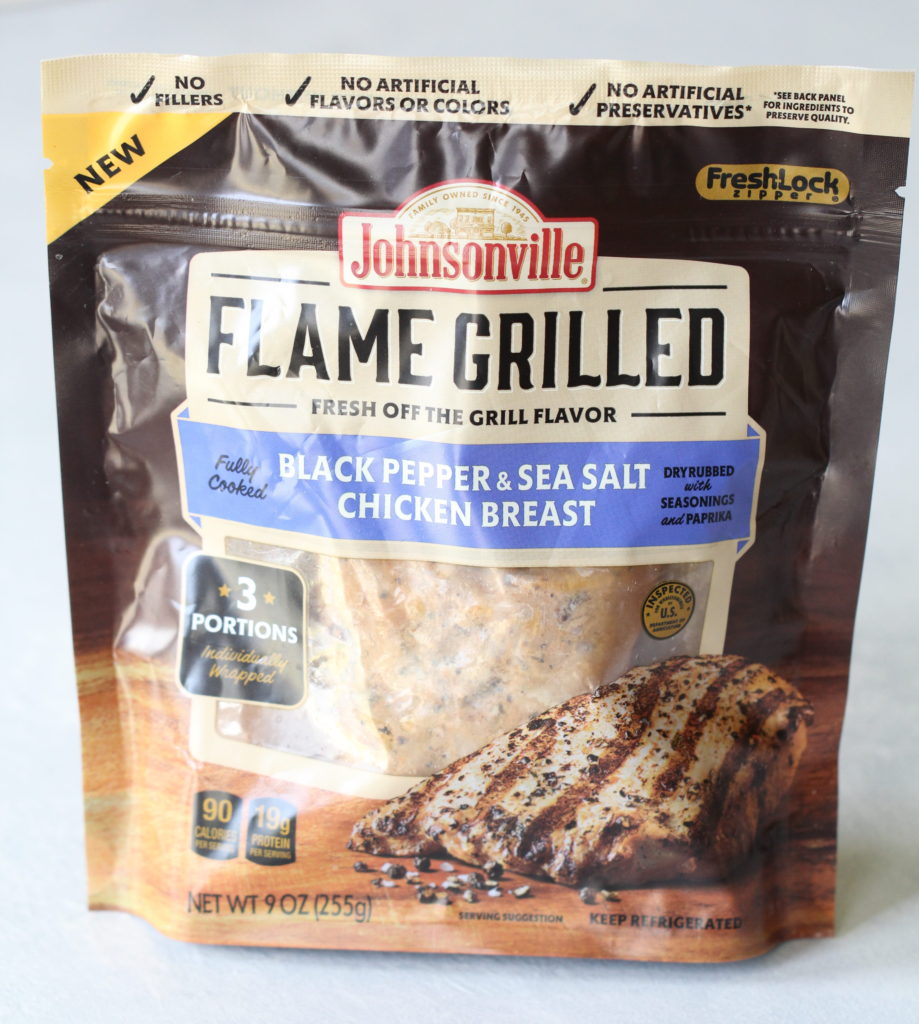 Other key facts that I love:
Free of: fillers, added MSG, artificial preservatives, flavors and colors

Fully cooked, whole-muscle, chicken breast (no rib meat)

Seasoned with dry rubs

Each portion is flame-grilled over open flame to sear the meat

Individually wrapped portions (3 ounces) ensure freshness and offer convenient preparation

 

(requires less than two minutes in the microwave)

Each chicken breast is 80-130 calories and offers 18 grams or more of protein

Perfect for use as a main dish and in wraps, salads and soups

Chicken is sourced from U.S.-based poultry farms with the product manufactured in the Midwest

Found in the refrigerated meat sections at grocery stores nationwide
If your goal is a fast, convenient way to eat healthier without spending a lot of extra time in the kitchen "Johnsonville Flame Grilled Chicken" packets are a lifesaver!
Find out more by clicking this link.
And now on to the Chicken Pasta Salad recipe!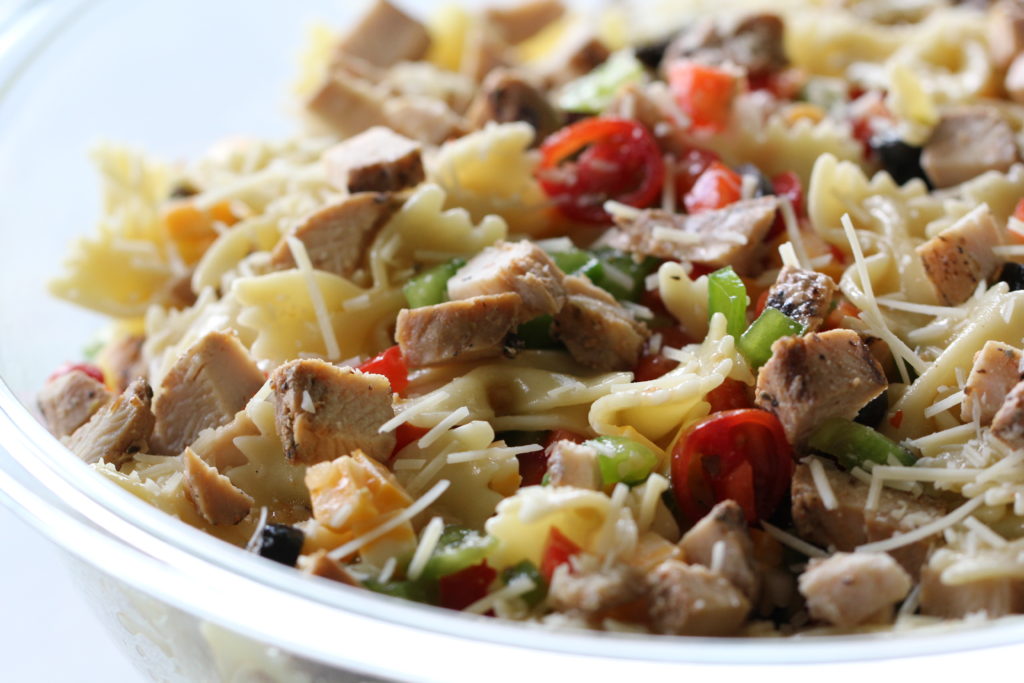 Prep time: 10 mintues
Cook time: 0 minutes
Total Time: 10 minutes
INGREDIENTS
1 package (9 ounces) Johnsonville Flame Grilled Chicken (I used Black Pepper & Sea Salt)
12 ounces (uncooked) Farfalle pasta (you can use more or less depending on dietary preference / macros)
1 Green Pepper 
1 Red Pepper
1/2 Medium Onion
1 Can (6 oz) Sliced Olives
1 Medium Cucumber
2 Medium Tomatoes (can also use cherry tomatoes cut into thirds)
4 ounces Monterey Jack Cheese
8 ounces of your favorite Italian dressing
DIRECTIONS
Cook your noodles according to desired doneness according to directions on packaging. Dice the chicken, peppers, onion, tomatoes and cheese. Slice the cucumber. Combine noodles, chicken, and vegetables in large bowl. Pour Italian salad dressing over the top and toss to combine (note – you may prefer more or less salad dressing depending on flavor preference).
There you have it! A quick and convenient food hack for a quick and delicious meal!
Have experience with Johnsonville Flame Grilled Chicken packets? We would love to hear about it!
Leave a comment below!
Make it happen,
Jared

This is a sponsored conversation written by me on behalf of Johnsonville. The opinions and text are all mine.