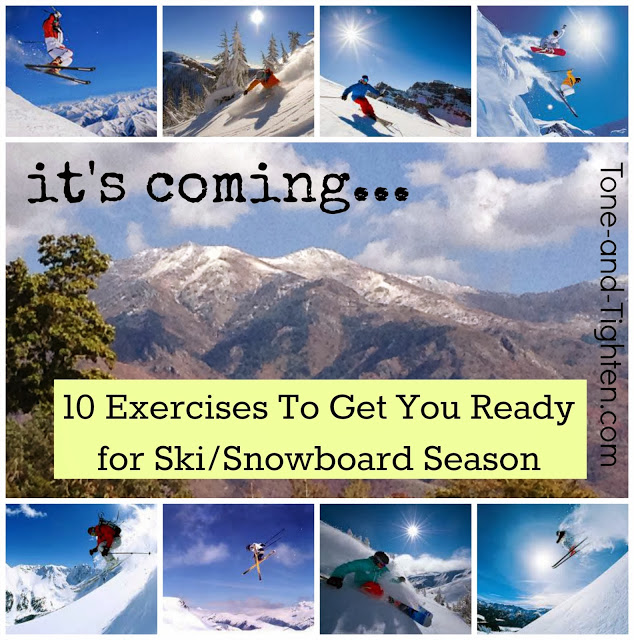 The weather is starting to change; there's a chill in the air and I've actually started wearing a jacket to work in the morning. In fact, I woke up the other day and, sure enough, there was a little of the white stuff on the mountains! Later that day I was driving around with my 6 and 4 year-old kids. My sentiments for the upcoming season can best be described by their reaction when I pointed to the tops of the mountains and asked them what they saw… (literally… in unison) "SNOW!!! Dad can we go skiing?!!!!" (my kiddos are complete rock stars)
While there may be about only about an inch up on my mountain, ski season is right around the corner. It seems like this time of year I start getting people into my clinic for a program I call "Ski-hab" (clever, I know 🙂 ). What are the best exercises to strengthen the key muscle groups to help you enjoy longer days of injury-free shredding? Keep reading… (Even if you're not that into winter sports, I guarantee you a great leg workout!)
Box jump-squats
Train your legs to act as shock absorbers with plyometrics
Russian twists
Helps to control core/trunk rotation while shredding down the hill
Squats with torso rotation
Hit the legs and the rotation with this excellent total-body exercise
Jump lunges
Dynamic and high-energy; great way to train for the slopes
Skater
Control the slalom motion with this great lateral exercise
Single-leg dead lift
Strong butt=strong turns on the slope
Wall sits
A great way to add stability to your knee and ensure a full season
Supine bicyles
Engage the core while working the hip flexors out
Single-leg (pistol) squat
(In my opinion) The most aggressive of the series. Great way to strengthen your legs independent of each other
Mountain Climbers
Climb the mountain to descend it like a boss! Great for the hips and core.
Do me a favor and share this with someone who's truly stoked for shredding like you, me, and my kiddos!
Make it happen,
Jared

To view the rest of this post, be sure to head over to www.tone-and-tighten.com.
Have a great day!
Jared