Nine of the best exercises to tone and strengthen your core after pregnancy. Flatten your stomach and tone your abs after having a baby with this great workout you can do at home. The best part – it's diastasis recti friendly and can actually help to heal your abdominal separation.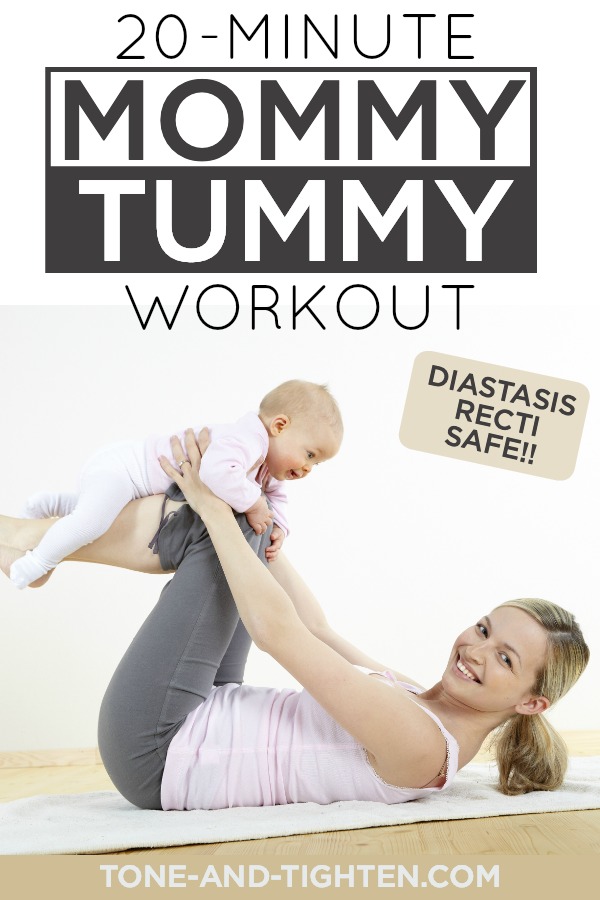 20-MINUTE AB WORKOUT AFTER BABY
Abdominal vacuum
Pelvic tilt with march
Side plank – static
Bridge with vacuum
Dying bug
Side plank pulses
Tabletop toe taps
Bird dog with vacuum
Thread the needle side plank
Keep reading below for detailed instruction in how each of these exercises is performed.
One of the most common questions that I get asked here on Tone and Tighten is "how can I get my stomach back to normal following pregnancy."
Many women come to me looking to get rid of the "mommy tummy" (their phrase, not mine) after giving birth. In fact – did you know that's the whole reason I started Tone-and-Tighten.com? (Check out the "ABOUT JARED" tab for the whole story).
Now – there are a TON of ways you can tone and strengthen your abs. After having a baby, I know this can be a huge issue. Your stomach has been in an all-out war for the last nine months and the after-effects can leave your stomach… well… "different" than what you may be used to.
I deal daily with women looking to recover their abs after pregnancy, either in my gym or as clients. I dare say the majority of them are going about it the wrong way.
They spend all this time doing millions of sit ups and crunches and then come to me wondering why they're not seeing results and why their back is hurting.
Here's the secret – in order to see abdominal workout results postpartum you HAVE to be doing the RIGHT exercises the RIGHT way. You actually need to STOP doing sit ups and crunches and start spending your time with better exercises that will yield the results you're after.
Today I wanted to share with you my go-to post-pregnancy ab workout. This is a 20-minute ab routine you can do at home that was designed specifically to tone and strengthen your abdominal muscles after pregnancy. These exercises are even diastasis-recti friendly (a condition we've rehabbed with my wife 4 times now)!
So let's get to work! …