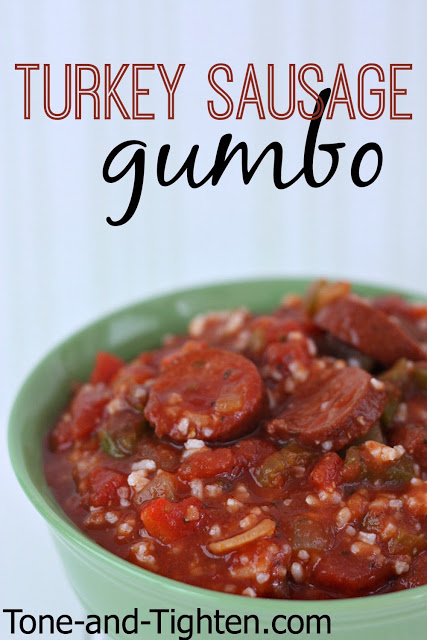 Being born and raised in Utah, I don't think I have ever had a real bowl of authentic southern gumbo. However, I have heard that it's fantastic!
And since it's so loaded with vegetables, it really is good for you! It fills you up and keeps you going all day long. And on a cold winter day, it's good for warming you up too!
For those of you from down south, I am so sorry if this isn't authentic gumbo, but whatever it is . . . it tastes dang good.
Slow Cooker Turkey Sausage Gumbo
Ingredients:
1 pound turkey sausage, sliced
1 can (14.5 ounces) reduced-sodium beef broth
1 can (14.5 ounces) diced tomatoes, undrained
2 celery stalks, chopped
1 green pepper, diced
1 onion, diced
1/3 cup tomato paste
4 garlic cloves, minced
1 tablespoon dried parsley flakes
1 1/2 teaspoons dried basil
1 teaspoon cayenne pepper
1/2 teaspoon salt
1/2 teaspoon dried oregano
2 heaping cups fresh kale
2 cups cooked brown rice
Directions:
In a 5-6 quart slow cooker, add the first 14 ingredients (everything but the rice). Place lid on crock pot and cook on low for 6-8 hours.
Once it's finished, scoop 1/2 cup of rice into each bowl and ladle gumbo on top (in the picture, I mixed my rice in- you can do whatever you like).
Looking for more healthy recipes? Be sure to check out my
To view the rest of this post, be sure to head over to www.tone-and-tighten.com.
Have a great day!
Jared