Never miss a healthy recipe, awesome workout, tip, or motivation from Tone and Tighten!
Sign up for our email list using the box at the top of the screen!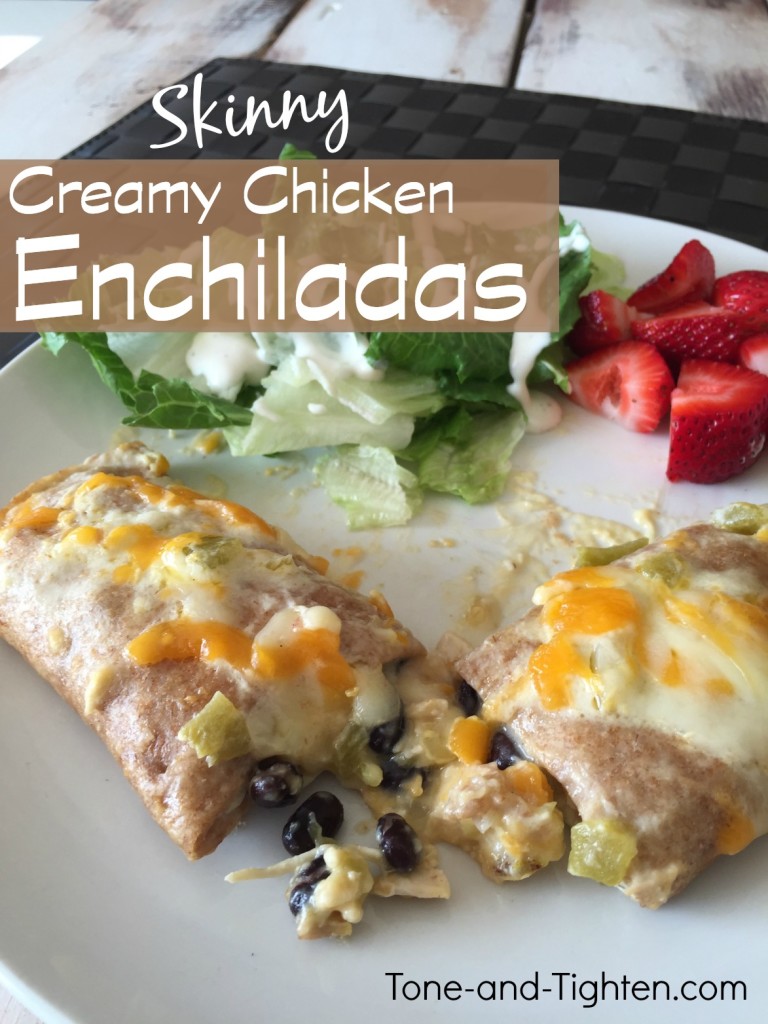 So if you couldn't tell by now, I'm a HUGE fan of Mexican food! One of my favorites is this spin on enchiladas – you make a white cream sauce with chicken, roll 'em up and bake 'em. They are PHENOMENAL! Seriously so good; but maybe not exactly the best thing for you. A few years ago I set out to make this recipe a little healthier without sacrificing any of the flavor. After some trial and error what I got was, well, AMAZING! All of the flavor with half of the fat and calories! Today I wanted to share with you the fruits of my labors – hope you enjoy these "Low Fat Creamy Chicken Enchiladas" as much as I do!
Ingredients
4 chicken breasts, cooked and cubed
1/2 C low-sodium chicken broth
1 (4 oz) can green chilies, chopped
1/4 C chopped green or yellow onion
2 1/2 C cream of chicken soup (equivalent = 2 cans, but I prefer my homemade recipe here)
1 C plain Greek yogurt
1 C grated cheddar cheese
1 can (15 ounce) black beans
Whole wheat tortillas (10-12 soft-taco size)
Directions
Mix broth, chilies, onion, soup, Greek yogurt and 1/4 C grated cheese in large bowl. Set aside ~1 C of this mixture to go on top of the enchiladas at the end. Add cubed chicken and black beans. Stir until well-combined. Distribute 3 T chicken mixture lengthwise in a tortilla and roll enchilada style. I combine a little more chicken broth with the 1 C of the mixture to make it a little thinner; use ~1/4 C to coat the bottom of a greased 9×13 pan. Place rolled enchilada on top of sauce and repeat for as many tortillas / mixture will allow (usually 8-10 depending on how full you stuff them). Distribute remaining 3/4 C sauce evenly over the top of the enchiladas and sprinkle remaining 3/4 C grated cheese on top. Bake 20-25 minutes at 350 degrees. I like to top them off with lettuce, avocado, diced tomatoes, and my famous homemade salsa!
Looking for more healthy and delicious recipes? CLICK HERE to be taken to our recipe index where you'll find dozens of healthy appetizers, main dishes, and desserts!
Make it happen,
Jared