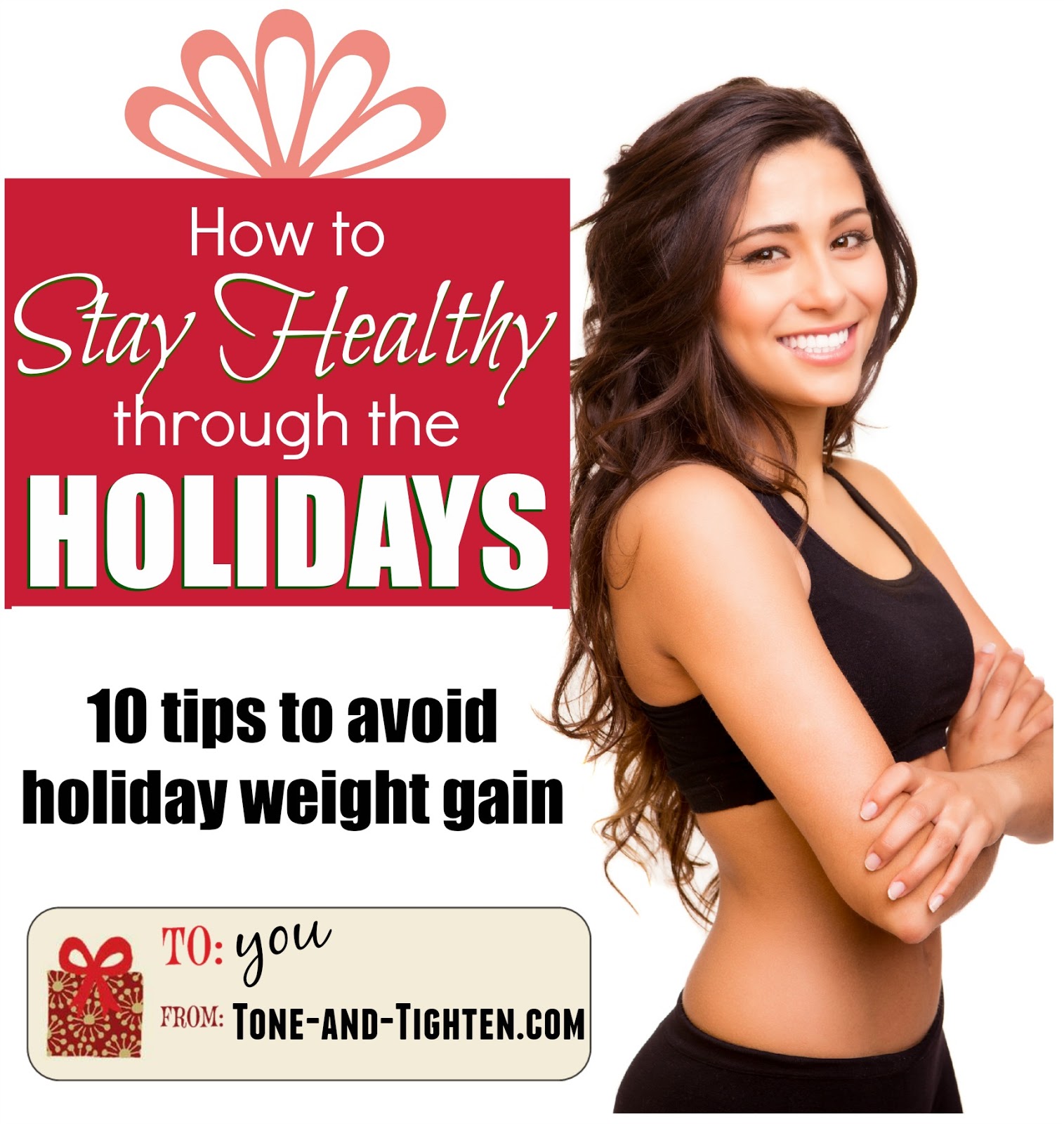 "It's the most wonderful time of the year…"
I absolutely love this time of year! The lights, the colors, the sounds, and especially the food! It seems that between family get-togethers, company parties, and work activities, that there is never a shortage of delicious and yummy treats! This plethora of edible delights coupled with the fact that we are typically less-active during December (what with the cold weather and all) and we have a recipe for complete disaster for any health and fitness plan! Don't let the holiday season undermine your fitness goals this year! Today I am sharing 10 tips to help keep your holidays healthy, active, and free from weight gain! Check them out below:
1. Exercise
: Absolutely the most obvious and yet sometimes the most difficult to adhere to is this idea of exercise during the holidays. It's cold so we don't go outside as much and certainly aren't as active during the winter months compared to the summertime. Don't let the cold weather keep you from exercising! If a

gym membership

isn't in your budget I've got plenty of incredible at-home workouts with minimal equipment required to keep you toned and tightened during the winter months!

Check them all out right here!
2. Find a winter activity that you enjoy
:

skiing

,

cross-country skiing

, sledding,

snowshoeing

, ice-skating, building a snowman, walking around the mall, etc., etc.! There are actually tons of ways that you can stay active during the winter. Sure, a lot of these outdoor activities require a little more planning and thought on your part, but with a little preparation you can actually make some pretty spectacular memories! Might I recommend
snowshoeing
or
cross-country skiing
to get you started – these are a couple of my favorite winter activities and a complete calorie burn!
3. Hate the cold? Find an indoor activity you enjoy!
: Let's face it – some people just don't like to be cold or outside when it is cold. There are just as many indoor activities you can find that burn just as many calories as the outdoor activities!

Racquetball

,

basketball

, swimming, spinning,

Zumba

, etc, etc are all great ways to shred some calories while staying warm and toasty. The important thing is you find something that you can get excited about and stick with it all season long!
4. Plan time for yourself
: If you're anything like me you find your December rapidly filling up! In fact I was just looking at my calendar earlier today – we don't have a free Saturday in December! It's important that you schedule time for
yourself
RIGHT NOW before the month gets any busier. Schedule a workout, a hike, a run, a swim – whatever – for yourself and GET IT ON THE CALENDAR! That way you have it scheduled out and nothing else can get in the way. Consider it an appointment with yourself… and bosses don't cancel.
5. Drink more water
: Anytime you find yourself headed to the cupboard for some good ol' "bored eating" head to the sink instead! Drinking more water is a great way to fill up your stomach quicker without adding any calories at all! You're supposed to be drinking 64 and ounces per day (about 8 glasses); how many do you usually get?

Check out this post to learn more about the health benefits of drinking water.
6. Strength in numbers
: Enlist someone with similar goals as you to be your workout buddy over the next 5 weeks. Go to the gym, go on your runs, and ask each other about your eating habits. Having someone there to whom you are accountable will increase your compliance and take your gains to a new level. Trust me – it's a lot harder to snooze when you've got someone depending on you to be there with them at 6:30 a.m.
7. Eat a healthy snack before going to your holiday party
: This is by far one of my favorite tips! About 30 minutes before you leave to go to your next holiday party grab a delicious healthy snack. A half of peanut butter and jelly sandwich on wheat bread, some fruit, or even some carrot sticks with hummus will tide you over just enough to keep your eating in check while you're at the party.

Here are some of my favorite healthy snacks.
8. Don't hang out by the food table
: Everyone likes to eat. Everyone also likes to socialize. Usually, people socialize around the serving table where there's food readily available. Simply paying attention to your geography can make a huge difference in what you eat while at the party. Grab your plate of food and then move as far away from the serving table as you can. You will be less apt to snacking if you have to get up and walk across the room to get it!
9. Did I mention drinking water?
: It's going to be tough, but I know you can do it. My challenge to you this holiday season is this – Don't Drink Your Calories. Cut out alcohol. Cut out soda. Cut out egg nog, hot chocolate, spiced cider, etc and reach for a big tall glass of water. This is honestly one of the quickest and easiest ways to save yourself 100-200 calories per meal! That may not seem like a lot, but cutting even 100 calories a day all month long will result in an entire pound of weight you didn't gain over the month!
10. Allow yourself SOME indulgence
: Okay – let's be completely honest with each other for a minute. You're not going to stick to every one of these this season (if you can – email me! I would love to hear about it!). Everyone should allow themselves a small cheat every now and then. The holiday season comes only once a year; along with that the holiday treats usually only come once a year! To miss them completely is not realistic; however, I think it's completely realistic to expect moderation out of ourselves. If you do elect to indulge, try to follow some of the following guidelines:
~ Only one dessert per party
~ Share desserts with a friend! That way you're still getting the treat and the sociality, but with only half the fat and calories!
~ Find the healthier option: fruit instead of chocolate. Even the small sugar cookie instead of the entire fudge brownie sundae can go a long way!
Don't fall victim to the annual poundage this year! It will be a much sweeter and happier new year if you take the correct necessary steps right now to make the holidays not only happy, but healthy!

Looking for great ways to burn calories through the winter months? Tone and Tighten has you covered!
Comment about this post or question for Jared? Leave a comment below or email me at ToneandTightenFitness@gmail.com.

To view the rest of this post, be sure to head over to www.tone-and-tighten.com.
Have a great day!
Jared