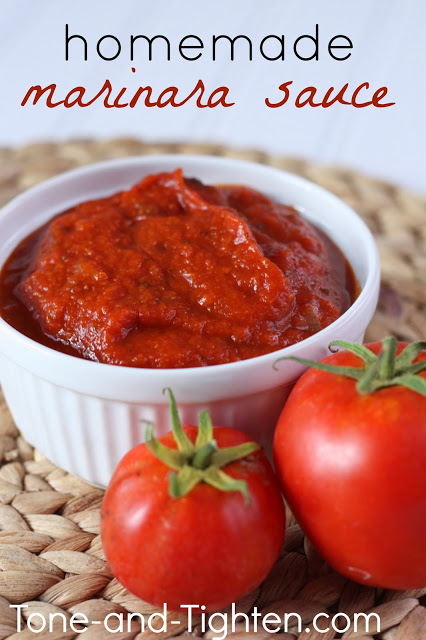 Making food from scratch doesn't have to be hard. This recipe uses ingredients you have on hand and tastes absolutely amazing. It's also reassuring to know what your family is eating (and this recipe doesn't include anything with words that can't be pronounced).
Homemade Marinara Sauce
Ingredients:
2 (14.5 ounce) cans stewed tomatoes
1 (6 ounce) can tomato paste
1/4 cup fresh parsley, chopped
1 clove garlic, minced
1 teaspoon dried oregano
1 teaspoon salt
1/4 teaspoon ground black pepper
6 tablespoons olive oil
1/3 cup finely diced onion
1/2 cup chicken broth
Directions:
In a food processor place Italian tomatoes, tomato paste, chopped parsley, minced garlic, oregano, salt, and pepper. Blend until smooth.
In a large skillet over medium heat saute the finely chopped onion in olive oil for 2 minutes. Add the blended tomato sauce and chicken broth.
Simmer for 30 minutes, stirring occasionally.
For nutrition information for this recipe,
CLICK HERE
.

To view the rest of this post, be sure to head over to www.tone-and-tighten.com.
Have a great day!
Jared