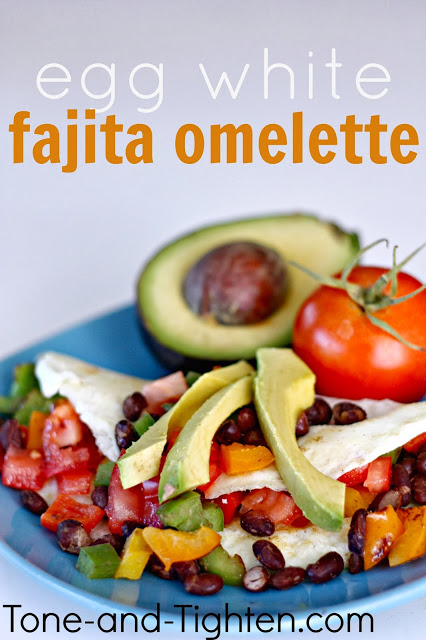 Not only does this make an amazing and filling breakfast, but it's also a great lunch and dinner also! Loaded with vegetables and beans, it's a great start to the day.
Egg White Fajita Omelette
Ingredients:
1/2 cup liquid egg whites (or about 4-5 large egg whites)
1/4 cup mixed peppers, chopped (I used a mix of red, yellow, and green peppers)*
1 tablespoon onion, minced
3 tablespoons black beans, rinsed and drained
1 tablespoon tomato, chopped
Directions:
In a small bowl, mix peppers, onion, black beans, and tomato together. Set aside. (If you want, you can also sauté these vegetables before adding to the omelette- either way is good!)
Spray a small skillet with non-stick cooking spray and place over medium heat. Pour in egg whites, swirl around so that the entire bottom of the skillet is covered. Cook until set which will take about 60 seconds or so. Using a rubber spatula, lift the eggs up and let the runny uncooked eggs flow underneath. Spoon the vegetable mixture on top of half of the omelette and fold in half. Slide omelette onto a plate, top with
salsa
and sliced avocado (optional) and serve.
Get the nutrition information for this recipe by clicking here:
*To make this even easier, cut up your peppers, onions, and tomatoes earlier in the week and place individual serving sizes in a ziploc bag and keep in the fridge. When you go to make your omelette, take out one bag with your pre-measured veggies and you are good to go!
Looking for more healthy recipes?

To view the rest of this post, be sure to head over to www.tone-and-tighten.com.
Have a great day!
Jared