Scoliosis is the word that is used to describe a curvature of the spine. In some cases, this curve can result in back discomfort and pain. Fortunately, there's a lot that the rights stretches and exercises can do to mitigate this pain and help you to feel better. Today I am sharing with you 10 of my best stretches and exercises to minimize the curve in your spine and help you to feel better.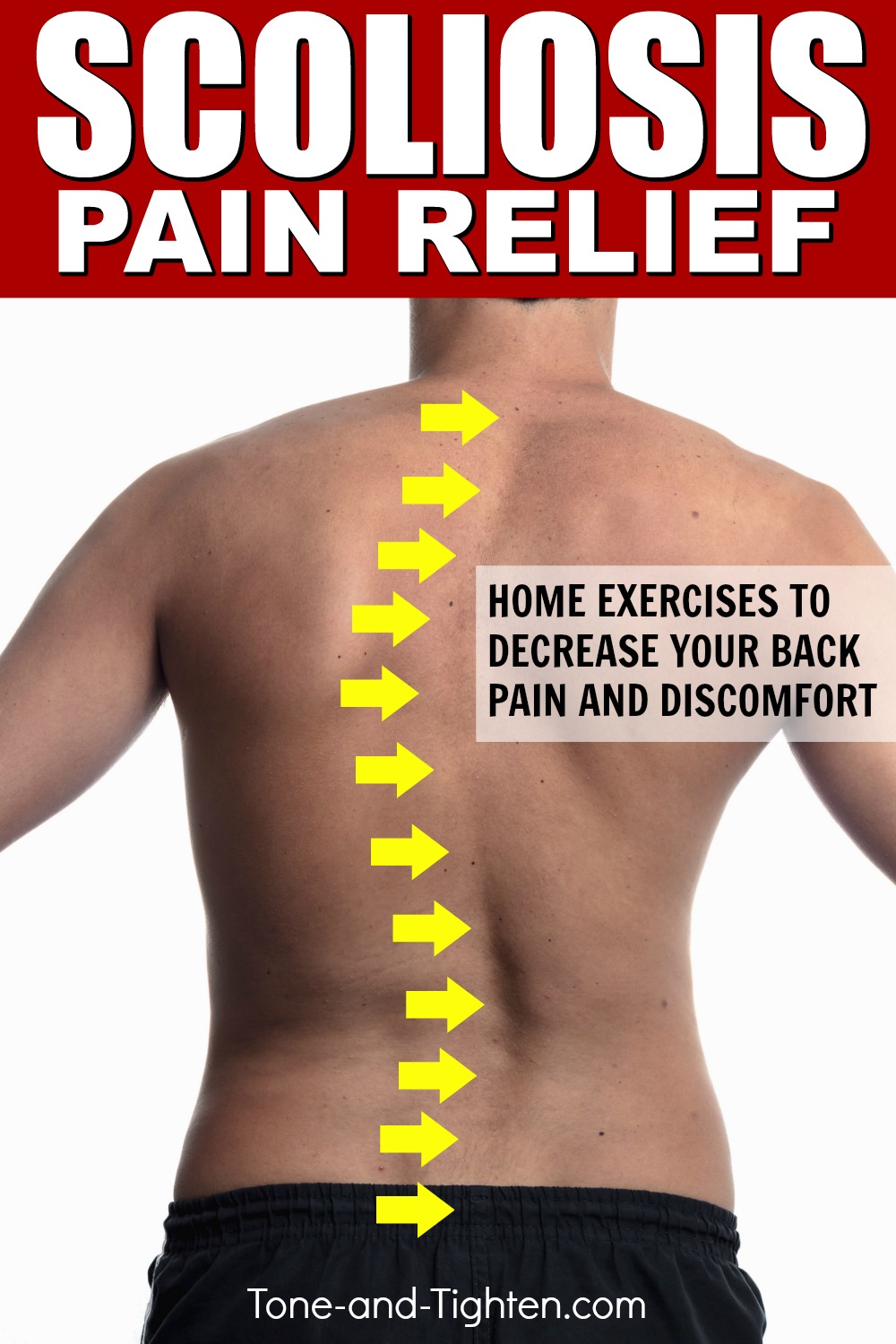 Most people have at least some degree of curve in their spines. This is due to many factors including how we sit/stand to which hand is our dominant side. While some degree of scoliosis is normal and expected, too much curvature in your spine can be painful and limiting.
Today I'm sharing 10 of the best physical therapy exercises to help help decrease your scoliosis curvature, improve your posture, and decrease your pain. Keep reading for more!
WHAT IS SCOLIOSIS?
Scoliosis is an abnormal curvature of your spine in what we call the frontal plane.
If I were to look at you from the side, there are "normal" curves that exist in your back. However, if I were to look at you from the back your spine should appear relatively straight.
If your spine curves one way or the other (or both!) as I look at your spine from behind then this is what we would refer to as scoliosis.
HOW IS SCOLIOSIS DIAGNOSED?
Scoliosis is usually diagnosed by your doctor, physical therapist, or chiropractor. These healthcare professionals can tell you if you have this curve to your spine and whether or not it's significant enough to warrant treatment.
DIFFERENT TYPES OF SCOLIOSIS
Whenever we see scoliosis, it typically presents in a "C-curve" or an "S-curve" depending on the areas affected. These are simply named after the way the curve presents – one curve manifests as a letter "C" as viewed from behind (typically seen in the upper back) while two curves appear to look like a letter "S" (typically manifest as a curve one way in the lower back and the other way in the upper back).
CAN EXERCISES HELP WITH SCOLIOSIS?
While the presentation for each of these conditions is a little different, the treatment is essentially the same. Treating this condition is solely dependent on one principle – that of soft tissue adaptation.
The soft tissue in your body adapts directly to the stresses (or lack thereof) placed on it. That means we can stretch out areas that are tight and we can tighten up (via strength training) areas that are weak.
When treating scoliosis, the muscles and tissue on the convex side of the curve are typically stretched in a lengthened position.
A long muscle is typically a loose muscle and therefore we need to "tighten" – or strengthen – this side.
Conversely, the muscles in the concavity are shortened and tight. Therefore – a typical course of treatment would be to stretch out these areas.
Stretch where it's tight (concavity) and strengthen where it's weak (convexity) and you should see some really good progress.
GENERAL RULES FOR ONLINE PHYSICAL THERAPY HELP
[The principles I'm going to outline in this video are VERY general and include effective stretches and exercises that will benefit MOST people. PLEASE NOTE – I am, in NO WAY, claiming to heal your scoliosis with exercises. In many cases this is a structural or postural issue and, in severe cases, requires much more aggressive treatment. These exercises, however, should help to DECREASE THE PAIN you may be experiencing as a result of your scoliosis problem.]
**As always you are encouraged to consult a local medical professional to determine an individualized plan of care that will be best for your unique circumstances. That said, if anything I demonstrate is painful or uncomfortable to you please stop and consult your medical professional.**
THE BEST STRETCHES AND EXERCISES FOR SCOLIOSIS
Push PLAY on the video below to see the recommended exercises for your scoliosis problem!
EQUIPMENT USED IN THIS VIDEO (affiliate links)
EXERCISE MAT: https://amzn.to/2SjDGC8
EXERCISE BALL: https://amzn.to/2Y09m0A
RESISTANCE BANDS: https://amzn.to/2LsNrxj
DUMBBELLS: https://amzn.to/2JTDLZs
HOW LONG DOES IT TAKE TO HEAL SCOLIOSIS?
One more note – scoliosis doesn't happen overnight. It takes a long time and a lot of consistency to develop a scoliotic curvature and therefore it can be presumed that it takes a long time and a lot of consistency to get rid of this curvature as well.
I typically tell people that it will take 8-12 weeks of consistent work to start to minimize the effects of scoliosis on their spine.
Please keep in mind – how you FEEL is infinitely more important than what you SEE. Often the effects of these exercises are manifest as decreased pain/discomfort long before you see their effects on the curvature of your spine.
You need to stay consistent (perform these everyday; if not 4-5 times/week) and be patient, but in the end results should come.
OTHER VIDEOS YOU MIGHT FIND USEFUL:
HOW TO FIX LOW BACK PAIN
HOW TO FIX THORACIC SPINE PAIN:


HOW TO CORRECT YOUR LOW BACK POSTURE:
HOW TO CORRECT YOUR HEAD/NECK POSTURE:
Thanks so much for watching! If you have any questions or comments be sure to leave them for me in a comment down below.
Make it happen,
Jared