17 of the best healthy snacks from Costco. These are the best good-for-you snacks you can buy in bulk at Costco stores that contain minimal sugar, low carbs, reduced fat, and maximum nutrients. They're the perfect snacks for work, school, after school, or anytime.
17 of the Best Healthy Costco Snacks
Crunchpak Organic Apple Slices

Organic Aussie Bites

Pacific Gold Beef Jerky

Zone Perfect Bars

Kind Bars

Made Good Granola Minis

GoodFoods Chunky Guacamole Cups

Food Should Taste Good Multi Grain Chips

Made in Nature Organic Mangoes

Bare Baked Apple Chips

Kirkland Variety Snacking Nuts

Cranberry Almond Chicken Salad

Organic Jack's Cantina Style Salsa

Skinny Pop Popcorn

Wonderful Pistachios

Blue Diamond Almonds

LaraBar
Keep scrolling down below for pictures and descriptions of each item!
Like most of you, I am all about snacking.
I know, I know… it's not exactly the best quality to have when it comes to being healthy and fit, but the reality is all of us probably get hungry between meals.
Now – you can keep reaching for the candy and cookies and seeing all your fitness progress stall out, or we can find some healthier options that are better for you and will keep your fitness goals on track!
Today I wanted to share with you some of my absolute favorite healthy snacks that you can pick up at your local Costco store.
These are the perfect healthy snacks for break at work, for after school, or to just help you to power through your afternoon.
Hope you enjoy!
Have you seen our HEALTHY MENU PLANS yet?
We brought on dietitian who helped us develop these healthy eating plans that use family-friendly recipes! Finally, you can eat healthy and still make food that your family will love . . . no need to make yourself a separate "healthy" meal! These plans are also designed to help you lose weight and keep you feeling full.
Let's talk about healthy snacks for a second. First of all…
WHAT MAKES A SNACK HEALTHY? Always read the NUTRITION LABEL on your snacks. This is straight-up the best, easiest way to tell you whether or not you're making the right decision. Some things to look out for include…
The size of the snack should be the right size. The calories-to-quantity ratio should tide you over without overloading on calories.

Pick foods that are low in added fat and sugar and high in fiber and water. Meaning that an apple is better than a bag of chips.

Try to find for fruits, vegetables, whole-grain snacks, and low-fat dairy.

Foods that are naturally-sweetened is better than foods and drinks that contain added sugar.

Fresh fruit is a healthier choice than a fruit-flavored drink.

Foods and drinks that list sugar or corn syrup as one of the first ingredients ARE NEVER EVER healthy snack choices.

Pairing proteins and carbohydrates will help the snack to keep you fullest for the longest. Examples of this would be having an apple and string cheese, whole wheat crackers with peanut butter, carrots and hummus, or plain yogurt and fresh fruit.
WHEN SHOULD I EAT MY HEALTHY SNACKS? It's recommended that you eat something every 2-3 hours to fend off hunger and overeating. Assuming you're eating three healthy meals a day (breakfast, lunch, and dinner) I would recommend supplementing your food with a snack between breakfast-lunch and lunch-dinner. Keeping the quantities small and the quality healthy will help you avoid over-indulging at other times throughout the day.
WHAT IS THE BEST HEALTHY SNACK? The best healthy are low in fat and sugar and high in fiber and water. You should also try to find protein where you can (see ideas below) and can pair it with carbohydrates. Always remember – you should be mindful of the calorie content and serving size. It should be enough food to tide you over, but try to keep calorie content to a minimum.
So with no further ado, here are 17 of my favorite healthy Costco snacks. We love to give these to our kids after school, I eat them when I come home from work, and my wife loves them to power through the afternoon. Hope you enjoy!
I do buy apples in bulk, but I found these CrunchPak Organic Slices that come in snack packs and I LOVE them!
We take them on road trips, to the park, kids' lunches . . . it's just so nice that the kids can have sliced apples anywhere.

They are also really good apples – really sweet and crunchy. My family loves them!

These Apple CRISPS on Amazon are also a favorite of my children.
If you haven't tried these Organic Aussie Bites, I highly recommend them.
They are in the baked goods section and while they do have a little bit of sugar and carbs, they are a healthier alternative to your typical cookie.

They are made with quinoa, flax seed, sunflower seeds, chia seeds, rolled oats . . . and tons of other good stuff.

My kids LOVE them and call them cookies . . . I feel good about giving these to them! 🙂
If you need to up your protein, Beef Jerky is a great way to do it!
These are also gluten free, which is perfect for those who need that kind of diet.

I love that they come in pre-portioned packages . . . I never do well in moderating how much I eat when it's just in a big bag, so having it in snack packs like this helps me keep my eating under control!
I am super picky when it comes to protein bars . . . I feel like many of them taste "chalky" and leave you with a bad after taste. But these Zone Perfect Bars are my favorite.
They have 14 g of protein per bar and leave me feeling full.

It's a great mid-day snack when you need a little pick-me-up! Plus, it's chocolate.
I am a HUGE fan of KIND bars. I keep these in the car, in my purse, in my desk . . . anywhere that hunger may strike.
The best part about these bars – I can pronounce every ingredient that is on the ingredient list.

So much of the food we eat these days is processed – I love that these are made with all real food.

And, they are delicious. So it's a win-win situation!
So this is the first time that we have bought these Made Good Granola Minis . . . and they are delicious!
They come in snack-pack bags, so they are perfect to keep in your purse or in the car and they are great for school lunches!

Another cool thing – they are school safe (meaning they don't contain or are made in a place with tree nuts, peanuts, soy, eggs, dairy, wheat, fish and other common allergens)! Pretty cool!
I turned these little guacamole cups on their side so that you can see they come in individual cups!
Not only is this guacamole delicious, but each cup only has 80 calories and is made from all fresh and real ingredients.

It does expire in 2-3 weeks from the time that you purchase it, but I can eat a pack of these in just one week! (#notashamed) 😉
These are my favorite chips to dip in the guac! I LOVE these Food Should Taste Good Multigrain Chips and Costco has the best price on them.
When I need something sweet, this is my go-to snack: Made In Nature Organic Mangoes. However, not all dried mangoes are created equal!
Most of the dried fruit you buy is coated in sugar . . . a lot of it! In fact, it's REALLY hard to find dried fruit that isn't coated in it!

These Made In Nature Organic Mangoes have only one ingredient: mangoes. Imagine that!! 🙂

But really though, they are delicious!
These Bare Baked Apple Chips are my favorite.
I have seen these at a few stores, but they are usually pretty pricey! Costco definitely has the cheapest price if you are okay to buy in bulk.

I just portion out the servings with little ziploc bags and then I just grab a couple bags when we are out and about and need a snack.

These only have one ingredient: apples. They are DELICIOUS.
Once again, the snack packs save the day!! These Kirkland Snacking Nuts are amazing! I love nuts, especially in the afternoon when I need something to power me through the rest of my day.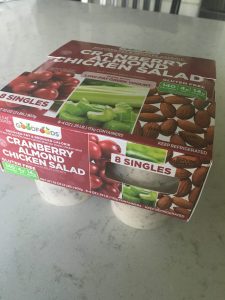 These little cups are one of my favorite all-time finds! They are cups of Cranberry Almond Chicken Salad – made with all real ingredients (it's really fresh) and Greek Yogurt.
There are only 140 calories per cup.

I like to eat it over toast, but many of you mentioned in the video that you like to put it on lettuce leaves and eat it like a lettuce wrap.

Either way is genius! This is also a great snack or a meal!
This is my favorite salsa there – Organic Jacks Cantina Style Salsa.
It's really fresh and tastes like the salsa you get at a restaurant. You can't go back to jarred salsa after this!!

The mango peach salsa at Costco is also delicious!!
I LOVE Skinny Pop! You can get it in a big bag like this or in a box with snack-sized bags inside.
Either way is delicious . . . and there is only 30 calories per cup of this stuff!
I love pistachios, but I love them even more when they are already shelled!!! These are seriously delightful.
These are probably my favorite almonds of all time – Smokehouse Almonds!
I snack on these while I work at night.

They have the best flavor!
Larabars are one of my favorite snacks . . . and they are a great price at Costco!
The selection of flavors is limited, but they have a big selection on Amazon.

They also sell these cute mini Larabars!

There you have them! 17 of my favorite healthy snacks you can get in bulk at Costco Wholesale. I hope you enjoy them as you power through your day and strive to live a little heatlhier!
Can you help us grow our list?! What are your favorite healthy snacks from Costco (or anywhere!)? I would love to hear in the comments below!