Be sure to follow on Pinterest, Google +, and Facebook for more workouts and fitness ideas!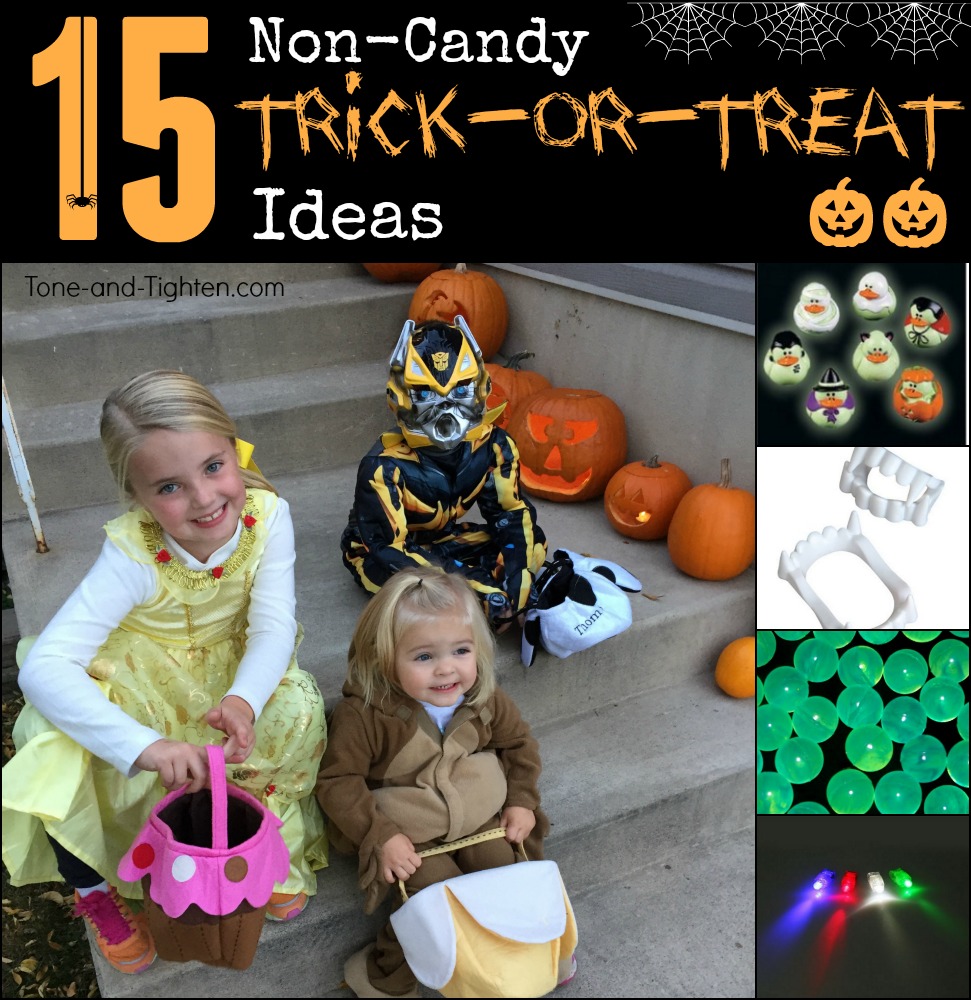 I have always loved October. The leaves are changing, football season is in full swing, MY BIRTHDAY, and of course – Halloween! I'm such a huge fan of costumes, parties, decorations, and (of course) trick-or-treating! I remember coming home with 1/2 a pillowcase chucked full of candy and the mandatory rationing that would cause it to last through December! Of course, since I've become a father myself, and ESPECIALLY since starting Tone-and-Tighten.com, I've started to look at Halloween a little differently. My kids' health is the most important thing to me and frankly nobody needs that amount of candy.
So just like last year, this year we wanted to be a little different! Check out this year's list of 15 Fun and Active Candy Alternatives that you can pass out to your trick-or-treaters! We did this last year and had people talking about it for weeks! Read more below! 
Now – don't get me wrong on this… the last thing I would ever do is disgrace Halloween. You're not going to find any pumpkin pencils or spider rings in this list (I always hated those). No way – these are legit, knock-your-socks-off, rock-your-world, "holy-cow-is-that-what-i-think-it-is" Halloween swag! For the same price as a large bag of candy you can buy most of these items in bulk from Amazon (click the links in this post) and they'll be here in plenty of time before the big day hits. Hope you enjoy these ideas!
1. LED Finger Flashlights (32 for $2.50!)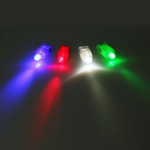 Easily the coolest thing that we gave out last year!! You should see when the kids pick their flashlight, put them on immediately, and run away from your house with comments like "these are the coolest Halloween treat ever!"
2. 8″ Glowstick Bracelet (Pack of 100 for $9.99)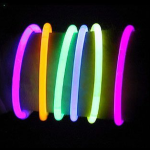 Increases visibility and the kids love the variety of colors!
3. Halloween Temporary Tattoos (144 for $8)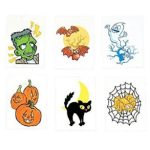 Because what kid doesn't love a good temporary tattoo?!
4. Halloween Friendship Bracelets (72 bracelets for $8.99)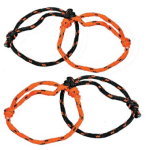 My daughter brought home 2 of these last year – literally wore them everyday until we finally said enough is enough at Easter! I thought it was a great idea!
5. Slinky (50 for $10.98)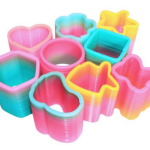 They come in all sorts of shapes. And hey – "everyone loves a slinky!"
6. Glow in the dark Halloween Rubber Duckies (24 for $9.95)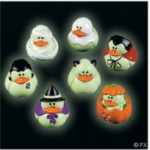 Like the friendship bracelets above, we literally had Halloween rubber duckies in our house until spring! My kids loved that they glow in the dark; there were a lot of tubs with the lights off!
7. Jumping Halloween Spiders (144 for $4.50)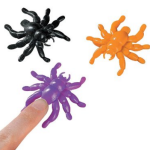 You push down on the bum and when you let it go it leaps in the air! As soon as my 2-year-old got the hang of it it had to come with us everywhere!
8. Flashing Jelly Rings (24 rings for $11.18)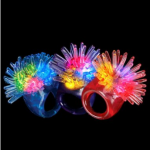 Basically you can't go wrong with anything that lights up! These rings are great to improve visibility and the kiddos love them!!
9. Parachute Toys (12 for $3.99)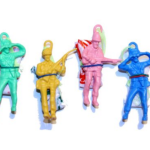 My kids feel like they have to throw them off our porch. Of course then they have to go down to retrieve them, bring them back up, and do it all over again…. #cardio
10. Glow in the dark Bouncy Balls (48 balls for $5.48)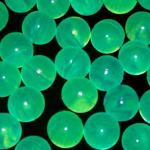 Just make sure they don't see them until they get home! Those balls bounce far and those kids run fast!
11. Foam Glider Airplanes (48 for $8.25)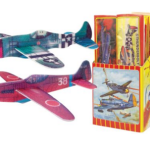 Fun to play with long after the candy is gone!
12. Vampire Teeth (144 for $8.50)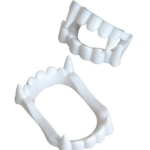 Because I don't care what kind of princess, cowboy, monster, witch, or mummy you are… every costume is enhanced with vampire teeth!
13. Jack-O-Lantern Pumpkin Whistles (48 for $12.99)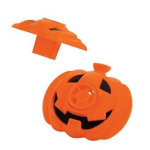 A riot while the kids are out trick-or-treating; a little head-achy a week later. You're warned!
14. Vinyl Sticky Hands (72 for $6.64)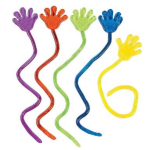 Entertainment for hours – perfect for stealing your siblings' Halloween candy!
15. Assorted Halloween Toys (48 pieces for $14)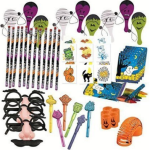 A little bit of everything for when you want to hand out anything!
I know that candy is an easy and convenient default on Halloween, but with a little prep work you can help the kids in your neighborhood live a little healthier and have a lot more fun!
Need another great Halloween idea? Check out these English Muffin Pizzas!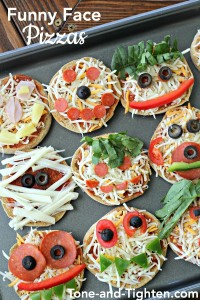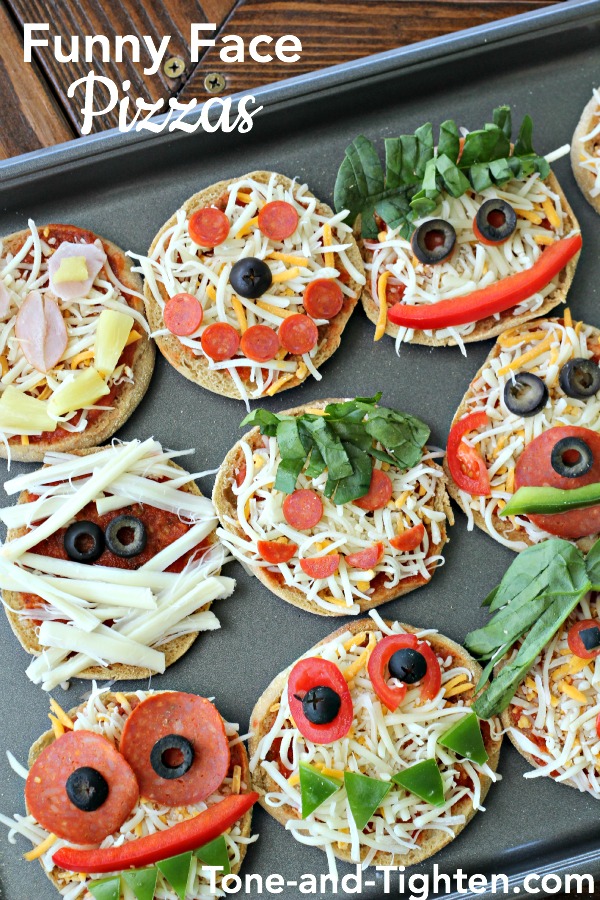 Make it happen,
Jared