Tone and tighten head-to-toe with this amazing weekly workout plan. Progress your workouts to enhance your results with 6 great workouts you can do at home. This plan includes a workout for each day that focuses on a major muscle group. You'll work your legs, arms, abs, butt, shoulders, and back for a total body weekly workout.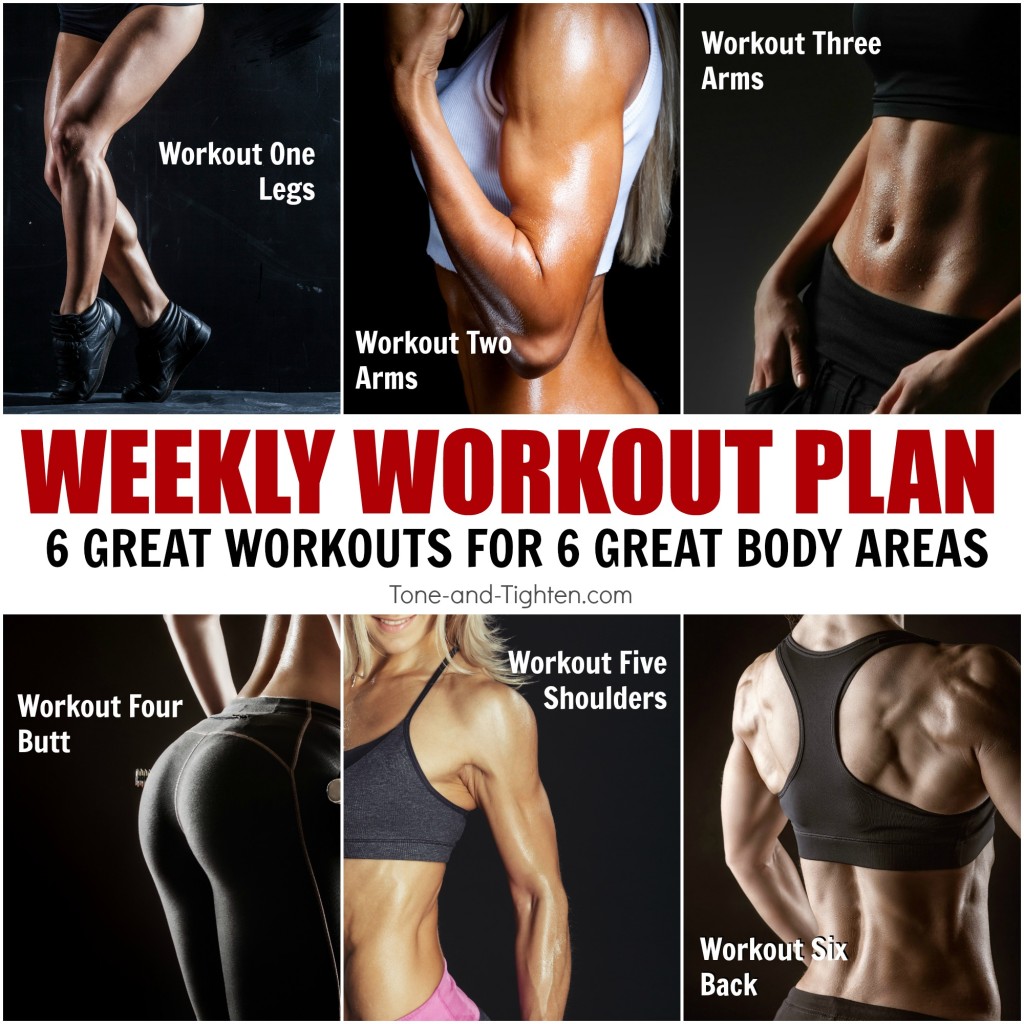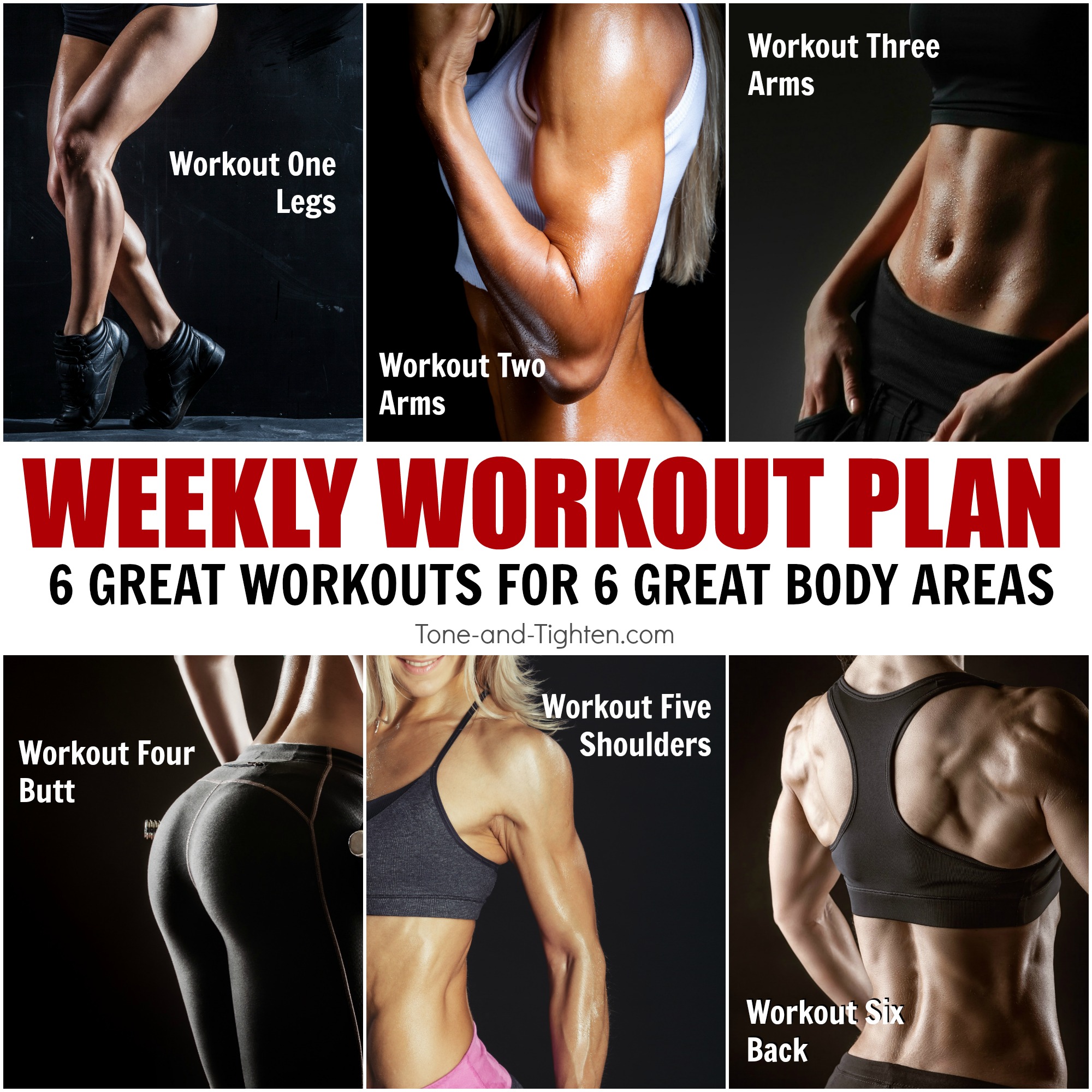 Total Body Weekly Workout Plan
Day One: Legs- Thigh Blaster Workout

Day Two: Arms- Tighter Arms Workout

Day Three: Abs- Lower Abs Workout 

Day Four: Butt- Booty Builder Workout

Day Five: Shoulders- Shoulder Workout with Dumbbells

Day Six: Back- Sculpted Back Workout
Keep reading for the links to step-by-step guides with pictures, videos, and descriptions of each of these exercises.
===========================
Workouts, healthy recipes, motivation, tips, and advice all right to your inbox.
CLICK HERE to subscribe to our email list and get our FREE "Beginner's Guide To Weight Loss" ebook.
===========================
Do you ever feel like you're stuck in a rut with your workout progress? Like even working out consistently and eating healthy just isn't yielding the same results that it used to?
It's probably time to switch up your "routine" and throw some new challenges at your body. Just like one of the fastest ways to stall progress is to avoid progression, one of the fastest ways to get back on track is to start throwing some new/different challenges at your body.
That's why I created the "Weekly Workout Plan" series. Every Monday you get 5-10 new workouts for you to do during the week. They're constantly changing to help you to continue your progress towards your goals.
This week we're working your entire body with 6 great workouts focusing on one body area each day for 6 days. Tone and tighten head to toe – and start doing it now.
Keep reading for all the workouts below.
HOW OFTEN SHOULD I SWITCH UP MY WORKOUT ROUTINE?
You should be switching your workout routine about every 4 to 6 weeks. 
The goal in following a workout routine is to not get too comfortable after a short period of time. When that happens, your body isn't progressing as much anymore.
It's important to focus on improvements in your fitness with any workout routine and give your body a new challenge every month or so.  
Be sure to incorporate various workouts into your week including cardio, strength training that targets different parts of the body, intervals, and stretching.
This total body weekly workout routine is a great example of a good balance, by taking one day each to work on legs, arms, abs, butt, shoulders, and back. 
HOW MANY DAYS SHOULD YOU WORK OUT IN A WEEK TO LOSE WEIGHT? 
The current physical activity recommendations are 150 minutes per week (that's 30 minutes, 5 times per week) of moderate-intensity activity or 75 minutes per week of vigorous activity (15 minutes, 5 times per week).
For weight loss, the recommendations are doubled. A great starting goal would be 30 minutes to 1 hour per day, 3-5 days per week of moderate to vigorous exercise. The important first step is to get started and build the habit and work up from there. 
Now try this weekly workout plan. 
A workout for each day that targets a different part of your body. By the end of the week you will have completed a killer workout for each major muscle group. Click on the links for the descriptions of each day's workout. 
…