17 of the best healthy snacks from Costco. These are the best good-for-you snacks you can buy in bulk at Costco stores that contain minimal sugar, low carbs, reduced fat, and maximum nutrients. They're the perfect snacks for work, school, after school, or anytime.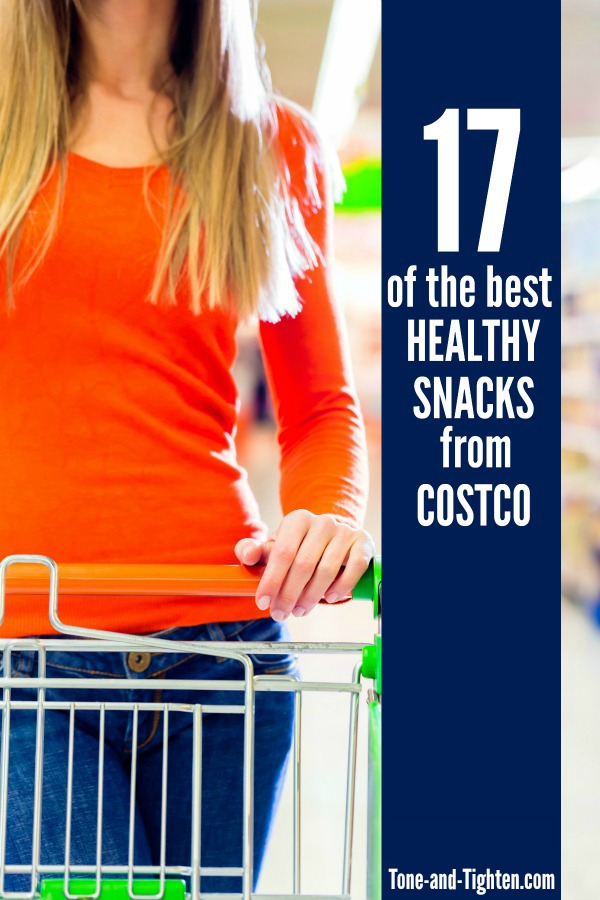 17 of the Best Healthy Costco Snacks
Crunchpak Organic Apple Slices

Organic Aussie Bites

Pacific Gold Beef Jerky

Zone Perfect Bars

Kind Bars

Made Good Granola Minis

GoodFoods Chunky Guacamole Cups

Food Should Taste Good Multi Grain Chips

Made in Nature Organic Mangoes

Bare Baked Apple Chips

Kirkland Variety Snacking Nuts

Cranberry Almond Chicken Salad

Organic Jack's Cantina Style Salsa

Skinny Pop Popcorn

Wonderful Pistachios

Blue Diamond Almonds

LaraBar
Keep scrolling down below for pictures and descriptions of each item!
Like most of you, I am all about snacking.
I know, I know… it's not exactly the best quality to have when it comes to being healthy and fit, but the reality is all of us probably get hungry between meals.
Now – you can keep reaching for the candy and cookies and seeing all your fitness progress stall out, or we can find some healthier options that are better for you and will keep your fitness goals on track!
Today I wanted to share with you some of my absolute favorite healthy snacks that you can pick up at your local Costco store.
These are the perfect healthy snacks for break at work, for after school, or to just help you to power through your afternoon.
Hope you enjoy!
…