All it takes is 10 minutes to burn 100 calories with this killer ab workout. 10 moves that target your abs for a great way to shred your midsection and tone and tighten those abs.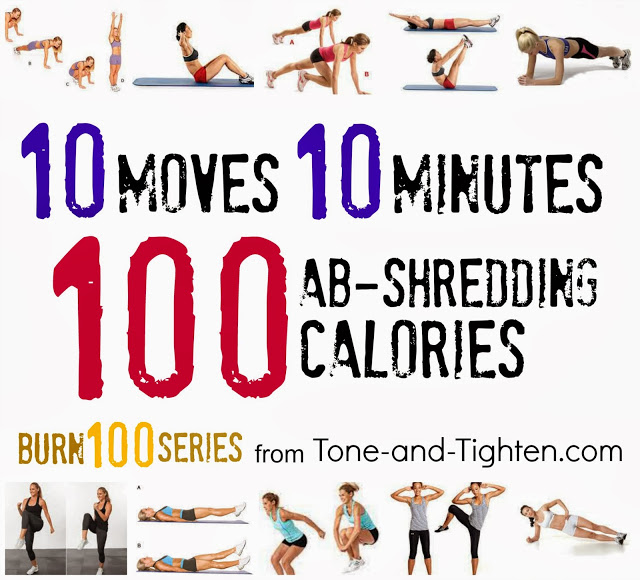 Burn 100 Series – Killer Ab Workout
Burpees

Sit Ups

Mountain Climbers

V-Sit-Ups

Plank

High Knees

Flutter Kick

Tuck Jumps

Standing Oblique Crunches

Side Plank
Keep reading for a step-by-step guide of the workout with pictures, videos, and descriptions of each of these exercises.
===========================
Eliminate guesswork and confusion and start seeing results.
Subscribe to Tone-and-Tighten.com and get our FREE "7-Day Workout and Healthy Menu Plan" delivered daily right to your inbox. CLICK HERE to get it.
===========================
I share new videos each week that will help you heal your pain right at home!
As a physical therapist, I love to help people feel better and share all my physical therapy exercises and strengthening tips and tricks on my channel.

Burn 100 calories in 10 minutes!
Wanna burn through 100 calories? All you need is 10 minutes, these 10 moves, and a burning desire to rip out your midsection.
Introducing the 7th installment in our popular "Burn 100" series.
I'm picking on your abs today… hope you'll thank me later.
You can find my other "Burn 100" series workouts below focused on some of everything- cardio, legs, butt, crossfit, arms, and now abs.
Other Burn 100 Series Workouts
…