Make a delicious, hot, and healthy egg white omelette in the microwave in under 5 minutes. Perfect breakfast for busy mornings heading out the door. It's quick, convenient, protein-packed, and good-for-you. Never leave the house without a healthy breakfast again.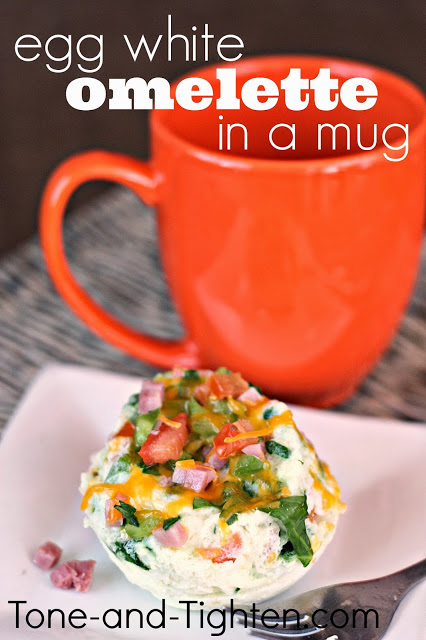 How To Make An Egg White Omelette in a Mug
Keep reading to get the recipe.
===========================
Eliminate guesswork and confusion and start seeing results.
Subscribe to Tone-and-Tighten.com and get our FREE "7-Day Workout and Healthy Menu Plan" delivered daily right to your inbox. CLICK HERE to get it.
===========================
Eating healthy doesn't have to be hard- this is a recipe that I have been making for many years.
Seriously – this one is my go-to JAM for a hot, healthy breakfast on the go!
A common complaint that I hear from people is "I just never have time to eat breakfast in the morning. I'm always rushing the kids off to school or rushing out the door to work. It's hard to eat anything more than a granola bar."
Here's the thing – yeah you're short on time, but you're also short on INFORMATION!
A hot, healthy breakfast can be ready in less than 5 minutes and just as portable as you want it to be. This egg white omelette in a mug is as easy as it gets (to shorten time, I will even chop up all my vegetables the night before, making it ready in about 2 minutes. There are no excuses for not eating breakfast even when you are short on time in the mornings!)